Overwatch Summer Games is back now with a new complicated way to earn skins
Click here for more photos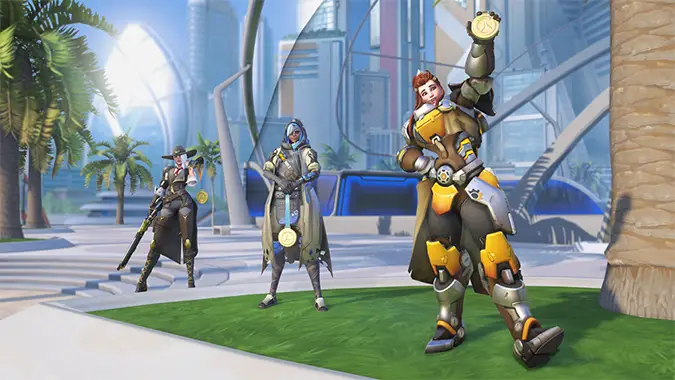 Overwatch's annual Summer Games event is back for 2019. The event runs from July 16 to August 5 and will feature a whole list of new cosmetics. But this time there's a new way to earn some of them.
Each week of the event will feature a spray, an icon, and an Epic skin to earn. The first week will get you the Shark Attack spray at three wins, the Punchimari icon at six wins, and the the red, white, and blue American Reaper skin for nine wins. Quick Play, Competitive, and Arcade all count towards the goal. Unfortunately, it doesn't look like you'll be able to buy any of them with your in-game currency at this time.
This will continue week-by-week throughout the event, much like the previous skin challenges. You can view what will be available on the official site or in the What's New section in the game itself.
As usual with Summer Games events, you'll also be able to play Lucioball as well as Copa Lucioball. The former is the traditional three versus three game where you try to score a goal with a large ball, and the latter is the competitive mode with Skill Ratings.
If you're just interested in grabbing a bunch of new cosmetics, the event has four new Legendary skins. There's also a Baptiste highlight intro and some fancy emotes for Orisa and Zarya. All of the game's previous Summer Games skins will also be available at a cheaper price too.
Although the new event is a little light on new additions, the new way to earn skins should give people an incentive to play instead of buying up their favorite skins and logging out. This helps populate the Arcade modes and gives you a reason to try new stuff out. Hopefully in the future this will be a normal thing for all events, and maybe Blizzard will consider a version to implement in the game all of the time. Overwatch wouldn't really work with a Battle Pass system, but rewards like this would be more than welcome.