Overwatch's new hero Sigma is built around negative stereotypes of mental illness, right down to his lack of shoes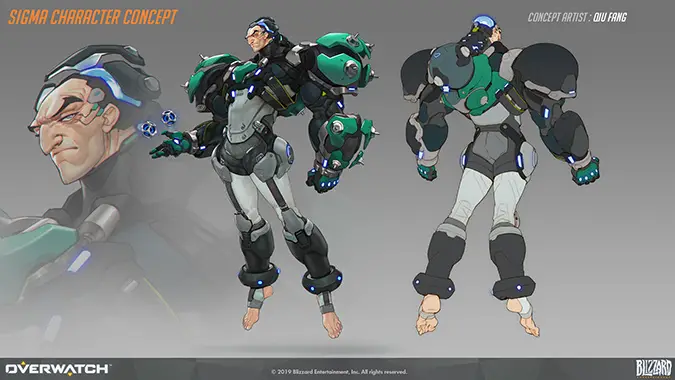 Overwatch's new hero Sigma is man that suffered serious psychological damage after coming into contact with a black hole. As seen in his origin video, he struggles with the trauma of the event and was detained by a "secret government facility" to be experimented on.
In the game, he's not depicted much differently. After being broken out by terrorist organization Talon, Sigma is able to fully control his gravitational powers. Not only can he do things like create black holes to lift his enemies into the air, he also floats around with his bare feet out.
"We decided to keep the feet bare to sell the 'asylum' look a bit more; in many institutions patients are not allowed to have shoes because they might cause harm with the laces." Overwatch Concept Artist Qiu Fang said in a post on ArtStation.
The answer to the question for why Sigma doesn't wear shoes reveals a misunderstanding of how mental health facilities actually work, let alone how they'd likely work in the game's near-future setting. In fact, mental health patients can and do wear shoes, just without laces. If Velcro and slippers exist in 2019, they should exist in 2070.
But the feet weren't the only issue with Sigma. Much of Sigma's story revolves around extremely dated and false ideas about mental health. He's depicted tightly restrained in his Origin Story, which suggests all mental health patients must be restrained to keep them safe. In reality, mental health facilities resemble normal hospitals, where patients are treated like people — not subjects — and are allowed to walk around freely. It's also incredibly unlikely that someone with severe trauma would resort to violence like Sigma. People with mental health are more likely to have been the victims of violence than to be violent themselves.
Blizzard's extreme lack of creativity when it comes to creating a brand new character shows. Sigma perpetuates the same misconceptions about mental health and mental health "asylums" that we've seen in many other games and pop culture in general. Sigma doesn't offer a realistic or unique perspective on mental health that could resonate with the millions of people that struggle with it every day.
In a story with such rich lore, we expected better. Instead, Overwtach's newest hero is a lazy regurgitation of the same story we've seen for decades.