Everything we know about Overwatch's new hero: Sigma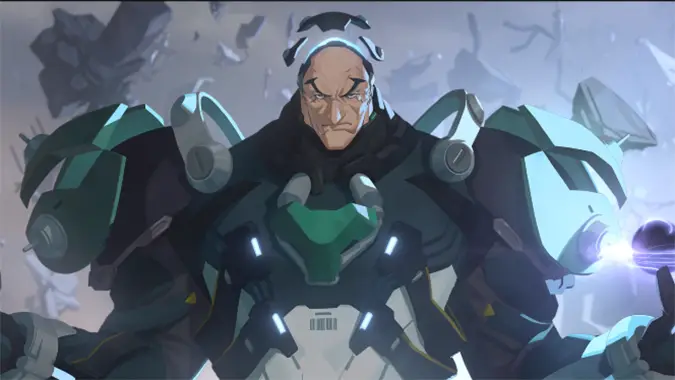 Overwatch's new hero — who we've been calling hero 31 — is named Sigma, and he's on his way to the game soon. There's been a few teasers and a leak that have hinted at who he is and what his abilities are, but now we finally have confirmation. Here's everything we know about Sigma and how he fits into the game.
Who is Sigma?
Sigma is an astrophysicist who seems to have struggled with one of his experiments going wrong, warping his mindset to violence. "Gravity is a harness. I have harnessed the harness," he says in his origin video. Now he's a member of Talon.
Introducing Sigma – an eccentric astrophysicist who hopes to unlock the secrets of the universe, unaware that he is being used as a living weapon. pic.twitter.com/Oi3or2VthQ

— Overwatch (@PlayOverwatch) July 22, 2019
Before the confirmation, Game Director Jeff Kaplan stressed in a recent Developer Update video that the hero has been in development for a while. We had seen a leak from the Team Mexico Overwatch World Cup Twitter account that showed an Overwatch account with play time on a "Sigma" hero. When asked about this apparent leak on stream, Kaplan said "That's a mystery to me. That sounds really cool, and by mystery I mean it's not a mystery at all, but there's lots of exciting things coming this summer."
Afterward, a proper hero tease was released in the form of a fake Developer Update video where Kaplan's face is warped around a black hole-looking video effect and math equations — suggesting that the new hero will have something to do with physics. Reddit user ztokdo broke down the math in the video and redwire2012 explained it in simple terms: basically, Sigma might have abilities warp his own attacks and enemy attacks with gravitational fields. Further confirmation of the hero came with another teaser that includes an orange suit that reads "Subject Sigma" with a blaring signal in the background.
What type of hero is he?
Although we know what Sigma's abilities might look like, it's unclear what role he'll play in the game. If you consider that the game has only ever added two Tank heroes since its launch, he might be one of those. This would work with his supposed abilities because they could act as barriers of protection without being actual barriers.
The game's meta will shift a lot with a two Tanks, two Supports, and two Damage locked team composition. Stationary "bunker" comps with Orisa should become stronger, so Sigma might be released to upend that outcome.
When can you play him?
Right now, the Overwatch PC PTR has a ton of hero changes and the new role lock and role queue system. It's likely that Sigma will be available to play on the same patch.
So, if you play on PC, you'll be able to log into the PTR and test him out. For console players and anyone who doesn't have the PTR, he'll probably go live on or around August 16.