Hearthstone's Burndown brawl is terrible, but you should play it anyway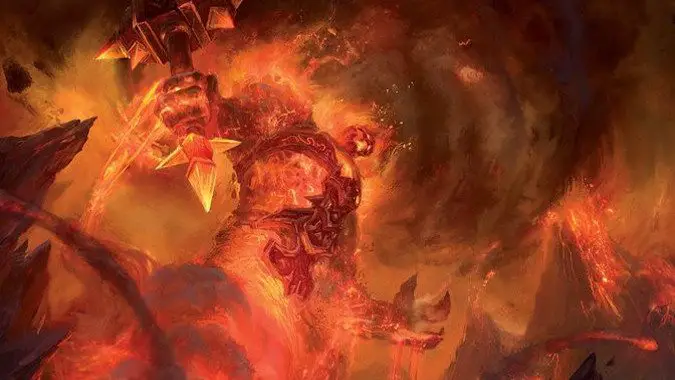 This week's Hearthstone Tavern Brawl is an interesting social experiment, but not necessarily a fun one. The Burndown Brawl is described thusly:
Ragnaros is looking for the strongest deck! Take control of a random deck, if you lose you'll get a copy of your opponent's deck! How long can your deck survive THE BURNDOWN!?
How does it work?
The decks you get are random and there seem to be dozens, if not hundreds of possibilities. Each deck is based on a theme indicated by the deck name, but beyond that, the cards included are completely random. And in Hearthstone, randomness is rarely a good thing. You'll get decks with no (or few) low cost cards to play the first few turns, or simply have a collection of cards with no synergy. You may find cards that trigger when you cast a spell, but few spells. You may find cards that trigger when you have a dragon, but no dragons. You may find cards that buff murlocs, but there's only one murloc in your deck.
In short, it can be pretty miserable.
However, every time you lose a match, you switch to your opponent's deck for your next Brawl — and there's a good chance that deck has a better win rate. So the more you play, the more likely you are to find a deck that will let you win. However, those early matches can be a big frustration.
Right now, Warrior decks seem to be topping the charts — particularly decks with multiple copies of Patches which can lay out a pirate card and immediately summon several 1/1s, free of charge. However, this could change at any time, and that will be what makes this Brawl interesting over the course of the next week. As more players participate, more players will get these "winning" decks. And as more people get winning decks, more decks that counter those decks will earn wins, changing the Brawl meta.
Basically that means there's no play advice I can give you: just go in, do your best, and wait until you get a deck that lets you rack up some wins.
Completing Quests
This Brawl is a good way to finish general quests, like "play X cards," but it's bad for class-based quests because you never know what class you're going to get — and if you have a "win X games with Y class" quest, don't count on being able to finish it at all. If you're completing quests this Brawl, consider dropping your class-based quests.
The rewards
Though I found this Brawl really annoying, it is worth doing because it awards a Saviors of Uldum pack. Though you can't open it before the expansion launches on August 6, but they'll give you a nice start on building your collection of expansion cards.
That's all you have to know, folks. Go through this Brawl at least once for the pack reward, and if you find it fun, you can keep playing to complete certain quest types.
So good luck and have fun!