The League of Explorers returns in Hearthstone's Saviors of Uldum expansion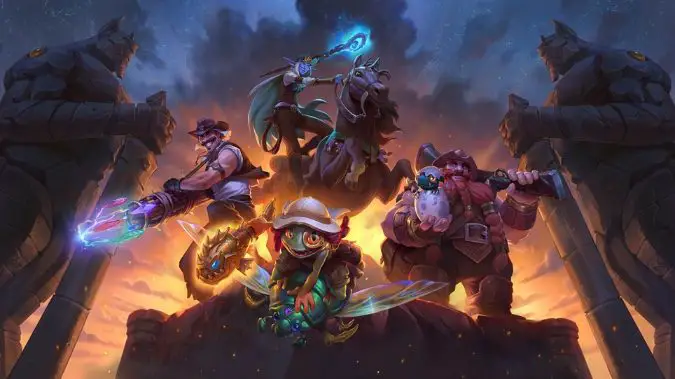 I hope you're ready for some tomb-raiding adventures, because the next Hearthstone expansion is taking us dungeon-diving in Uldum. (Our guess was that we were headed to Ulduar, which is really only close to the mark if you consider spelling.)
The latest expansion is Saviors of Uldum is due out on August 6, and will include:
135 new cards
New Quest cards, which we haven't had since Journey to Un'goro in 2017. Anyone who logs in within 90 days of the expansion will get one random Legendary Quest for free!
New Reborn mechanic, which brings a minion back to life with one health when it dies.
New Plague cards, which have catastrophic effects for both sides of the board.
And of course you can pre-order it now. Pre-ordering is always the best deal in Hearthstone, giving you packs for about $1 each: buy 50 packs for $50 or 80 packs plus an Elise Starseeker Druid Hero for $80. Both bundles come with a random golden Legendary, adding a nice extra card to your collection.
It is, however, far more economical to buy packs with gold rather than spending any of your hard-earned real-world cash. Gold only takes time to earn: run through your quest log every day and you should end up with at least 350 gold per week. Packs cost 100 gold each, so spending a few minutes a day should easily give you the coin to buy a dozen or so packs on launch day.
If you need help figuring out how to earn gold, Ted has some gold-making tips for you. But whether you're buying with cash or coin (or both), now's the time to start saving up for Uldum packs.
But what I find more interesting is the expansion's story. Saviors of Uldum picks up where Rise of Shadows left off: Rafaam and company have managed to steal Dalaran, and have taken the city south to Uldum. As the League of E.V.I.L. descends on Uldum, the League of Explorers — whom we also haven't seen since Journey to Un'Goro — return to fight them off. That's right: Reno, Elise, Brann, and Sir Finley have come to save the day (probably). Sure, Reno is slightly more interested in treasure than the fate of Azeroth, and Brann is easily distracted by titan artifacts, but Elise and Sir Finley are here, so I'm sure it's fine.
Their tale will be told in the Saviors of Uldum single-player adventure, which is coming out in September. Beyond that, we don't know much.
While Hearthstone expansions all have little stories, this multi-expansion story is an interesting idea, and I'm looking forward to seeing how it continues to play out. Will we defeat Rafaam by the end of the Year of the Dragon? Or will he continue traveling Azeroth with Dalaran in tow? I guess we'll have to wait to find out.