News
Aug 1, 2019 2:00 pm CT
Off-Topic: Ninja leaves Twitch to stream exclusively on Mixer — what does that mean, really?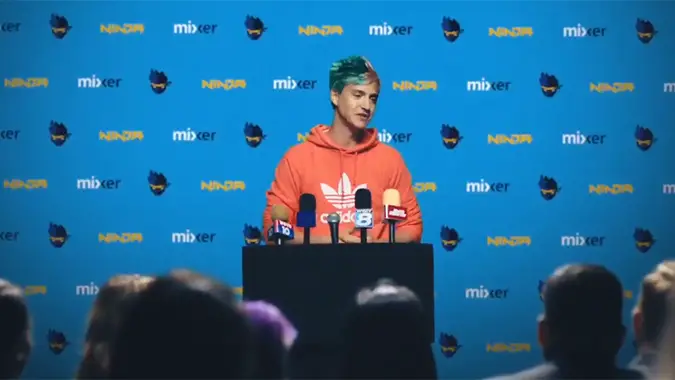 Twitch's most popular streamer has left the platform. Tyler "Ninja" Blevins has announced that he'll be streaming exclusively on Microsoft's streaming service Mixer.
Ninja announced the news on his Twitter account via a faux press conference where costumed versions of himself asked him questions about the future of his livestreamed gaming content. "I feel like this is a really good chance to get back in touch with my roots, and really remember why I fell in love with streaming in the first place," Ninja said.
The former-professional Halo 3 player exploded in popularity on Twitch when it was still a new streaming platform. Over time, Ninja garnered an audience large enough to earn him about $500,000 a day, according to a CNN interview in 2018. And that's not counting the many, many sponsorships Ninja has gotten for streaming specific games on his channel, like the $1 million he earned for playing Apex Legends.
Today, Ninja leaves behind about 15,000 Twitch subscribers, according to TwitchTracker. Although Ninja hasn't been the top streamer on Twitch for a while, it's still a big blow to the site. The company told The Verge that it wishes him luck in his future endeavors.
The next chapter,https://t.co/lvn9KBjEYq pic.twitter.com/tljVgyM3bG

— Ninja (@Ninja) August 1, 2019
Ninja's transition will probably be more smooth than it looks. According to Kotaku, Mixer has been known to pay popular streamers to switch over. Microsoft is also offering free subscriptions to everyone on the site for the next month, which should help boost Ninja's numbers in preparation for his Lollapalooza stream on August 2. His viewer count will likely be down from his Twitch streams, but in terms of the money he'll be making it's probably the same or higher than ever before. There's no getting back in touch with your roots for a man who has streamed from Times Square and has appeared in a Super Bowl commercial.
It's possible Ninja might have more incentives to stream games that aren't Fortnite as well as more live events on Mixer with his new and likely different audience. The shift in his content will surely impact the kind of people that watches him. There's also fact that Mixer has a fraction of the popularity that Twitch has in terms of hours watched, according to a recent StreamElements report.
It wouldn't be surprising if Ninja only made this deal because of the amount of money behind it. Only time will tell if he's able to grow a big enough audience back for it to to satisfy him. Because ultimately, everyone would love to have Ninja on their platform and will probably be willing to pay a lot to get him there. There's no reason why he couldn't swap back to Twitch in a year — or whenever this contract expires — if things don't work out. After all, a glance at his Twitch chat shows the many, many people that are still waiting for him to go live again; sending paragraphs of emotes and buying subscriptions.