The Queue: Mitch which is Mitch? (Feat. dinosaurs with Ashkandi)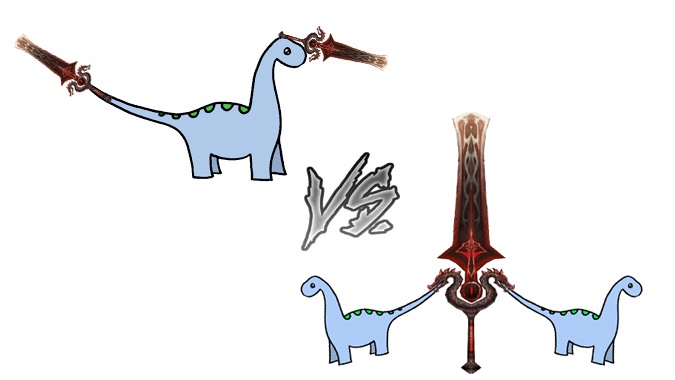 Today's header comes courteous of Arthonos, whose artwork was just too good to pass up! (It also helps that it was already perfectly sized for a website header.) Meanwhile, the main chunk of this title comes from a question asked by Eno, which then seemed to confuse Red. In other words, this one's all about you guys <3
Also, per request, there will be no Classic questions today.
Now, let's Queue.
---
ENO ASKS THE AFOREMENTIONED QUESTION IN WHICH I GET SPLIT INTO THREE:
QfMitch1: During the Gnome Heritage Armor questline, we meet a gnome tinker named Fizzi Tinkerbow. If you had a gnome character… what would he/she be called and what class would he/she be?
QfMitch2: This week, apparently, for the first time ever, scientists witnessed a neutron star being eaten by a black hole, "causing ripples in space and time." Should I be concerned?
QfMitch3: Last night I learned about a RPG called Undertale and I'm going to try it. What games have you bought and tried recently on Steam, if any?
Mitch1: Does it have to be a Gnome? I feel like if it were a Gnome, then it would have to either be Lzzif or some anagram of Fizzl. Zlzif, maybe? But it couldn't be Lizfz. That would be too confusing.
Mitch2: Honestly, there are plenty of things to be concerned about in the world. This one at least sounds fun.
Mitch3: On Steam? None lately. It's been a long time since I've actually used Steam. But Fire Emblem: Three Houses has certainly been eating up my time!
---
RED GETS CONFUSED:
Wait a minute… there is a Mitch1, a Mitch2 and a Mitch3!?!?
WHO'S THE REAL MITCH!?!?
QfMitch2: Who will the other Mitches say is the real Mitch?
Look, here's the thing. One Mitch — not to be confused with "Mitch1" — can only tell the truth. Another can only tell lies. And the third — again, not to be confused with "Mitch3" — can only repeat what one of the other Mitches has already said.
Mitch2 would say that Mitch1 is the real Mitch. Mitch3 disagrees, however, but also does not claim to be the real Mitch.
---
SPENCER MORGAN MAYBE HEARD MY D&D CHARACTER FORCE A KOBOLD INTO LAUGHTER BEFORE TRYING TO MURDER IT:
Q4tMitch: what does 'Moral Alignment' really mean anyway?
It is just a means for companions to falsely classify you and provide a justification for their misunderstanding of your actions.
---
DTAIL (BY KAGESATSUKI) 🐻 TALKS ABOUT THE MCU. I WONDER WHY?
As Val put it: Since we are talking MCU.
I didn't see Endgame yet.
Any others ? Who did not see it ? No ? Thought so.
I've seen a lot of the MCU films, but I have yet to Spider-Man: Homecoming or Thor 2. I'm told only one of those is worth seeing, though.
---
BUSCAVA BRINGS IN C O N T R O V E R S Y:
All right so this might stir up some emotions – i'd rather it didn't so let's all be chill.
What are your thoughts on the use of Raider.io as a metric used for M+ runs?
Now i see the side people don't like. I know people view it as a gatekeeping metric. But in my experience, i've only seen it really be a metric used in game for keys over 10, in which case i think it's pretty fair. Dungeons over 10 are a lot [Yogg-dang] harder then say a plus 5-8, and if i've spent a ton of time working on bringing a key up, i want to do what i can for it to be successful.
I've seen a lot of people angry about it, but then a lot of the people throwing the biggest anger are mad they get chain declined for a 10+ when their character is really only geared for a +5 or they have no experience in any key above that. That seems pretty unfair to me.
I don't really have an impartial view here, because my Mythic+ experiences are almost entirely limited to my weekly group, and I actually enjoy watching our Raider.io scores go up. I know I could just look at my highest keys in-game, but having the metric there with a specific value is… kind of nice?
That said, when it comes to gatekeeping, there's a limit to its usefulness. Like you said, anything above a +10? That makes sense to me. There's an entirely new, Season-only Affix for those. That's someone's Key that's going to get downgraded if you fail. But if someone is running a +5 and asking for you to be more geared than they are? That's excessive.
HOWEVER! At the end of the day, it's up to the person forming the group to decide the rules for themself. If someone's rules are crummy, ignore their group. If you have the key to do so, form your own group with your own rules (and Blackjack and hookers).
What I'm saying is, it's complicated.
---
CYPHER WANTS TO KNOW ABOUT THE BIG GRIND:
QftQ: Would you prefer essences collected on one character be unlocked account-wide, or the current system where each character has to unlock each individually? Or maybe a halfway point, where all Epic essences are account-wide?
I only really play on one character, but it does feel not great to have to farm all the way to an Epic essence a second time through. I don't think Essences should be account-wide across the board, but maybe make higher-level ones BOA? Even if you want to keep the cost the same or make it so you have to get it from the original source twice, that's fine. I wouldn't be surprised if something like this happened in 8.3, to be honest. Time will tell.
---
LOTHARFOX MAKES ME BLUSH:
If you were granted the wish to have a drink and a conversation with anyone who ever existed, living or dead, who would it be, and why would it be Mitch?
Oh, you flatter me! But dang, this is a tough one… Assuming language would not be a barrier, the first person ever alive. If I'm picking someone not-dead, Bill Murray.
Also, as Pidia pointed out, I am more than willing to meet up for drinks during BlizzCon, provided I have room in my schedule! :)
---
RED JUST… I DON'T KNOW, MAN.
Y'all keep finding ways to up the weirdness around here. Also, I would totally wear a Venom costume.
---
ARTHONOS BRINGS US TO OUR GUEST ARTIST, AND ALSO THE RETURN OF 2BE:
2BE: Which is more dangerous: a dinosaur dual wielding Ashkandi, or Ashkandi dual wielding dinosaurs? Mitch you do not need to answer this alone, and may confer with Rossi prior to answering.
I did as you suggested and conferred with Rossi on this one. Here's what he had to say:
That's all for today! I hope you're proud of me — I finished this thing before midnight last night! That's basically unheard of. So, go celebrate my miracle with, uhh… idk. Just don't make it creating fan art of me in various MCU costumes. That would fill up the comments and make Rossi's life hard, and I don't want that. So…
Don't. Do. That.