Blizzard, I want a Blackthorne sequel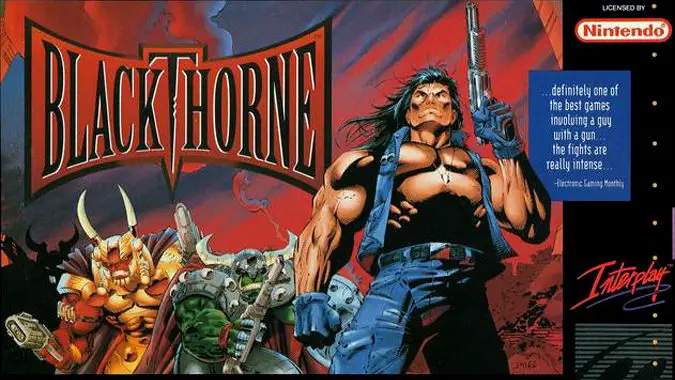 Not a remake. Go ahead and make Blackthorne Reforged for the Switch if you want to, but that's not what I want from you. I want a full fledged sequel, or a complete back to basics revamp like Bethesda did with Doom in 2016. Because Blackthorne is a weird freaking game, very much a product of its time (and again, much like Doom was and is a product of its time) and I'd love to see what you'd do with the lore of it now.
The saga of Kyle Vlaros is delightfully screwy. He's a special forces soldier awaiting trial for court martial! He's the son of the king of a kingdom on an alien world! He's a mercenary! He's the custodian of the Lightstone! He's essentially what would happen if you had Tom Clancy write a Robert E. Howard pastiche set on an Edgar Rice Burroughs planet, and the whole backstore of the planet Tuul is just nuts. Ancient shaman kills himself in the desert and becomes two magic rocks in order to help decide which of his kids should replace him, leading to two kingdoms being created. Seriously. And then one of the kingdoms ends up full of monsters because they rejected the stone they got, and is taken over by a guy named Sarlac. Seriously, that's his name. I am not making this up. No word on how long he takes to digest things.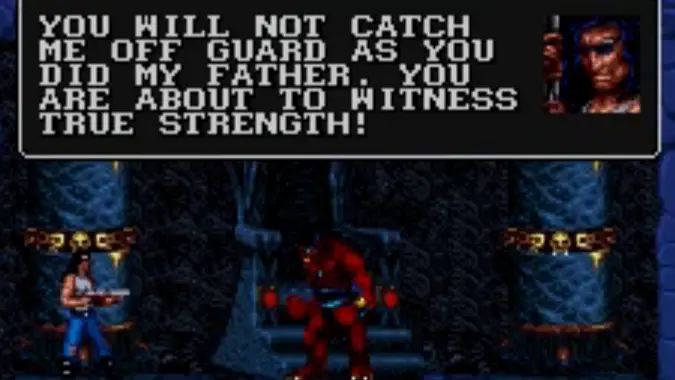 I call Shotgun
I want Blizzard to not only lean super hard into this mythology but to expand the hell out of it. Thoros, the Shaman who died and became the Lightstone and Darkstone, was supposedly blessed with all knowledge. If he was blessed with all knowledge than clearly he knew what he was doing when he did this, knew what would happen, foresaw the rise of Sarlac and his attack on King Vlaros, and knew that Vlaros would send his son to Earth where he would become a soldier of fortune on the run from an unjust court martial only to return to Tuul and destroy Sarlac, becoming king in his own right. Was that it, or did Kyle's return just begin the real story, as a threat far greater than Sarlac and Ka'dra'suul was on the horizon. And yes, that's how many apostrophes are in that word.
The thing is, as zany as Blackthorne was, there was some excellent gameplay in there for the time. It's a platformer which allows Kyle to run around blasting enemies with a shotgun, making use of the terrain and cover to avoid return fire and destroying them for their temerity. It was pretty solid for the time and I definitely think there could be a sequel progressing the series. You could go with a first person shooter, you could go roguelike with it, or — and this is my personal favorite — go the Greedfall route and create an RPG that's less open world and more focused gameplay. Think about it, Blizzard could make a new Blackthorne that was an RPG, with RPG elements! Yes, I'm stealing Obsidian's marketing here. Just imagine playing a new character in the astonishing world of Tuul, where an old guy turned into two rocks and changed half of the people in the world into monsters and we still don't really know why.
So yeah, Blizzard, give us more Blackthorne.