Honor the long-dead heroes of the Alliance and Horde in WoW's Harvest Festival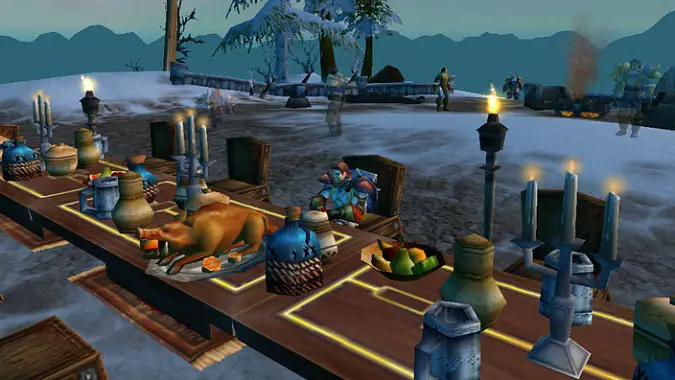 This year's Harvest Festival is the same but with a unique wrinkle — it's running slightly different versions simultaneously both in the Battle for Azeroth version of WoW and WoW Classic. This year's festival is in town a bit earlier than years past, running from September 10th to the 17th.
During the festival, the heroes of each faction honor their leaders by making a pilgrimage to their memorials and leaving a token of gratitude. Alliance players travel to Uther the Lightbringer's tomb in Western Plaguelands to light a candle. Horde players travel to Ashenvale to leave a bottle of spirits at Grommash Hellscream's memorial. (Sorry, but you can't honor any of the heroes we've recently lost in the fight against the Legion. Still, Uther and Grommash surely appreciate your annual tribute.)
To get started any character above level 30 can just talk to Wagner Hammerstrike in Ironforge or Javnir Nashak in Orgrimmar. You'll receive For the Light! or The Horde's Hellscream for your efforts, as well as the Bounty of the Harvest food conjuring item which comes later in the mail. In Battle for Azeroth, you also receive your choice of spiritshards that add a spooky colorful tint to your character. You can choose Anxious Spiritshard (green), Forlorn Spiritshard (purple), Peaceful Spiritshard (blue), or Vengeful Spiritshard (red).
The Harvest Festival also offers unique items for the three most recently added races — obviously, not in WoW Classic. Worgen, Goblins, and Pandaren each leave something unique to their races instead of the plain candle or bottle of spirits of the rest of their faction. Worgen light a candle in a bottle, Goblins place a can of Kaja'Cola, and Pandaren light incense in the hero's honor. There are also feasts outside of Ironforge and Orgrimmar's gates to partake from after the solemn remembrance activities are done.
For a full rundown of the event, check out Wowhead's Harvest Festival guide. They also have a guide to the WoW Classic version.