WoW
Sep 20, 2019 5:33 pm CT
Brewfest is back with a new hearthstone, hats, lots more booze — and some fun bugs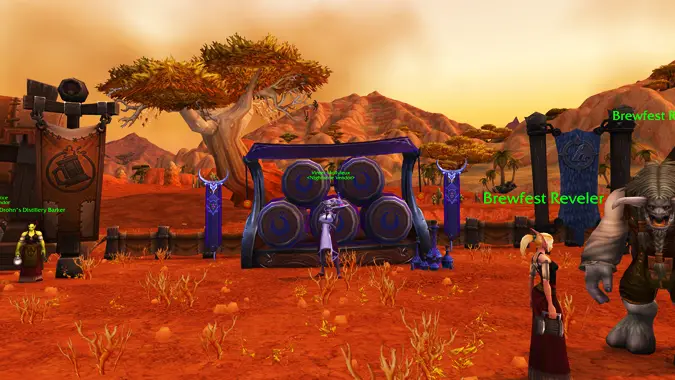 Brewfest has received quite a few updates this year with a bunch of new cosmetic rewards — but what are updates without some bugs to go along with them?
First point of order: Brewfest has noticeable visual updates that really add to the ambiance to the place. The Allied races have joined in and are advertising their wares, NPCs are abundant with vendors for immersion, and the main Brewfest setups in Ironforge and Orgrimmar are simply more festival-like. This year the event runs from September 20 to October 6.
Brewfest games and changes
A new mini-game has been added — The Brewfest Chowdown, a sausage-eating contest. Similar to the ram racing, you need to balance eating as many sausages as you can while taking a swig of beer to prevent choking. The game only starts when four players are sitting down, and you receive a 5 minute debuff after the game ends to give other players a chance to play. The winner receives a Chowdown Champion Token. If you acquire 5 wins you can grab a Brewfest Chowdown Trophy toy from the vendor.
Since the Dark Iron are officially our friends now, Down With The Dark Iron has been removed from the Brewmaster meta achievement. They still kind of show up to attack, but for the most part their boozy differences have been settled and now we also get attacked by Alementals and Hozen. Every half hour, they'll pop up in the central area and you have to throw steins at them until they go away. It appears you can only get the quest for participating once per day, regardless of who is doing the attacking.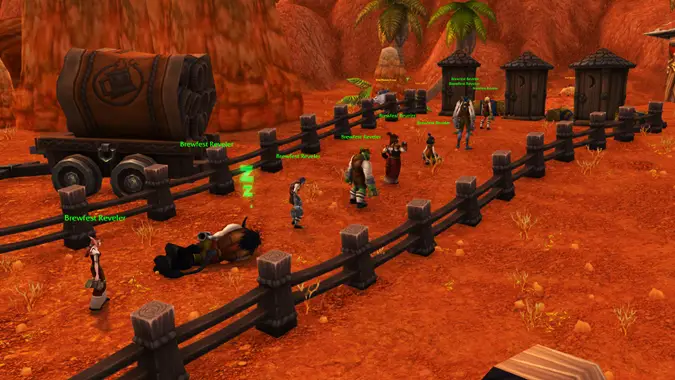 New Brewfest toys and items
The Brewfest reward vendors can sometimes be hard to find in the sea of NPCs and drink vendors. For Alliance, Belbi Quikswitch is standing on a set of crates. For Horde, Blix Fixwidget is standing next to a tent.
And new Brewfest bugs! (Hopefully fixed soon)
Now, for the bugs. The games for Brewfest Chowdown are bugged, in that they seem to bug out every other game. After a game successfully finishes, the next game will attempt to start and then reset, immediately kicking out all four players and giving them the debuff. The next game after that will work properly. Some players are reporting that it could bug out with pet classes, and some players are simply interfering with the games by standing in certain spots or spamming seats.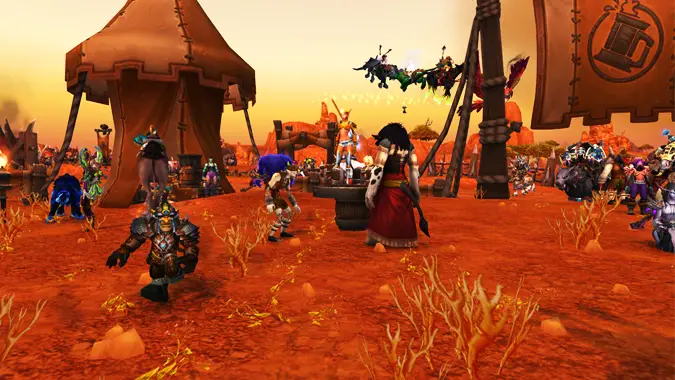 Wolpertingers are doing a great job of hiding, because there don't appear to be any in the vicinity. Since Does Your Wolpertinger Linger? is required for the meta achievement, many players are attempting to complete this and fighting for the few Wolpertingers that do manage to appear.
The "barking" dailies will also randomly bug out. When you hop on the ram to go advertise your chosen brewery, it may or may not give you credit. The good thing is that you'll know immediately if it bugs, because it simply won't activate the /say message when you ride through the first area. I say they "randomly" bug out because I couldn't get Bark for Drohn's Distillery! to work, but trying Bark for T'chali's Voodoo Brewery! a little later did give credit. Some players are also reporting having trouble turning in Direbrew's Dire Brew after killing Coren Direbrew.
Since it's only the first day of Brewfest, hopefully the bugs will be fixed soon. You have a little over two weeks for the event, which should be plenty of time to get everything you need.