How to get one of Bob's Bombastic Decks in Hearthstone Tombs of Terror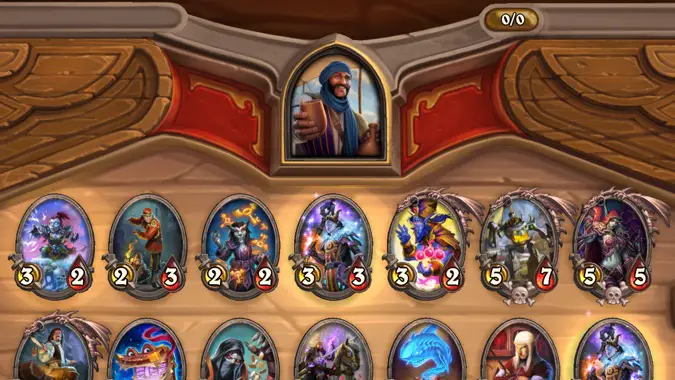 Bob is quickly becoming my favorite character in Hearthstone's odd little story. In the Dalaran Heist adventure, Bob ran a tavern in Dalaran, where he was happy to serve drinks — and powerful deck modifications — to the League of E.V.I.L. as it ransacked the city. Now, it's possible that Bob is having second thoughts, as this erstwhile tavernkeeper has set up shop in Uldum, and is now slinging drinks for the League of Explorers in the Tombs of Terror adventure.
But Bob offers some new wares to the League of Explorers in their fight against their evil counterparts, including Bob's Bombastic Decks. And let me tell you, Bob builds Hearthstone decks that are wholly worthy of the term "bombastic."
But getting one of Bob's Bombastic Decks requires an extra, extra heaping of luck. In racking up several hundred boss defeats and a dozen victories over Plague Lords, I've managed to hit the jackpot and get one of these decks exactly once.
That's how special these things are. And how absolutely overpowered they are.
So here's what you need to do to get one.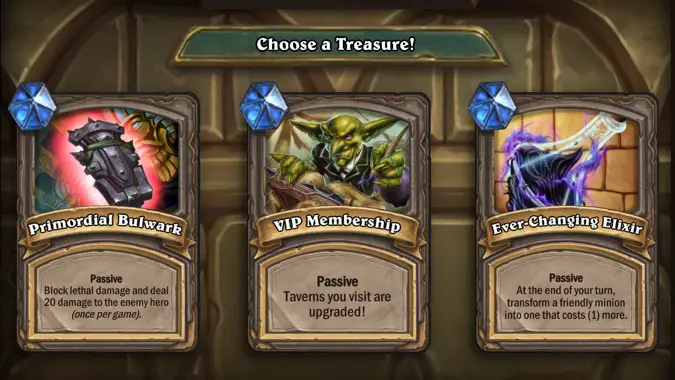 Step 1: Become a VIP
First, you need to be a VIP. This means picking up the VIP Membership passive treasure. It's a treasure you might overlook — I know I initially did — because it does nothing for combat. Instead, it upgrades the Tavern to give you double the number of customization options, including some unique cards you won't find in the standard Tavern.
You have exactly two chances per run to pick up VIP Membership: once after your very first victory and once after fifth victory. After those wins, you get a chance to pick one of three passive treasures, one of which could be VIP Membership. Ideally, you'll pick it up after your first win rather than your fifth, because it will maximize your chances of hitting that RNG jackpot.
If you're particularly patient, you can play the first match, see what treasure you get, and if it isn't VIP Membership, concede the next match — you will have to pick a treasure, a card bucket, and start the next match to concede —  and start over. Having done this myself, I can confirm it takes a lot of patience, and you may still not make it to step 2.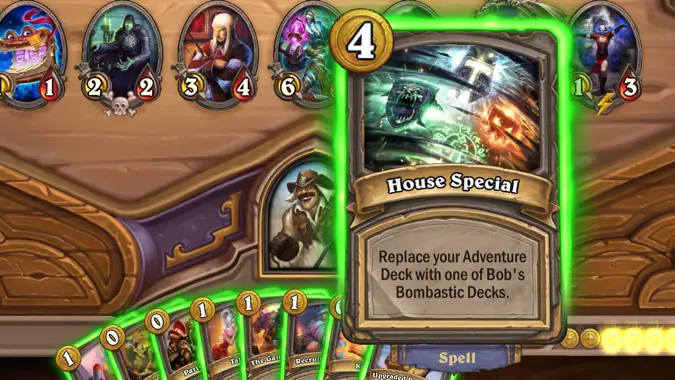 Step 2: Order the House Special
Now, when you enter the Tavern, you'll have a chance to get the House Special card. You can visit the Tavern after your third and fifth victory, and each time you'll draw nine cards — one of which could be House Special. And that's the card you want.
When you play the card, Bob will hand over one of his "bombastic" decks, which will replace whatever deck you've built. The deck you get is random, but it doesn't matter, because every one of Bob's decks is amazing.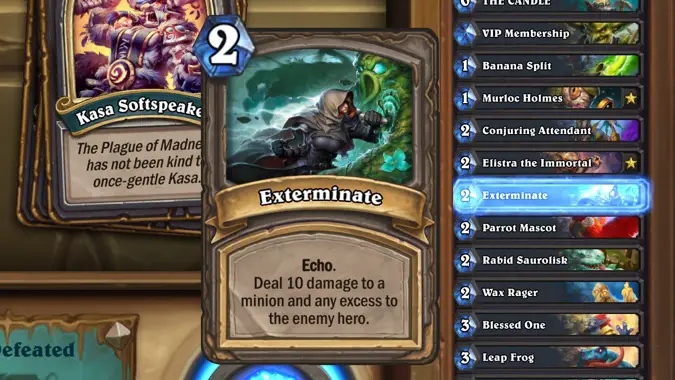 Step 3: Win!
Bob has four decks, and they are all winners. (Though if you need some extra help, we have a Tombs of Terror guide.) Here are the decks you can get:
An all Pogo Hopper deck, which gives you 30 Pogo Hoppers. Each Hopper gets +2/+2 for every other Hopper played this game, which will overwhelm opponents fast. Throw down those Pogo Hoppers as quickly as possible and go for the face.
A treasure deck that has all of the best treasures from adventures to date. There's no particular strategy here — just overpowered card after overpowered card.
A quest reward deck, which contains many of the rewards for completing quests — no quest completion required. And just in case the deck wasn't powerful enough, it also has pre-upgraded versions of every Spellstone. Like the treasure deck, all you have to do here is play overpowered card after overpowered card.
A spellcaster deck that has to belong to Khadgar (or even Medivh). It's almost entirely powerful spells that are usually only played by adventure bosses — with a couple of standard Mage spells for flavor. Again, go for the face.
So I wish you luck in snagging your own utterly Bombastic Deck. You'll need it.