How to beat Diablo 3 Challenge Rift 134: Multishot Demon Hunter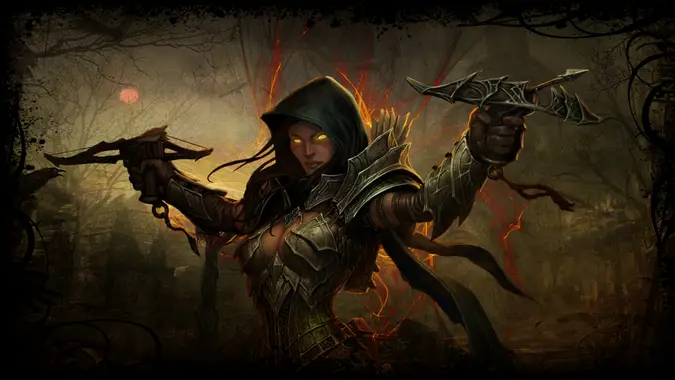 Diablo 3's Challenge Rifts are not for the faint of heart. Before you can play them, you need a character at level 70 and you must complete a Greater Rift. Challenge Rifts require you to think on your feet, understand a potentially different class from the one you are used to, and (like all Rifts) adapt to unknown maps as you transition between levels. They can also make you question your sanity as to why you play this unholy game.
For those of you trying to tackle this week's challenge, let's break down the Americas Challenge Rift 134 for that step ahead and the sweet, sweet bounty mats.
What is a Challenge Rift?
Challenge Rifts are accurate to their name: you are completing a challenge to beat another player's Greater Rift completion time. Everything — class, build, gear, rift maps, skills, paragon points — is pre-determined. From the staging area, you can change your key binds for skills and test the build on a group of standard enemies and one elite-style enemy. The challenges change weekly on Mondays between 1:00 p.m. and 2:00 p.m. Pacific and can vary from super easy to "How did an actual person manage to pull this off?" All challenge rifts reward a Challenge Rift Cache on first successful completion of the challenge, which contains the following:
15 of each Act's Bounty Materials: Khanduran Runes, Caldeum Nightshades, Arreat War Tapestries, Corrupted Angel Flesh, and Westmarch Holy Water
35 Death's Breaths
475 Blood Shards
5,100,00 Gold
125 Veiled Crystals
350 Arcane Dust
375 Reusable Parts
Challenge Rift 134 basics
Class: Demon Hunter
Build: Unhallowed Essence Multishot
Time to beat: 5 minutes, 35 seconds
Season 19 Demon Hunters receive the basic (non-Ancient) Unhallowed Essence set from their Haedrig's cache reward. That's the foundation for this CR, as none of the set pieces are Ancient quality. There is also nothing selected for the Kanai's cube jewelry slot, so you're minus an extra legendary power there. Some key bonuses will help you get through the rift are:
Unhallowed Essence set — with the full class set, you have the following bonuses:

Your generator ability (Evasive Fire) resource regen increases
Gain an 8-second buff (60% damage reduction, deal 60% increased damage) if no enemies are within 10 yards of you.
Evasive Fire, Multishot, and Vengeance deal 350% increased damage for every point of Discipline you have

Thrill of the Hunt — hitting enemies with Multishot will apply an 80% slow for two seconds. This passive is essential when considering the next boosts.
Cull the Weak and Bane of the Trapped — Cull the Weak is one of your passive skills, while Bane of the Trapped is one of two legendary gems in your gear. Both boost your overall damage against slowed enemies.
Realistically, a chunk of the gear is also not doing you any favors. Don't worry too much about the following pieces:
Goldwrap (Belt) — gold doesn't drop in the challenge rift so that you won't get the armor buff.
Puzzle Ring — similarly, items do not drop in the challenge rift, so no chance for an additional Legendary item to drop.
Augustine's Panacea (Off-Hand Quiver) — Elemental Arrow is not in the build, so the legendary power does you no good.
How to win this Challenge Rift
This week's Challenge Rift is a pain in the butt from a survivability standpoint. You're running as a super squishy character, so pretty much any enemies can one-shot you. Completing the Rift should be doable within the first three levels.
Here are three tips to get you through the CR run quickly:
Keep your distance. This Demon Hunter build thrives off of range, due to the 4-piece set bonus and the passive skill Steady Aim.
Don't use Vault excessively. Your 6-piece set bonus increases your damage based off of every point of Discipline you have.
Maintain Vengeance uptime as much as possible. The damage boost and hatred regen speed up your run, and having Dawn in Kanai's cube applies a significant reduction to Vengeance's cooldown.
More of a visual learner? Check out Raxxanterax's CR 134 clear video for a full walkthrough:
Were you able to knock out the Challenge Rift, or did the Demon Hunter's squish factor prove to be too much for you this week? Let us know in the comments below!