Overwatch's Mardi Gras event ends Monday, so earn that Ashe skin this weekend!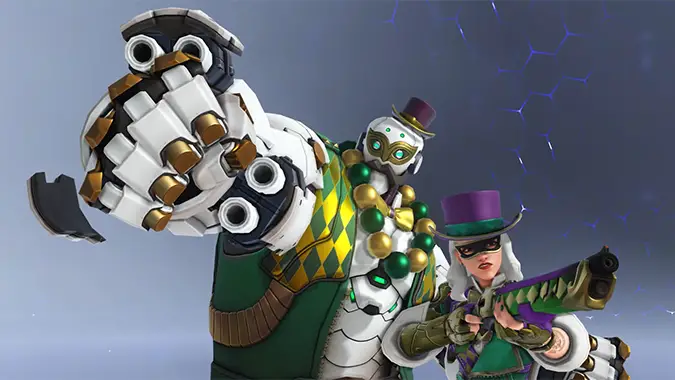 Overwatch's celebration of Mardi Gras with a masked Ashe skin, sprays, and more comes to a close on Monday, so make sure to click some heads this weekend before she goes away.
Like in previous skin challenge events, you'll have from today until March 9 to win nine games in either Quick Play or Competitive to earn all of the rewards. The new Ashe skin features a traditionally masked Ashe — even though I don't think anyone will be able to forget she's rich — with the three colors of Mardi Gras on her jacket, gun, and hat. Notably, her gun looks to be mostly gold. This is your way to have Ashe's golden weapon without actually paying the Competitive Points for it!
To earn the other event-exclusive sprays, you'll need to watch drops-enabled Twitch streamers for six consecutive hours. Make sure you have your Blizzard account connected to Twitch to actually earn the rewards. If you want to see a list of streamers you can watch, check out Blizzard's blog post, or take a look at the Battle.net launcher. Our official Blizzard Watch Overwatch streams on Thursday and Monday will be enabled with drops, so you may want to mark your calendar for those, too. Be sure to make sure the Twitch stream says drops enabled under the stream window14; having it in the title doesn't guarantee them.
This patch also marks the introduction of the Experimental Mode and several great Workshop additions, like these three new maps. Unfortunately, it's hard to explain why the Workshop changes are more significant than usual before people start creating extravagant things with it, but know that creators are definitely excited. In the meantime, you can test out a triple Damage hero composition in the Experimental Mode and earn wins that count toward the event.
Now that we've got that out of the way, it's a little funny that the Mardi Gras event is starting right before the real-life celebration ends. I guess if you're giving up pączki or pancakes for the next 40 days, you might as well be able to gorge on digital goods like an Ashe skin.