What are your goals for the rest of Battle for Azeroth?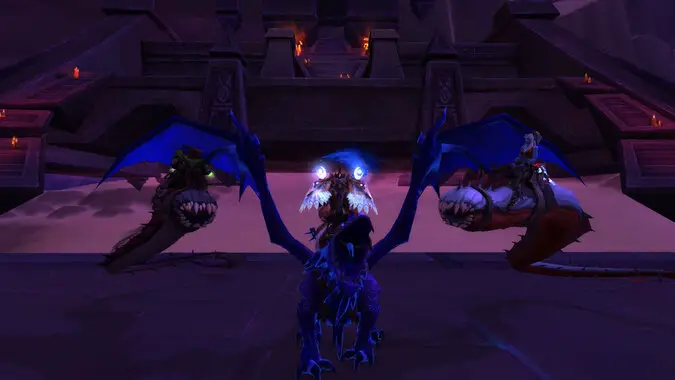 We're pretty deep into the Visions of N'zoth patch — Ny'alotha has been raided, we've braved the depths of N'zoth's nefarious visions for Orgrimmar and Stormwind, and we've fought off his minions in Uldum and the Vale of Eternal Blossoms. But there's always more to do. I've been looking at the next few months that we're going to be in Battle for Azeroth — hopefully Shadowlands doesn't get too delayed because of Covid-19 — and trying to figure out what I'm still missing that I really want to get. Mostly, that's collecting mounts.
I've completed my Ahead of the Curve and gotten one of the amazing Void drakes, and I've spent enough time in Horrific Visions to get the Black Serpent of N'zoth and Faceless One title. But I'm still missing my Keystone Master for the season. That's one of the big goals. I've only got two of the dungeons left, but finding the right group can be tough sometimes. In Ny'alotha, my raid team needs to find a day to start working on the achievements necessary for Glory of the Ny'alotha raider too. I need to make sure those last two happen because I want to collect all of the various N'zoth worm mounts — I love their giant smiles.
I'm still visiting Mechagon fairly regularly. I'm only two drops away from the Mecha-Done achievement and the shiny monocycle that comes along with it. Those last two things I need sure are taking their sweet time to drop though. I'd dearly love to cross that off my list and wave goodbye to the island. I'm also still going under the waves and making the trip to Nazjatar for the same reason; I'm really close to finishing Undersea Usurper and getting my hands on that crab mount — if I could ever get Kelpwillow to spawn.
What are you striving for? Are you hunting for those last few achievements you need to get your Glory of the Raider metas? Is there still a pet or mount you want from one of the rares in Uldum? Are you bound and determined to level every possible class as a Vulpera? What are your goals for the end of Battle for Azeroth?