Overwatch's new hero, Echo, is a culmination of the game's hero design, for better or for worse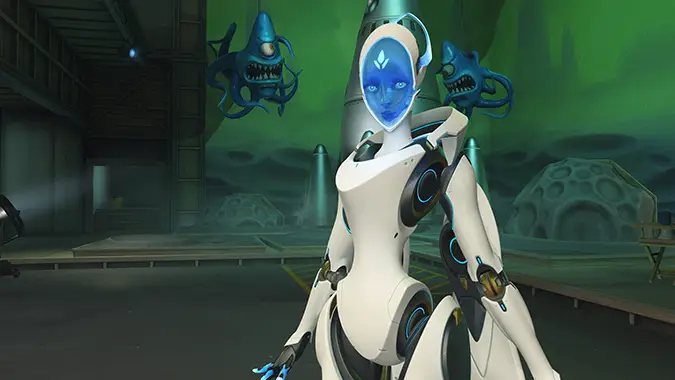 Update: Echo is live now, and you can watch our Overwatch stream — or any other Twitch Overwatch stream with drops enabled — to earn some cool in-game rewards.
Like Sigma, and Baptiste before him, Overwatch's new hero Echo represents the best parts about Blizzard's shooter, and the worst. As the hero-shooter genre's tendrils latch onto other games like Apex Legends and the upcoming Valorant, it puts Overwatch's unique design in relief. Echo couldn't exist in those other games where the primary verbs are shooting and where hero abilities add a wrinkle to the split-second firefights. She's too powerful and doesn't even wield a traditional weapon. But within the context of Overwatch — where 31 other heroes share the same DNA — she's too powerful because of how much she's familiar to the game's ethos, just cranked up to 11. She's a conglomeration of ideas and skill sets plucked from the rest of the roster; she's Frankenstein's hero.
When we look back at Overwatch's initial design philosophy, its heroes were defined shapes. Widowmaker — the sniper — could only land a lethal shot if given enough time to charge it up — leaving her severely vulnerable to anyone attacking her up close. Mercy could heal back loads of health to her team, but she could be eliminated in only a few attacks from the enemy team. Reinhardt lacked any ability to launch attacks from afar, but up close he could thrust his hammer across several enemies at once. Every hero has a clear, exaggerated weakness so that other heroes could take advantage of it.
But as the game released heroes like Ashe, Baptiste, and Sigma, the shape of a hero became blurry. Ashe overlaps with the other long-range heroes like Widowmaker and McCree and has the ability to contend with anyone nearby. Baptiste not only has a self heal, he can jump into the sky and give him and his allies temporary invulnerability. He's much harder to kill than Mercy. And although Sigma shares Reinhardt's massive shield, he has long range attacks and a massive rock projectile that stuns enemies. Whether it's design fatigue, angry player acknowledgement, or a mixture of both, Overwatch started to become a game about heroes that can do everything as long as the player is mechanically masterful at them. Every new hero, and every new balance change, transforms these characters into puppets for the skillful elite. It just so happens that the skillful elite play against each other on a stage broadcast around the world for the Overwatch League or to their audiences on Twitch.
Too much power, not enough thought
When you create a hero like Echo — who is a Damage hero that not only has the ability to fly and deal damage, but the ability to turn herself into an enemy hero and utilize all of their abilities and ultimates — you're creating it for a specific type of player. In fact, Echo's kit is terrified that those players won't like it. She's not a rifle-carrying hitscan hero, but please don't go, she does lots of damage with her projectiles and her explosive bombs. Please, please don't leave her! She can also use a massive beam weapon to deal extra damage to targets who are at or below 50 percent health. I'm begging you, please, her ultimate will let you just turn into a different hero altogether so you can be comfortable again, my liege.
Echo not only does everything and more, but she completely upends the entire concept of ultimate economy and hero counters as we know it. Because her ultimate allows her to gain another hero's ultimate faster than normal, she can theoretically use your own team against you. It's the kind of design choice that doesn't feel clever or disruptive, but lazy and illogical. Ultimate abilities have always been about consistency so that you can learn how to react to them, but now there will be a hero in the game that could pull off six different ultimates in a single match — and that's if nobody on your team swaps. The idea might have worked in the old Overwatch without role lock and maybe even hero limits.
The spontaneity of Echo mirroring your Roadhog out of the blue and pulling off a ridiculous Whole Hog fits right into Arcade modes like Mystery Hero or even the burgeoning "Tiny Overwatch" custom game. But inside of a game that has worn away our ability to express ourselves with via last-minute hero swaps and abnormal hero compositions, Echo demands serious, team-based, competitive consideration. Heroes that solve every problem they're faced with erode the natural teamwork that Overwatch incentivized you to do. Like the last good thing Kanye West said: No one hero should have all that power.
Echo in a vacuum is brilliant. She has all the parts of Overwatch that fight back against the ways shooters have been packaged and sold to us since DOOM. She doesn't carry a shotgun, she flings out energy bullets with her fingers. She isn't a giant, muscular man, she's a slender robot that hovers. But Overwatch isn't a vacuum. You can see the ways the game has twisted and conformed to the tyranny of the genre. Echo is the product of a want to maintain the illusion of a shooter for everyone, but the failure to escape the reality of creating a shooter for someone — the same someone who has got to enjoy every other one for decades. She is — tragically true to her name — comprised of what came before but slightly different, a voice trailing ever backward.