Overwatch's new update improves communication and more importantly gives you extra chances to shoot a basket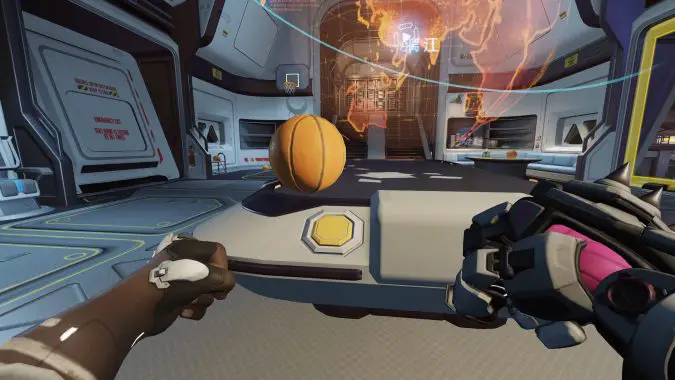 Overwatch's latest update encourages you to communicate to your team and work together, and it also encourages you to keep trying to shoot the basketball for good luck. Whichever you choose, you'll probably find happiness — it just might not include the other five people.
The old communication wheel got an overhaul on the game's PTR. Instead of only voice lines like "I need healing," and "group up," you can now say a whole list of useful callouts, mirroring a feature that's become popular in battle royale games like Apex Legends. There's an entire list, which includes lines like fall back, attacking, defending, go, goodbye, need help, sorry, you are welcome, and more. Each voice line can be attached to the communication wheel and bound to a specific key. For the moment, they're not voiced, but they will be according to the developer update video, which was filmed by Jeff Kaplan using an iphone taped to a box — no, really.
What's likely more important to many of us is the introduction of a button to spawn the basketball on maps like Ilios and Lijiang Tower. When you miss the basket by a mile, you can try again by slamming the yellow button (with your interact key) to bring the ball back. After all, everyone knows that if someone makes a basket before the game begins, you will win.
I WAITED 4 YEARS FOR THIS BUTTON pic.twitter.com/9J3eClwEbE

— MSF Popcorp (@PopcorpGFX) April 23, 2020
There's a few other quality of life improvements in the PTR patch, like in-client patch notes. You'll no longer have to visit an outside website to see what's changed in the game — something particularly annoying on consoles. Workshop codes also can be updated without having to change the code. It's a pretty nice change for anyone trying to share a mode that they'll be updating over time. And lastly, there's a list of Workshop changes that don't make any sense to me, but will probably make the ridiculous modes everyone makes with it better.
Even though Overwatch released its last hero recently, it's clear that Blizzard wants to keep improving the game in small ways as we near the release of the sequel. Nothing here is game changing, but it's all going to keep the game relevant as the big, new content is released.