The Queue: I'm Low on Gas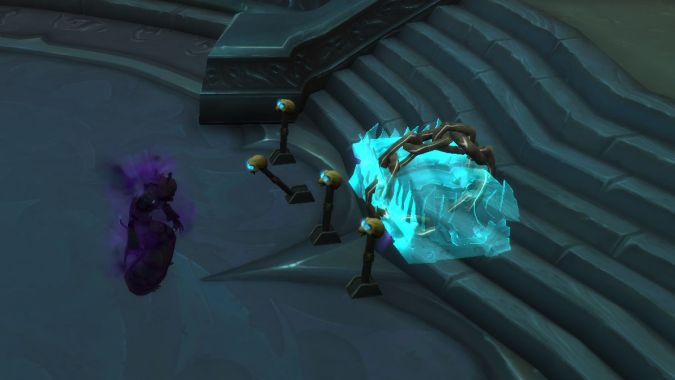 How's everyone doing today? It's been a bit of a crummy week here, but I'm hanging in for now. I'm hoping that Michigan's weather decides to warm up soon, since we've had snow several times within the past week. Warm weather gives me life.
Anyhow, enough of that. Let's Queue.
---
VALENCEMAGI BRINGS BACK AN OLD FAVORITE FOR THE NON-DINOSAUR WRITER:
2BE: Cretaceous vs Jurassic periods. Go.
Man, I thought this would be easier, but looking up lists of dinosaurs in both periods leaves me torn. I'm gonna give it to the Cretaceous, though, based on number of dinosaurs that were apparently alive during it.
I'm sure Rossi would have given you at least five more paragraphs here, but I hope you still don't mind my brevity.
---
ENO HAD A QUESTION FROM THE OTHER DAY THAT WAS ASKED AGAIN YESTERDAY:
Just noticed K'uddly's pet description: His tentacles give you the best hug your brain has ever felt.
Makes me wonder..
QfMitch? What would be a Faceless One (or mind flayer)'s /flirt if they became a playable race…? >_>
Man, WoW has managed to surprise me with how risque some of their /flirt options get, so this one could go a whole lot of ways. I'll uhh… try to behave myself with this list, though:
Hey, baby, wanna find out if you like tentacle stuff?
I bet I can make you call to the Old Gods tonight.
Ever been held by something with multiple appendages?
I have one tentacle to hold your hand, another to brush your hair, and another t-
┬┴PG┬┴┤ ͜ʖ ͡°) ├┬┴13┬┴
Ah, h*ck. I tried.
---
ARTHONOS IS FACING THE LULL:
Q4tQ: With things dragging on, are you having to try new things to keep yourself interested in things like WoW? My guild has never been one to attempt the raid mount achievement, but there is discussion about giving them an attempt to try and fill the time until Shadowlands.
Honestly, when I stop being interested in WoW, I don't usually try to change that. I've been playing long enough that I know when there are signs I should cut back and just let my interest recharge. In the past, I've definitely farmed achievements and transmog, and I always DO enjoy dungeon and raid achievements, but at the end of the day? I'm playing WoW less and other games more, because I know Shadowlands will be the thing that really pulls me back in, and I don't want to go into it only half-excited because I've spent the last 6 months trying to make the game fun.
---
SPENCER MORGAN WONDERS WHAT A BLIZZARD SIM WOULD LOOK LIKE:
Q4tMitch: If blizzard wanted to do the laid back village life simulator genre (see also: animal crossing) but with warcraft's setting; could they do it better?
Like, you're a fisherman or farmer in Westfall before the Defias showed up.
I have enough faith in Blizzard to believe that they could do it extremely well and that they'd find a way to hook me, but could they do it "better"? Assuming you mean better than Animal Crossing or Stardew Valley, I don't think a BlizzSim would be better on its first try for sure. Give it a couple patches or an expansion (a la Reaper of Souls) and maybe it could be as good as those — but still not better. I mean, maybe for some it would be better, but I think it would be different enough that the comparison wouldn't be entirely valid.
Stardew and Animal Crossing are both in this genre, but they're different enough that I'm not going to play favorites. I love them both for different reasons.
Now — and I honestly hate to say this — I'd also be a little worried about how a Blizzard-created sim would incorporate microtransactions. Animal Crossing Pocket Camp fell into the trap of being an AC game that needed to work for a phone audience, and the result was that it became full of the sort of microtransactions that take away from the Animal Crossing experience. Blizzard's game design for a while now has been to create games that don't ever "end," and they support that model via in-game purchases or subscriptions (or both). Diablo 3 is the major exception here, but it's also one of the older titles and it has a brand new game on the horizon.
Again, I'm sure even with microtransactions, Blizzard could make a sim game that I'd absolutely fall in love with. And in all likelihood, those microtransactions would be non-mandatory in the way all Blizz games' purchases are. But I think it would follow a different formula overall, and that would be something I'd eventually get overwhelmed by.
---
KALCHEUS THE FLUFFY ASKED A LOT OF QUESTIONS YESTERDAY. THIS WAS ONE OF THEM:
Really dumb question: how do I easily identify the sanity-losing potion in Orgrimmar again?
So, in both Stormwind and Orgrimmar, there's a dead dude with a potion close by. That potion is the bad potion. In Stormwind, this poor soul is a lot easier to spot because it's basically 100 or so yards directly in front of you when you start.
For Orgrimmar, you'll need to go to the small hut to the left to see the dead Orc and accompanying bad vial. It's either the second or third building, and it's pretty small compared to all the others around it.
---
CAPTAIN ROXXII, IS THIS EVEN A REAL QUESTION?
100% all the way. I mean, I'm also going to love Maldraxxus, I'm sure, but the Venthyr are really freaking cool, and everything about them is my aesthetic.
---
ENO HAS ANOTHER QUESTION ABOUT FLIRTING:
What would a Venthyr's /flirt line be?
Uhhh… all that's coming to mind involves a play on the fact that vampires suck blood, and I can't find a way to make that appropriate. Gimme your best lines in the comments, Queuemans!
---
KALCHEUS THE FLUFFY ASKED ANOTHER QUESTION. SEE? I TOLD YOU!
Q4tQ What are your opinions of Torghast so far?
It's a fantastic, challenging addition to WoW that will change endgame content for solo players, and it's one that will be significantly worse if Blizzard goes through with their idea of gating it behind a key. I've been on that soapbox already, but it's really something that needs to change.
Now, the place itself is fantastic and I love seeing all the different powers available. I think some classes could use a few more fun options, similar to the Mage one with no Blink cooldown, but overall, I cannot wait to push it as far as possible and see all the crazy things people come up with. There is SO much potential in Torghast, and I hope Blizzard makes the most of it, even beyond Shadowlands.
That's today's Queue! I hope you all are hanging in there and have a great weekend when it rolls around.