The Queue: Don't let this beast eat me!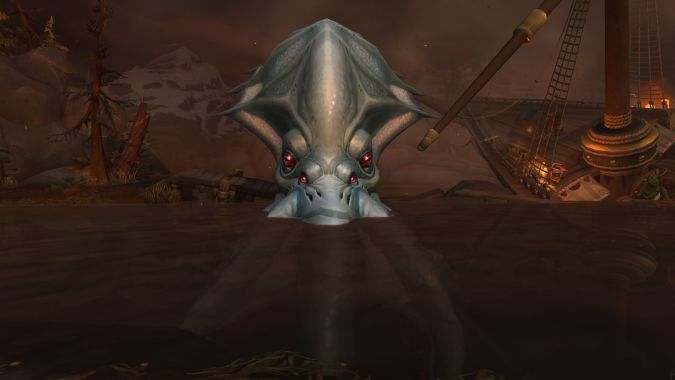 If you can hear this line in your head, congrats! You've run Siege of Boralus too many times.
Anyhow, Queue time!
(This week's Queue is, sadly, not an all-Kalcheus Queue.)
---
JALAMENOS WANTS TO KNOW HOW FAR WE'LL GOOOOOO:
Q4tQ: Do you think WoW will ever get a "new" continent?
What I mean is that every expansion has added a continent that wasn't really new in terms of lore – so far each one was introduced in some way or another back in the RTS games or the now non-canon RPG.
I was looking into it, because I don't remember the Shadowlands mentioned before WoW, but apparently it was mentioned in the non-canon RPG. Which is honestly kind of crazy to think about. It seems like Blizzard would've added a brand-new continent by now.
That's not to say the stuff they've added is in any way unoriginal — all of the individual zones we get are new or usually haven't been described beyond little details. And in that way, even though we're getting continents that have been named, that's where it end. I mean, if we were to have the exact same zones but call the continent something else, would we know the difference? If Argus had had the name of a completely different planet, would we have thought, "Hey, this feels like Argus?" (And speaking of Argus, the little invasions did give us glimpses of other planets…)
ANYHOW. I'm getting sidetracked by semantics. I really hope that Blizzard does introduce us to completely new continents, and I think they will at some point. But for every person who wants to see somewhere new, there's at least half a person who wants to go someplace referenced in some random, barely known place.
---
MISTAH JAY WANTS TO KNOW ABOUT CANON LEVELING:
Q4tQ: Does anyone wonder if the level up whoosh is Lore Canon? like, we just randomly go WHOOSH! when we kill something or discover somewhere
I've honestly never thought about this, but I kind of hope it is just because it seems silly. I can see it becoming canon as something that manifests differently than what we see in-game, like an aura maybe. But that's less fun.
---
ENO REMINDS ME HEROES OF THE STORM ALLOWS US TO DO ANYTHING:
QfMitch: What character in Heroes of the Storm do you most want to see converted to a faithful servant of the Void, and why?
Anduin will forever be the one that I want to see embrace the Void portion of Priesthood, partially because I hate seeing someone who clearly has angst and struggles with emotions be so emphatically committed to the Light. It makes sense to me that he'd have an emo/Void phase, and it would hopefully bring Shadow Priests into focus from a lore perspective.
The other one is Alexstrasza because I love the juxtaposition of the Life-Binder and the Void working together. Plus, I think she'd look pretty badass.
---
D4 BRINGS UP AN OLD MEMORY. NOT MY MEMORY, BUT STILL AN OLD MEMORY:
Here's one of the evergreen questions:
Way back in the day, on Some Other Website, I mused and asked about one-to-one class/race combos: back then, there were ten classes and ten races, so if you wanted to have exactly one of everything, which combinations would you go for?
Recently, it occurred to me that there are now 12 classes and 12 races available to each faction, so I ask the updated version of the question: if you wanted to have 1 of each race and 1 of each class (in each faction), which combinations would you go for?
Demon Hunters take the Night Elves and Blood Elves off the board for every other class, obviously, but beyond that there are a lot of ways to go.
All right, let's see here…
Alliance
Human — Warlock
Dwarf — Hunter
Gnome — Mage
Draenei — Shaman
Worgen — Death Knight
Pandaren — Monk
Void Elf — Priest
Lightforged Draenei — Paladin
Dark Iron Dwarf — Warrior
Kul Tiran — Druid
Mechagnome — Hunter
Horde
These were honestly a bit harder than Alliance. I originally liked Pandaren being Shaman, but it left me with Goblins as Monks, and that just doesn't work.
Orc — Warlock
Undead — Priest
Tauren — Druid
Troll — Death Knight
Goblin — Shaman
Pandaren — Monk
Nightborne — Mage
Highmountain Tauren — Hunter
Mag'har Orc — Warrior
Zandalari Troll — Paladin
Vulpera — Rogue
---
MUSEDMOOSE, LET'S NOT JUDGE:
Q4tQ: is pet battling real? I mean, does it canonically exist? Are there actually people on Azeroth who not only train snakes and squirrels and rabbits and horrible tiny abominations to fight each other, but also tour the world doing so? Because if so… that's a little messed-up.
Given the existence of Battle Pet Trainers and Master Tamers and whatever they're all called, I'd say yes, it does exist. The exact mechanics may not work canonically the same way as they do during player pet battles, but I think it's safe to say Pet Battles do exist in some form. And I mean, there are far more messed up things in Azeroth. Just don't think about it too hard.
---
LEFTY HAD A FOLLOW-UP TO THE ABOVE:
Follow-on question: What's your current favorite pet (based on looks, not moveset).
I really love K'uddly, but I think my favorite might be Lil' KT. I'm a sucker for Kel'Thuzad in general, and the pet model is a perfect cute coating on top of him. Granted, those are just the ones that immediately jumped to my mind. There are a whole heckin' lot of pets in the game, and I didn't go through them all before writing this (sorry).
---
RED WANTS TO KNOW WHAT I THINK OF THE FUTURE:
Q4Mitch: what do you expect to see changed for Shadow Priests in the Shadowlands alpha? Do their issues from BfA (and even Legion) still exist? And how would you fix them?
I don't expect to see the amount of changes that I want to see, no. But that's because I'm actually hoping for a major change of the class. I like seeing things upended from expansion to expansion, even if the end result isn't always enjoyable. I'd rather Blizz take the risk and deliver something unique compared to what we've had for two expansions now.
How I'd fix them is probably too long for a Queue answer, but I'd love to see a heavier emphasis on DOTs, new abilities that really tap into the Void the way NPC abilities seem to, and more utility like oldschool VE (or even mana battery).
---
GLOWING METEOR CARROT ALWAYS MANAGES TO GET AN INTERESTING ONE IN HERE:
Windrunner sisters vs the Stormrage Bros and Tyrande in a hula hoop contest. Who wins?
The Windrunners start out with an incredibly intimidating routine. They are amazing. Nothing seems to compare.
Then Illidan shows up. He's amazing.
The hula-hoop-off continues between him and the Windrunners, and Tyrande decides to step in for some backup. Now, they all look fantastic. The best routine you've ever seen.
Malfurion decides to take a go at it. He's awful. Like, worse than you're picturing. So, so bad.
Everyone else stops the contest, laughs at him endlessly, then goes for drinks as they all talk about what a dweeb he is.
And on that note, we're done for today! Malfurion is the worst.