What do you think of the Overwatch Summer Games 2020 skins? What new skins would you have liked to see instead?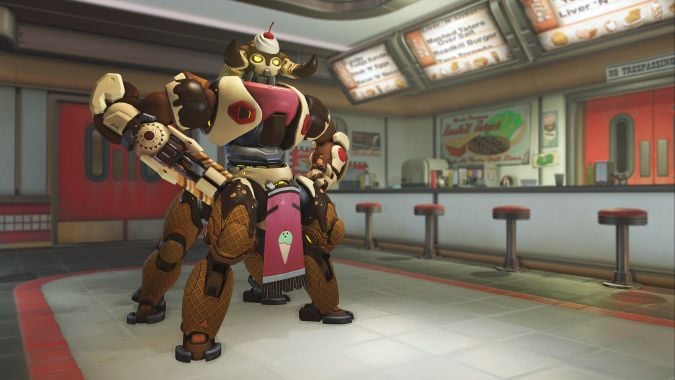 Overwatch's Summer Games 2020 event officially kicked off yesterday, and with it, new skins — arguably the most exciting part of any in-game event. After a pre-launch preview of Pharah and Echo's new skins, yesterday gave us the full array of new looks. As usual, three of them come from weekly challenges, and the rest can be purchased with Credits or earned in Loot Boxes. Surprisingly — to me, anyhow — the awesome Ice Cream Orisa skin is part of the weekly challenge batch.
I must have it.
As for the rest of the skins, I really appreciate Pharah's for being genuinely cool looking while still showing off what a badass Pharah is — I mean, look at those abs! — and I'm more partial to Brigitte's Feskarn skin than I expected to be at first glance. Bastion's Sand Castle skin is another that I really appreciate, mostly because it's super cute and well done, and it reminds me of going to the beach as a kid. I'm less thrilled about the remaining four, though. Don't get me wrong, they're all quality skins — but they just don't pop the way Ice Cream Orisa or Lifeguard Pharah do. Still, if I love half the skins added and like the other half, I'll call that a win.
That said, there were definitely some heroes I would've loved to see get skins in this year's Summer Games event. Ashe, Symmetra, and Sigma all still need Summer Games skins, and even if Sigma just had his Maestro event, he's still new enough that a decked-out skin would've been nice. Ashe and B.O.B. are almost definitely the types to take a fancy trip to a resort and just spend a day out in the sun, ruling the beach — that skin practically writes itself. I'm admittedly less sure about the others, but that's where you come in!
What do you think of the new Overwatch Summer Games 2020 skins? What would you like to have seen instead of (or in addition to) the ones we got? Let me know below!