Diablo
Sep 30, 2020 10:00 am CT
Diablo 4 definitely needs to have a secret cow level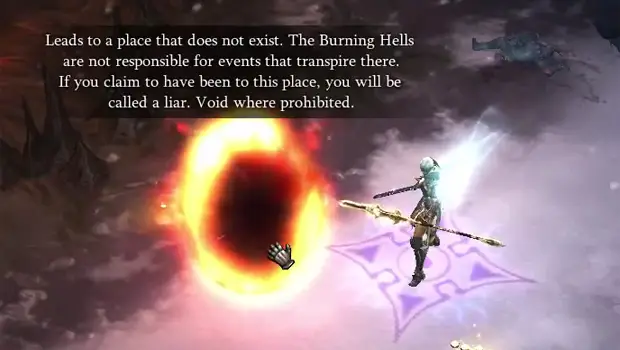 The cow level is a lie. That's what we've been told, time and time again — yet the worst hidden secret in the history of video games keeps getting debunked. We know that, since Diablo 2, there have in fact been several cow levels.
And sometimes the formula has been shaken up: We've had Whimsyshire, Diablo 3's attempt to poke fun at the criticisms that the game was too colorful, full of sunshine and rainbows and fluffy unicorns. By this point, it's a tradition — the secret level in Diablo, whether it contains bovines or a different assortment of creatures, is almost an expectation of the playerbase.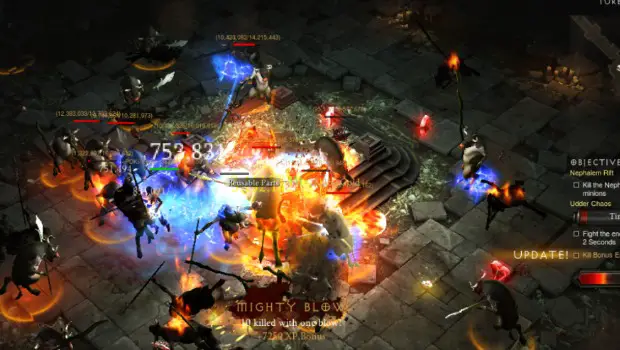 What should the cow level be like in Diablo 4?
It shouldn't be something super rewarding that players want to run for power or efficiency. This is important because players will always seek the path of least resistance. If it turns out that the cow level awards more plentiful loot than other avenues that the game is actually designed around, players will no longer think of the cow level as a bonus, a fun extra tidbit. They'll actively seek out the cow level as a path for maximum player power. And that will completely distort the intended experience.
It should be a bonus that players stumble upon serendipitously, much like the rainbow portals to Whimsyshire in Diablo 3. You didn't really have control over when and how you found one — you just did. Seeing a rainbow portal was a nice surprise — and the psychological weight of such nice surprises cannot be underestimated, especially on a game of the Diablo series, where you're constantly trying to find them.
Diablo 2 had a different formula: You would create a specific recipe on your Horadric Cube, which would then open the portal to the original cow level. But even then, you were required to stumble upon Wirt's Leg — one of the items required for the secret recipe — so your nice surprise was seeing the poor boy's prosthetic leg drop from a demon. Diablo 3 simply removed the middleman by making the portal appear on its own.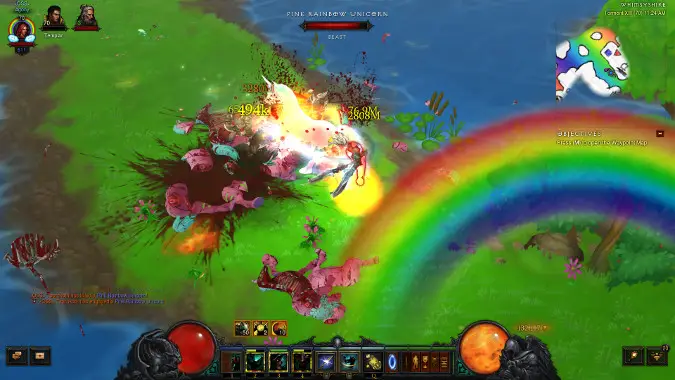 Should it be an actual cow level or not? Could something like Whimsyshire work again?
Now here is the real conundrum. There are solid arguments for both sides.
First, it should be considered that it might be fun to shake things up a little! The original cow level was something that came out of the left field. It puzzled people. Cows from hell? In my totally serious, gothic horror game!? Well, yeah. And the sounds that those cows made made the whole experience even more bizarre — and obviously clear that it wasn't something to take seriously, but rather, an appendix to the main game. How could you recapture that sensation again? By adding something even more unexpected than cows.
But on the other hand… cows are a tradition! When they were left behind in Diablo 3 in favor of the teddy bears of Whimsyshire, they had to eventually be added back later. People have come to expect the cows! If they aren't cows, it's not a cow level per se. It's just a bonus level — and bonus levels are not a Diablo exclusivity; every other game has them. The cows are a Diablo trademark, even seeping into other games, both from Blizzard and from other companies.
So, my final answer is that yes, Diablo 4 should also get its own cow level — with actual cows! — as long as it doesn't upset gameplay balance, and is not something that players can simply "farm" — pun absolutely intended. It should be something we can stumble upon every once in a while as a nice bonus, for a good laugh, and to have fun times slaughtering hordes and hordes of weaponized oxen. Moo.