Overwatch's Halloween Terror 2020 event is now live, with a ton of creepy skins and a weekly challenge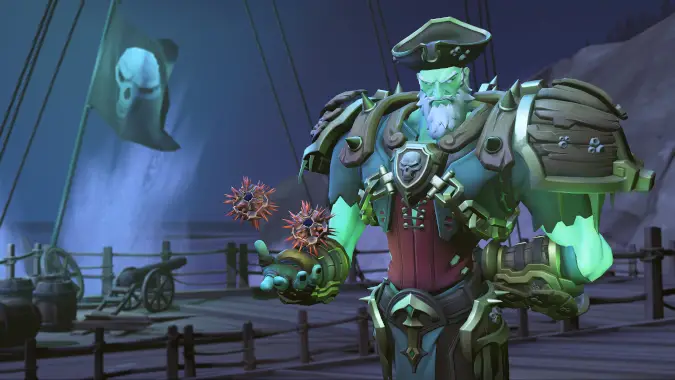 Overwatch's Halloween Terror 2020 event is like the monster in a horror movie. It's always there, lurking somewhere in the shadows, off-screen, or behind the window. As we drag through the months leading up to it, the tension grows higher and eventually — like a shrill piano note — it arrives with a bunch of new cosmetics and skins.
During the Overwatch League finals, we got a surprise announcement — Halloween Terror 2020 gets dark and spooky on the apropos date of October 13th, and will stretch to November 3rd. In that time, you'll have plenty of opportunities to earn the game's new icons, sprays, voice lines, emotes, skins, and more by clearing out the Junkenstein's Revenge PVE mode. The scenario takes place on a dimly-lit Eichenwalde map where you have to defend a door from Zomnics. Think of it like Resident Evil, except you're Torbjorn instead of Leon S. Kennedy. The zombies don't know how to kill turrets or dodge molten goo on the ground, just like they don't know how to deal with Leon's roundhouse kicks.
Ooh… Scary!

Overwatch Halloween Terror begins on October 13! pic.twitter.com/3fFvG7Y4Vi

— Overwatch (@PlayOverwatch) October 10, 2020
The new skins showcased in the trailer include the Flying Dutchman Sigma skin that'll be a must-get for fans of the Blizzard Watch podcast as it's a pirate ghost, plus the Shin-Ryeong D.Va skin that seems to be patterned after the Korean folklore trickster, the kumiho. Hanzo and Genji have new skins themed after tengu from Japanese folklore. Genji is a crow-themed Karasu-tengu, while Hanzo is a Dai-tengu with a red face and huge nose. There's also a werewolf Winston, which is just made for Primal Rage. We can also expect more voice lines, sprays, and icons to round out the Halloween treats.
The event features three weekly challenges where you can earn a set of themed items. Week one features Sombra and her new Phantasma skin, week 2 is all about Stone Brigitte, but week 3 is the one we're looking forward to, with the deliciously creepy Ragdoll Echo.
If you grind out enough rounds of Junkenstein's Revenge, you'll also be able to earn skins from previous Halloween Terror events that have risen from the grave, like Mercy with a broom, Reaper without a head, Doomfist with fins, and Moira with claws. Blizzard, please give Widowmaker a monstrous skin where she has a total of eight legs, because the 2018 Spider skin was pure cowardice. Thank you.
Thankfully, you can practically minimize Overwatch and watch something on Netflix to get a win in Junkenstein's Revenge on Normal. Earning skins during Halloween Terror is as easy as wrapping yourself in toilet paper and saying trick-or-treat, except the candy is skins and not chocolate. Bummer.
Originally posted 10/10/2020. Updated 10/13/2020.