WoW
Nov 12, 2020 6:00 pm CT
No, Blizzard hasn't banned multiboxing in WoW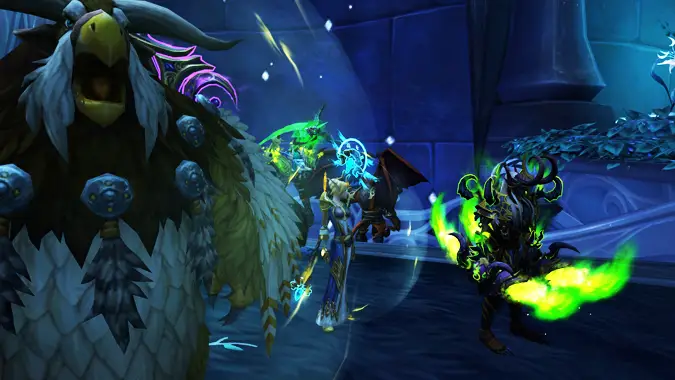 When Blizzard first announced a policy update that put limits on multiboxing, even I thought it meant the end. For those who play regularly, the sight of a gang of Druids Starfalling or gathering had become way too prevalent of late, and while even I had multiboxed in the past for recruit-a-friend reasons, I was okay with sacrificing the ability to do so in the future if it meant fewer Moonkin squad encounters.
But the language in Blizzard's announcement was a little confusing, and I retracted my premature declaration of death after giving it another perusal. Blizzard weighed in to clarify: multiboxing is not intrinsically a violation of the new policy, which was instead designed to eliminate the use of single input software while multiboxing. If that seems like hairsplitting, well it kinda is, but it's an important hair to split.
I feel like my own personal example best explains the distinction. When I was leveling via recruit-a-friend back in the Mists of Pandaria days, I used an addon (whose name escapes me) that basically let me have one character /follow the other so that they could both gain quest and kill experience as a group. To be honest, it was ungainly, and I ended up having to manually intervene more times than I wanted to, but the 300% bonus XP at the time was too much to ignore.
What I didn't do — and which was an option in the addon — was bind one key to an ability on both characters. I could've designated "5" as Flame Shock on my Shaman and Shadow Word: Pain on my Priest, and pressing 5 would have both characters attack the target simultaneously. This is the big no-no that Blizzard is trying to stop, because players now have access to software that allows them to simultaneously control a party of Druids that could gather an herb or Starfall an entire area at the press of a single button.
While there has been the typical amount of hand-wringing and complaining about a Blizzard change, I feel this one does a good job of erring on the side of the player. The multiboxing we've been seeing as of late has been a detriment to server economy, token values (multiboxers use the gold from their harvest to pay their subs), and even just the ability to complete a quest sometimes. For those of us who want to have our main carry our alts through old raids to unlock transmog, the impact isn't as dramatic.
In fact, I'm hopeful that this change in multiboxing will result in better addons for those of us who are just looking for a tool to /follow with.