Maple Glazed Roasted Cabbage is a unique recipe for a vegetarian holiday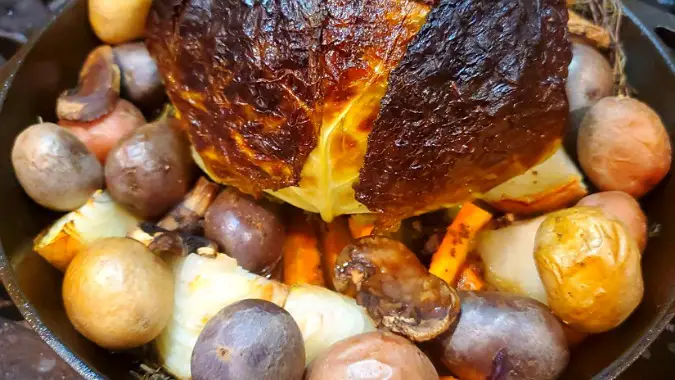 We all may be hanging out in the Shadowlands right now, but the land of the dead needs to work on their hospitality and food situation. The Pandaren knew how to feed people —  no one would go hungry with cabbages the size of boulders pouring out of the Halfhill Farm.
Speaking of cabbages, here is a vegetarian main course recipe I make around the holidays that is a surefire hit — and far tastier than any tofu turkey. You can also easily make it vegan by using a vegan butter.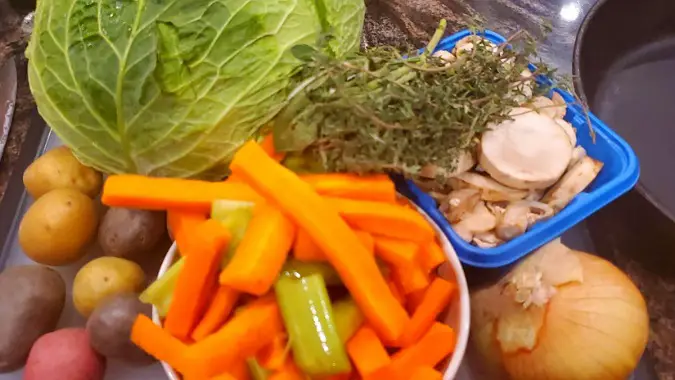 Maple Glazed Roasted Cabbage
Ingredients for Cabbage:
1

large head cabbage

3 tbsp.

melted butter

1 tbsp.

Dijon mustard

2 tsp.

maple syrup

1 tsp.

soy sauce

1/2 tsp.

garlic powder
2 celery stalks, cut into 2 inch strips

2

medium carrots, peeled and cut into thirds

1

yellow onion, cut into quarters
1 lb. small potatoes, washed. cut if using larger.
1/2 c. chopped mushrooms

1 tbsp.

extra-virgin olive oil

1 tbsp.

freshly chopped sage

1 tbsp.

freshly chopped rosemary

1 tbsp.

freshly chopped thyme

1/2 c.

 vegetable broth
For gravy:
4 tbsp.

butter

1/2

onion, finely chopped

1/2 c. chopped

mushrooms

1 tsp.

freshly chopped sage

1 tsp.

freshly chopped rosemary

1 tsp.

freshly chopped thyme

3 tbsp.

all-purpose flour

3 c.

vegetable broth
Equipment:
a large, oven safe skillet, cast iron preferred
aluminum foil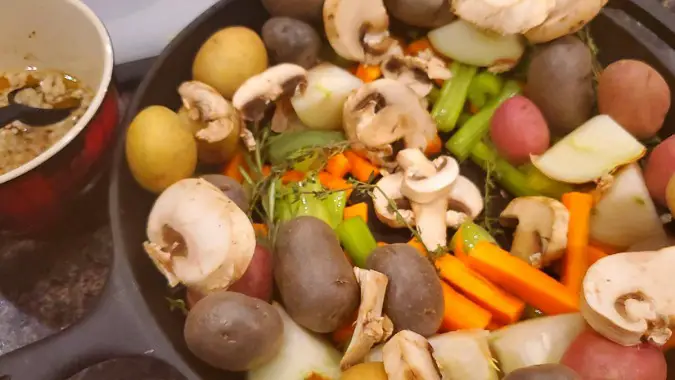 1. Preheat oven to 400°F.
2. Whisk together melted butter, mustard, maple syrup, soy sauce, and garlic powder in a medium bowl.
3. Combine celery, carrots, onion, potatoes, mushrooms, oil, and chopped herbs. If you can get purple potatoes, I always recommend them. They taste like regular potatoes but give a unique look to the final dish and everyone will just ooh and ah over. Season with salt and pepper and toss to coat.
4. Place vegetable mixture in a large skillet and add half of the vegetable broth. Cut the stem off cabbage, which this allows it to sit flat in the skillet. Place cabbage in the center and brush all over with half the melted butter mixture. Cover cabbage with aluminum foil. Bake for 45 minutes.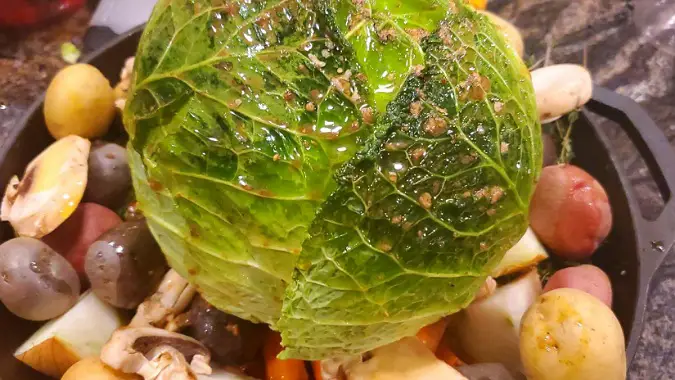 5. Remove foil and brush with remaining butter mixture after the cabbage bakes for 45 minutes. Add remaining broth and bake until cabbage is tender and slightly charred, about 30 more minutes.
6. While the cabbage roasts, it is time to make the gravy. In a small saucepan over medium heat, melt butter. Add onion and cook until soft and brown. Stir in mushrooms and herbs. Cook until mushrooms are soft. Stir in flour and cook 1 minute, then whisk in 3 cups of broth and bring mixture to a boil. Reduce heat to low and simmer until mixture has thickened to your desired consistency.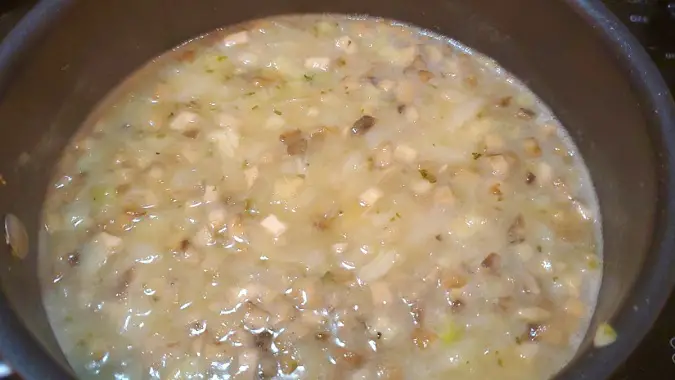 7. Slice cabbage into wedges and serve with the gravy and roasted vegetables.
You may want to slice your potatoes before you pour the gravy so they really soak it in, but that's a personal choice. Go with your gut.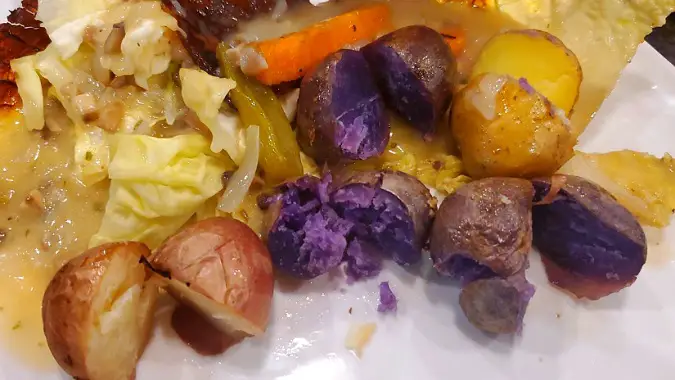 This hearty, vegetarian dish makes a fine main course — or side dish if you have something meatier in mind. The full presentation — cabbage, vegetables, and gravy — is really intended as a meal all on its own, but would go well with the classic holiday main proteins. The subtle sweetness from the maple syrup pairs especially well with pork — especially ham — or turkey. If you're keeping it vegetarian, rolls are a must to soak up any extra gravy.
Maple Glazed Roasted Cabbage keeps for about 5 days in the fridge. Unfortunately, it doesn't freeze well, so put it toward the top of your leftovers list — assuming you're not too stuffed to even think about leftovers right now.