The Queue: How'd that bear get up there?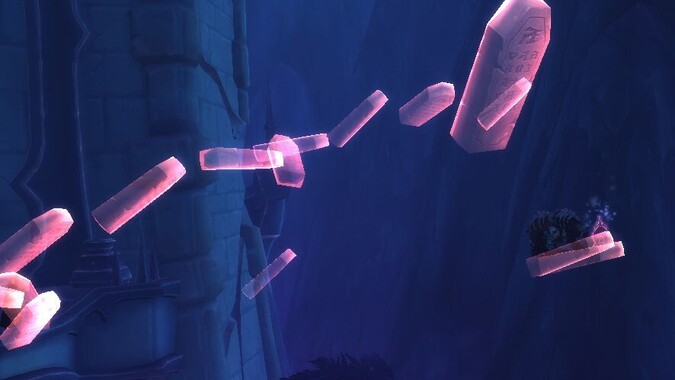 I knew bears liked to climb things, but this is ridiculous! How did he even get up there? How will he get down?! How can this be!
While I figure that out, it's time for — The Queue.
---
HEY, MISTAH JAY, WHAT YOU THINKING?
Q4Revendrethians: Do you collect the greedchest curses? 
I do! I like the jumping puzzles, I like them even more when I remember to leave Travel Form first. That extra speed winds up being more of a hindrance than a benefit. The Greater Greedstone was even the first Anima channel that I empowered to always be up. Now I'll be able to play on some floating tombstones every day!
I'll admit though that I was surprised when I tried to use Door of Shadows to cheat to the end only to be hit with a "Path not found." Those clever jerks thought of everything! Maybe they're just trying to stop me from adding another sin to my eventual Sin Stone.
---
LEAVE THAT OLD MAALIN SPINNING
Q4tQ: two really. Due to much wasted time (groused about already) I am way behind in the soul ash department. Q1: When I finally turn in the 1250 (or whatever it is) soul ash for the quest do they take it away so I have to start collecting from scratch? Q2: How much of it will I need to re-farm? Thanks in advance. 
Good news, you won't lose that Soul Ash. The Runecarver is just making sure that you've collected enough for your first Legendary piece before you try and craft it. The different costs break down like this.
Rank 1: Gear level 190 Requires 1250 Soul Ash

Rank 2: Gear level 210 Requires 2000 Soul Ash

Rank 3: Gear level 225 Requires 3200 Soul Ash

Rank 4: Gear level 235 Requires 5150 Soul Ash
If you do decide to craft a rank one piece and then upgrade it later, you're just going to be out the cost of the new base crafted item. The Soul Ash cost to upgrade is only the difference between the ranks. So going from a 190 to a 210 would only take an additional 750 Ash.
I've made my first Legendary — the ultra-fun return to my Legion Artifact power that makes me an unstoppable bear powerhouse when I hit Berserk. Next up, I'm holding out for a specific drop from one of the Torghast wings to get my best raiding power.
---
LET'S END KALCHEUS' TIME TO LAY LOW
Dumb question … ummmm … is there an easy way out of Sinfall I'm not seeing or am I supposed to be taking the flightmaster in and out? 
There is a fast way out from the lower floor. You can use the bat statue there to fly yourself up and out of Sinfall. What I really want though is a bat from outside that takes me down into it so I don't have to go down all of those stairs. I know that they're good cardio, but they're murder on my knees!
Once you build your mirror network that can be used to get out faster too. Rank three will even have a portal to Oribos! Which I'm desperately looking forward to so I can make Sinfall my hearth location.
---
WULLO, CAN YOU MOVE IT ROUND THE RHYTHM
When did you all swap your azerite armor pieces?
I find it hard to put on even the 140+ ilvl pieces in the slots where I have ilvl 105 azerite armor coz of the way lower main stat… 
I'm not a number cruncher so I have no idea how much my secondary stats are worth and would rather not go into this in too much detail. I kinda wish Blizzard had made azerite gear normal gear at their own ilvl than it would be easier to swap them 
I didn't replace a single piece of gear until I hit level 60. I was fully kitted out in Mythic Ny'alotha gear though, so my ilevel stayed above everything that dropped until I maxed out. Which I thought was surprising, in expansions past I'd usually get 2/3rds of the way through before the quest rewards started outstripping my gear from the last raid tier.
For you though, I'd be willing to bet that if you're getting gear that's 35 ilevel above your Azerite pieces you should probably swap to that. I'm willing to bet that loss of some primary stat is more than made up for with the secondaries you'd be getting. Especially since that Azerite gear has no active powers anymore. At the very least, it's nice to just be able to let the past expansion go, and move fully into the next!
---
CAUSE YOU KNOW GALDWYNN'S LIVING IN THE FAST LANE, SPEED UP
I'm not sure! The previous Winter event fare, including both the past Toys events, came back to the store with the Hogger release. But there hasn't been any word of a new event or a new batch of Winter skins. That's not to say that there isn't something they're preparing to surprise us with soon, they could always drop something on us in the new year. Maybe a nice get dressed up and have a New Years' in the Nexus event! Time for Abathur to get the Tophat and giant monocle that he's always deserved!
---
IT AIN'T NO GAME, JUST TURN UP ALL THE BEAMS WHEN HUSSKIES COMES UP ON THE SCENE
2BE: Awesome talent that's an extra button on your hotbars or decently good talent which is completely passive? 
I almost always choose the passive talent. My bars are full, and I just got them the way that I like them! That extra button had better do something really outrageously awesome for me to choose it.
That line of thinking has come back to bite me before though. I stopped playing my Frost Mage back in Warlords of Draenor because I found the rotation uninteresting. Which might be my own fault for having chosen every passive talent possible. Oops! Someday I'll play them again, maybe.
Today's Anna Earworm™: Lone Digger
Happy birthday to rjagoda, I hope you had a great weekend!
Don't forget to leave Anna lots of questions for tomorrow too!