Food
Dec 11, 2020 2:00 pm CT
Make Quad Layer Brownies for Santa to guarantee he'll bring you good loot
'Tis the season to be baking, and in my household that means non-stop weekends in the kitchen trying out new types of cookies, candies, and cakes. Very few are more enticing than the Quad Layer Brownie — but also few are more difficult.
This recipe is complex and does require a lot of time resting between steps, so it is not something you can just make on a whim and your first time you may not even get it right. But should you master the quad layer brownie, you will have a dessert all your friends will be asking you for.
As this is a complex dessert the ingredients are grouped together, layer-by-gooey-layer.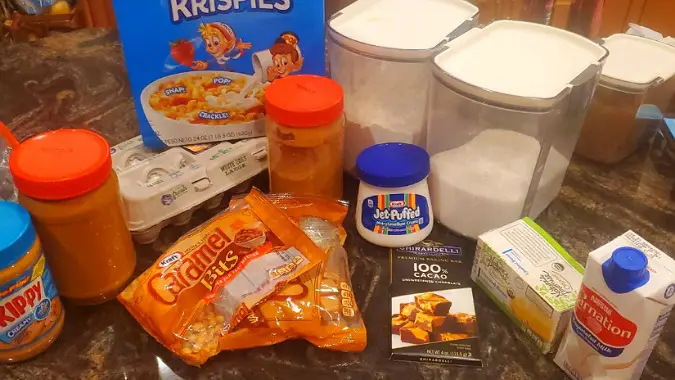 Quad Layer Brownies Recipe
Ingredients:
Brownie Layer
4 oz. bar of unsweetened chocolate, chopped coarsely
1/2 c. (113 g.)  butter
1 c. (200 g.) sugar
2 eggs
1 tsp. vanilla extract
2/3 c. (45 g.) all-purpose flour
1/4 tsp. baking soda
Caramel Crisp Layer
1 14 ozs bags vanilla caramels, unwrapped
2 tbsp. evaporated milk
1 tbsp. water
1 1/2 c. (200 g.) crisp rice cereal
Peanut Butter Cream Layer
1/3 c. (76 g) butter
2/3 c. evaporated milk
1 7 oz. jar marshmallow fluff
1/4 c. creamy peanut butter
1 1/4 c.  (250 g.) sugar
Chocolate Ganache Layer
12 oz.  semisweet chocolate pieces
1/4 c. (57 g.) butter
1/4 c. (85 g.) heavy cream
You will also need:
Wooden spoon
Medium size sauce pan
Large heatproof bowl
13 x 9 baking pan
Aluminum foil
Large knife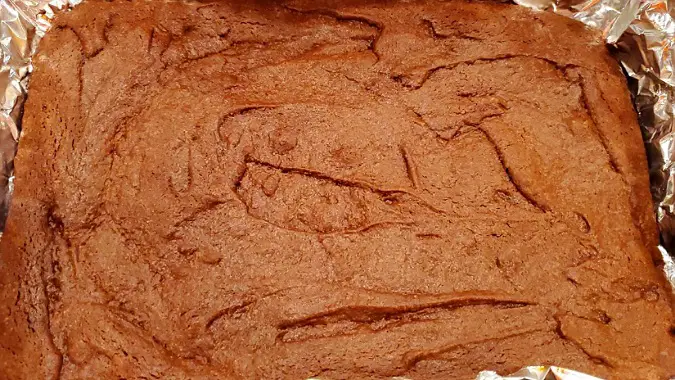 First layer: Classic Brownie
First up, preheat your oven to 350 F and line your baking pan with aluminum foil. Grease the foil well, unless it is nonstick foil.
In a medium saucepan, combine unsweetened chocolate and 1/2 cup butter. Cook and stir over low heat until melted and smooth. Remove from heat, then stir 1 cup of the sugar into chocolate mixture. Add eggs and vanilla, beating with a wooden spoon until combined.
In a small bowl stir together flour and baking soda. Add flour mixture to chocolate mixture; stir just until combined. Pour batter into foiled pan, spreading into an even layer. Bake for 15 minutes, then set aside while working on the next layer.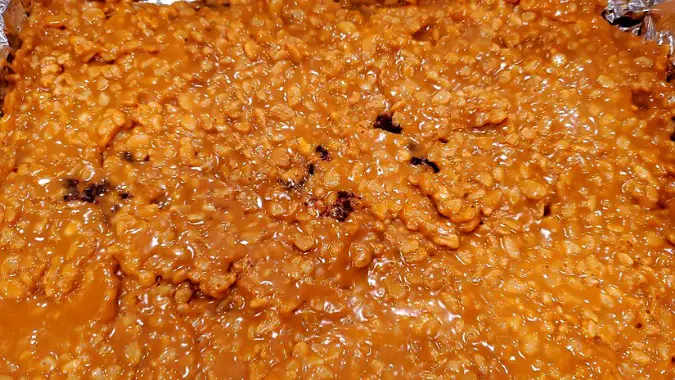 Second Layer: Caramel Crisp
In a large microwave-safe bowl, combine caramels, 2 tablespoons of evaporated milk, and the water. Microwave on 100 percent power (high) about 3 minutes, stopping to stir every 30 seconds, until caramels are melted. Stir in rice cereal.
Spread caramel mixture evenly over brownie layer in pan, spreading to edges. You will need to do this fast as the caramel crisp will start to harden, making it hard to spread out over the brownie — and get it out of the bowl.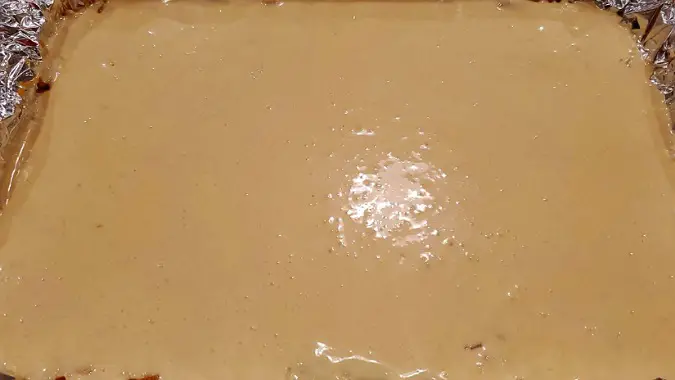 Layer Three: Peanut Butter Cream
In a medium saucepan combine 1-1/4 cups sugar, 2/3 c. evaporated milk, and 1/3 cup butter. Bring to boiling over medium-high heat then reduce heat to medium. Simmer, uncovered, for 5 minutes, stirring frequently. Remove from heat, then stir in marshmallow fluff and peanut butter.
Pour marshmallow mixture over caramel layer, spreading to edges. Place pan in freezer to thoroughly harden this layer while preparing chocolate ganache.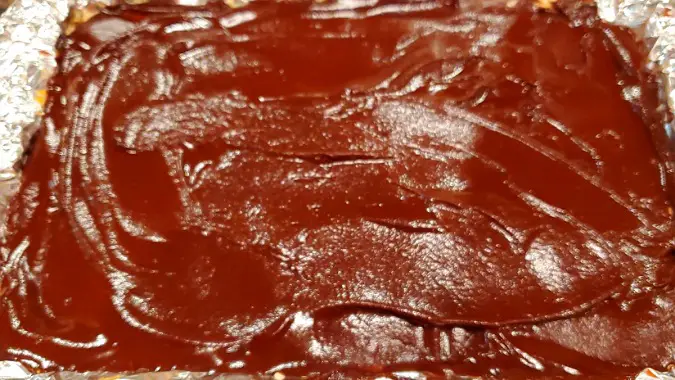 Layer Four: Chocolate Ganache
For chocolate ganache, in a small saucepan melt and stir semisweet chocolate pieces, 1/4 cup butter, and whipping cream over low heat until melted and smooth. Pour chocolate mixture over peanut butter cream layer, spreading to edges.
Cover loosely and chill in the refrigerator for at least 2 hours. I prefer to let it chill over night, but I understand that sometimes the temptation is too much. You should be able to just pull the whole brownie out using your foil sling, then pull the foil off before you cut it into brownies. I recommend cutting it into pieces about half the size of a normal brownie, as they are sweet and very rich. I also recommend a very big knife, such as a pizza knife that I use as a cookie machete.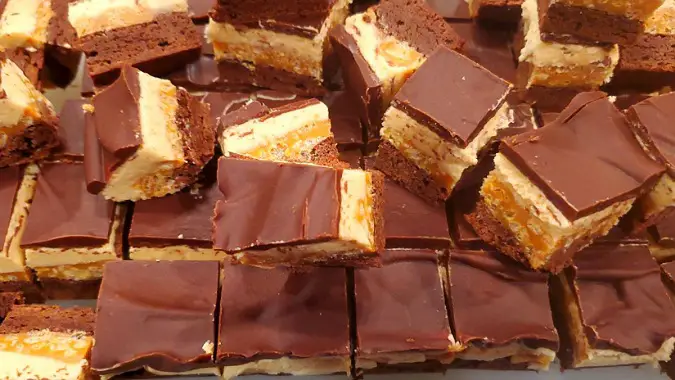 Is all this trouble it worth it?
This is a more complex recipe than a normal brownie, but should you be able to master it, it will be an instant classic. I do find it harder to make in the summer months, just because several of the layers need to be very firm in order to make them layers and not a mixed-together mess — but a mess that's still pretty tasty. To make it more festive, you can use red and green Rice Krispies.
These brownies typically last 1 month as long as kept in a sealed container in a cool, dark place. Let's be real though, we all know they're not going to stick around that long.