How to win Overwatch's Kanezaka Challenge before the event is over on January 25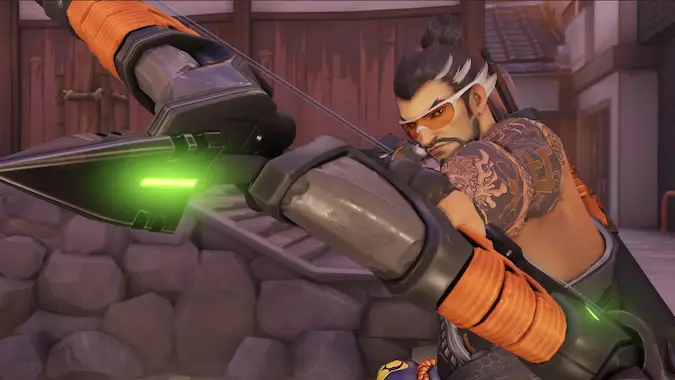 It seems like the Winter Wonderland only just melted away, but Overwatch is already back in business with a new event. The Kanezaka Challenge introduces a new map and will offer players a set of unlockable rewards for their wins in Quick Play, Competitive, and Arcade matches.
The lore tie-in is a letter from a resident of Kanezaka to her husband published by Blizzard earlier this week. Her account details the decline of the town, which had long been under the protection of the Shimada chan but now is being squeezed by the less honorable and even more bloodthirsty Hashimoto.
As a gameplay map, Kanezaka will join the Deathmatch and Team Deathmatch rotations. When you play, try to take occasional breaks to absorb the details of the cat cafe, the ramen joint, and the pottery studio. In practice, it looks like this will have a lot of tight corridors and level changes for catching opponents unawares.
The rewards from this new event are all about Hanzo. Three wins will unlock a player icon of a pagoda at sunset. Six wins nets you a really snazzy spray, a colorful graffiti image with a stylized fox. Nine wins will reward you with an epic skin for the sniper, Kyōgisha Hanzo. The new look is giving me vibes of 80s cop show-meets-esports pro thanks to the slick shades and hints of lime-colored neon.
As with previous events, there are also several sprays to be unlocked from watching Overwatch content on Twitch. Link your Twitch account to your Blizzard account, and you can earn six sprays for watching any channel in the Overwatch game category. These rewards are more centered on the new map. The four-hour unlock includes an adorable pupper throwing some pottery and the star of the six-hour unlocks is definitely the super-floofy kitty. That's a technical term, "super-floofy."
Blizzard has dubbed this a "micro-event," and it is indeed slightly smaller in scope than usual. While most character-centric challenges last three weeks, the Kanezaka Challenge is only around for two: from January 12 through January 25. Treat this micro-event as practice for the Lunar New Year, the next regularly-scheduled annual Overwatch event.