Three easy cocktail recipes to help you throw your own mini BlizzConline party at home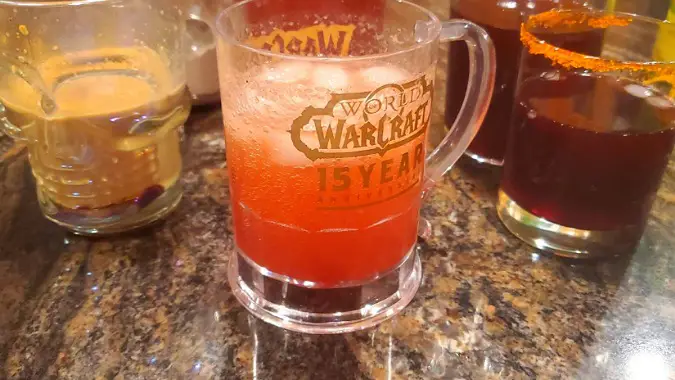 BlizzConline is coming soon, so since we can't celebrate together, it's time to think about throwing your party of one, and these three easy cocktail recipes will certainly help set the mood. Over the next few days we will be bombarded with news from most of the Blizzard catalog, and you may find yourself needing a little breather. These cocktails are also perfect for that little pick-me-up between panels. We also have an assortment of snacks to match.

Blood Orange Shrub
A shrub is a colonial era mixer that was put in water, carbonated water, or liquors. This classical, fruity drink will last a month in your fridge, if you let it.
Ingredients:
2 cups apple cider vinegar
2 blood oranges, sliced
1 ginger root (roughly 4 inches, peeled and sliced)
2 cups brown sugar
1 tablespoon vanilla extract
Optional:
1 vanilla bean
Equipment:
A large mason jar
strainer
Put the ginger, oranges, sugar, and vanilla extract into the mason jar and pour the vinegar over the top (it should cover it all). If you happen to have a vanilla bean, add it now, but don't go out of your way for the bean if you do not already have them laying around. Lid the jar, and then store in a cool, dark place overnight.
The next morning, shake up to dissolve any remaining sugar and let sit for another 6-12 hours.
Strain the mixture and pour into a jug or back into the mason jar. If using the vanilla bean, put it back into the jar.
To make this into a great cocktail, serve over roughly enough ice to cover the cubes, then add plain seltzer and the liquor of your choice. Traditionally it would be brandy or rum, but I also find gin and vodka work as well, although my preference is a silver tequila. This can also be delicious without the liquor and just with plain or seltzer water.

Pomegranate Margarita
Margaritas are my go to drink of choice with the pomegranate being one of my favorite varieties. I used to buy this as a mix but have figured out how to make it on my own, and it's well worth the effort.
Ingredients:
24 oz pomegranate juice
2 oz lemon juice
2 oz lime juice
2 oz simple syrup
4 oz silver tequila
2 oz Triple Sec
You can buy simple syrup, but I find it just as easy to make by combining 1 cup of water and 1 cup of white sugar in a pot. Boil the water until the syrup is fully dissolved and the contents of the pot reduce by half. Allow to cool and then store in a bottle. Simple syrup will last forever if you keep it sealed in a dark cool place.
As for the margarita, just pour all of the ingredients into a pitcher, mix, and serve with ice. If you would like the traditional rim, pour some sanding sugar into a bowl, wet the rim of the glass with lemon juice and roll the rim in the sugar.

Cozy Hot Chocolate
The weather outside has been quite frightful lately — even if it is a few months after we sing about it. Sure, you can just use packets from the store to make some hot chocolate, but it can be more tasty if make it yourself! It also makes a great gift.
Ingredients:
2 cups powdered heavy cream
2 cups of powdered sugar
1 cup powdered cocoa
1 tablespoon of corn starch
Equipment:
food processor
Put all of the ingredients into the food processor and pulse for about 30 seconds to mix everything thoroughly. Store in a air tight container.
When ready to use, combine 1 tbsp of the hot chocolate mix and 1 cup of hot liquid of your choice in a heatproof mug and mix well.
When making the hot chocolate, the old debate tends to be water versus milk. Personally, I go with 1 cup of hot heavy cream, at least when making cocktails with it. It tends to be a richer flavored hot chocolate and should you decide to spike it, is less likely to curdle than regular milk. If you do go with milk — or even water — you may want to add more of the mix to your mug, as they tend to be more bland. If you're in the partying mood I recommend a shot of peppermint liquor or a salted caramel whiskey, but you can't go wrong with the classic Irish cream.