Make Mac and Cheese Bites, Roasted Cauliflower, and Tim Tam Bars right now to keep yourself in snacks for Shadowlands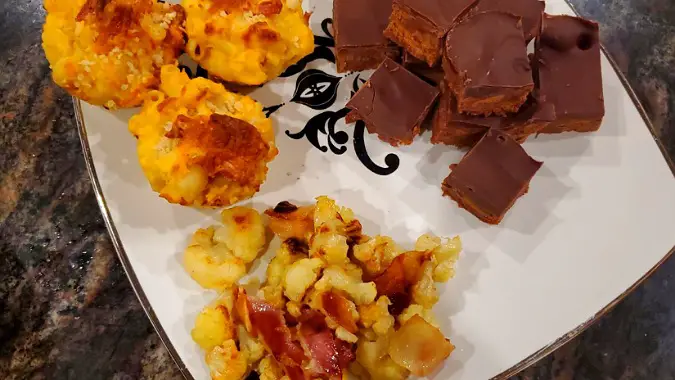 Today, we have three tasty, easy treats to munch on — savory mac and cheese bites, keto-friendly roasted cauliflower, and the highly addictive Tim Tam bars. It's time for the citizens of Azeroth to leave the material realm and take their brand of awesomeness to the land of the dead — but before you leave the mortal world, make sure you bring some snacks! There's no reason to be both battling the restless dead for the fate of our world and hungry.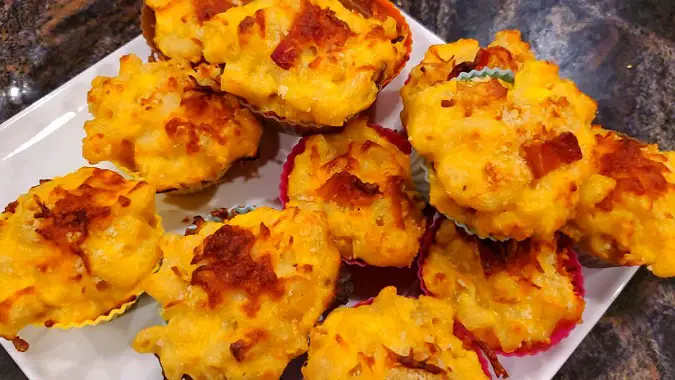 Mac and Cheese Bites Recipe
Ingredients:
1 14 oz. box of Mac and Cheese (I recommend the kind with a cheese packet over the kind with powdered cheese)
2 tbsp. butter
1 tbsp. flour
1/2 cup milk
1 egg
1/2 cup sour cream
1 cup shredded cheese (recommend three cheese blend)
2 cups panko bread crumbs
OPTIONAL: 1 pack precooked bacon cut into small pieces, or bacon substitute
You will need:
1 medium pot
12 slot muffin tray
a colander or strainer
Cooking spray or reusable silicone baking cups
1.Preheat the oven to 400° F.
2. Cook the pasta until al dente. This typically takes 7-10 minutes in boiling water, but depends on what brand you bought. Strain the pasta and set aside — do not add the cheese sauce yet!
3. Over medium heat, melt the butter and then mix in the flour, stirring for about 2 minutes until the flour barely begins to darken. Add milk and continue stirring for 1 minute. Add the cheese sauce that came with the pasta and stir on low heat until smooth. Remove from heat.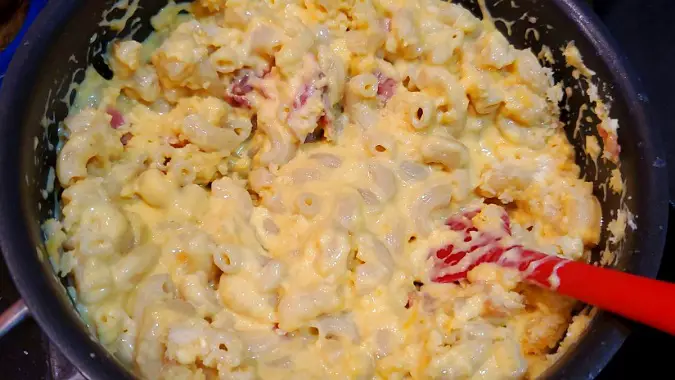 4. Off the heat, add noodles, egg, sour cream, shredded cheese, and panko. If you are adding bacon or bacon substitute, you would add it here. Stir until combined.
5. Spoon into the muffin pan. If you have the baking cups you would spoon into them, if not, spray the muffin pan with cooking spray. Sprinkle some extra shredded cheese and panko for a nice crispy top.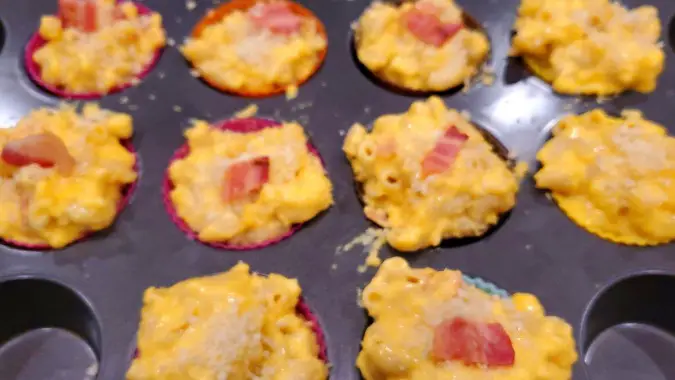 6. Bake for 15 minutes. Let cool for 10 minutes before serving.
For an even better time, I recommend the Sriracha sauce from the chicken recipe a few weeks back as a dipping sauce — extra creamy and a little bit of heat.

Roasted Cauliflower Recipe
Ingredients:
1 head cauliflower
1/2 lb bacon or bacon substitute
4 cloves of garlic, sliced
olive oil
You will need:
1 cooking tray
aluminum foil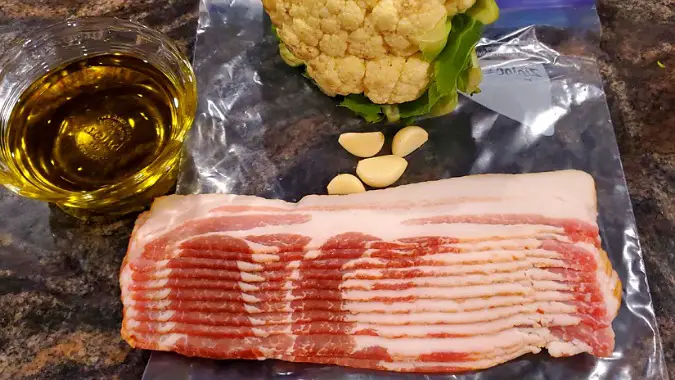 1. Preheat oven to 375° F.
2. Wash and chop the cauliflower down to bite-sized pieces. Place on the cooking tray lined with foil.
3. Slice the garlic down to shavings and spread around the tray over the cauliflower.
4. Cut the bacon into 1 inch squares and place over the cauliflower.
5. Drizzle olive oil over everything.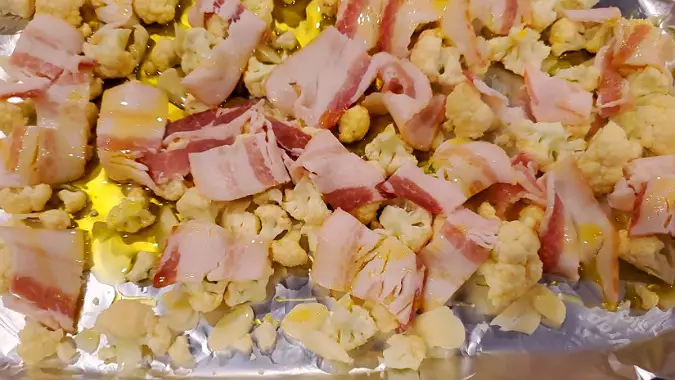 6. Place in oven for 20 minutes. Let sit for 5 minutes before spooning everything into a bowl while leaving behind remaining oil and grease. Salt and pepper to taste — and do make sure you taste! The bacon can make things saltier than you might think.
I eat this stuff like popcorn right out of the bowl, but it also makes a very easy side dish. Since you just pop it into the oven and let it do its thing, this is also a good option if you forgot to prep too much in advance.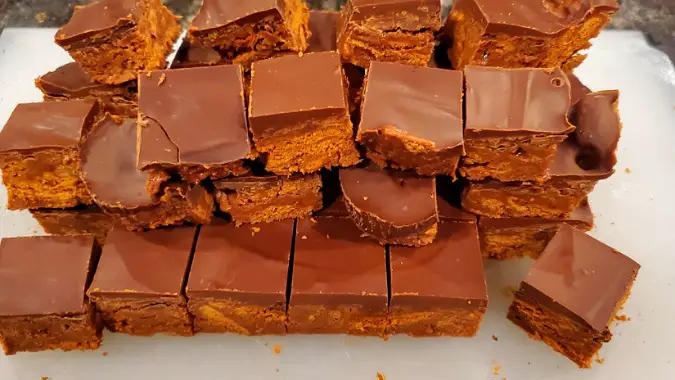 Tim Tam Bars Recipe
Ingredients:
2 packages of classic chocolate Tim Tams
1 14 oz. can of sweetened condensed milk
2 cups chocolate chips
1 tbsp. of shortening (or coconut oil)
You will need:
Food processor
6×6 aluminum cake tray
medium pot
large knife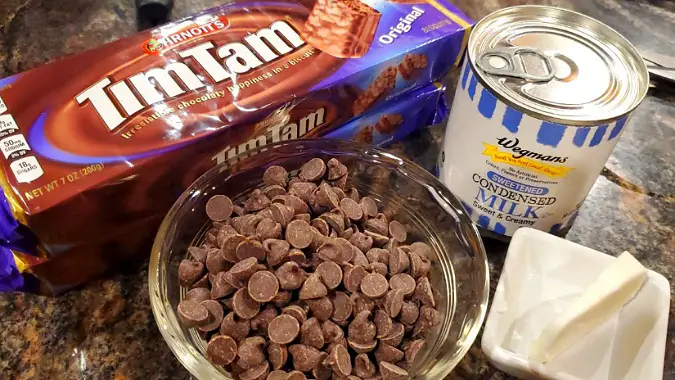 1. Pulverize one package of Tim Tams in the food processor until they are powder. Chop the other package up into large bits. This allows the Tim Tam flavor to go throughout the bars, while still adding some texture. See the photo below: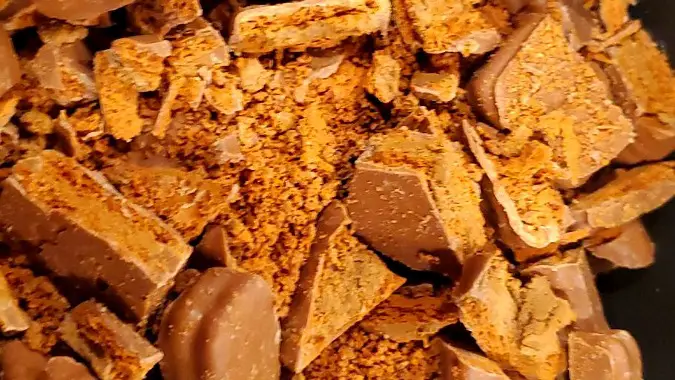 2. In a medium pot over medium heat, mix the condensed milk with the Tim Tam powder and chunks. Stir constantly. The powder will slowly turn into a liquid and the chunks will soften and break down. Continue stirring until you begin to hear a hiss while the mixture blends around, typically after 7 minutes. Pour mixture into an ungreased cake tray — extra grease means it won't set quite right.
At this point, either wash out the pot or grab another one, but either way be sure that the pot is completely dry. Chocolate follows Gremlin rules: you can not keep it in bright light, you should not feed it after midnight, and most importantly, never get it wet.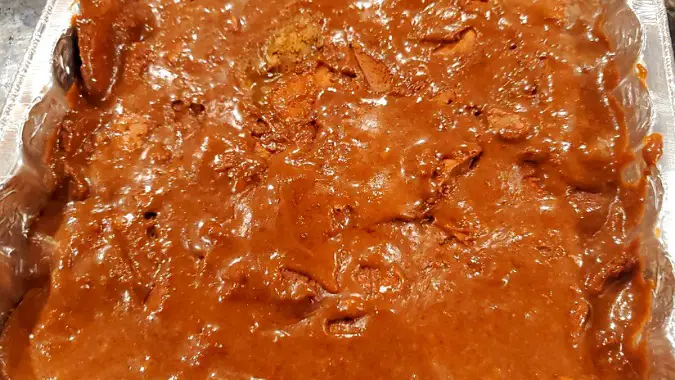 3. Slowly melt chocolate chips and shortening together over low heat. Stir constantly as if it settles there is a chance of scorching the chocolate — you may want to use a double boiler, too. Stir until it becomes a creamy blend and all shortening is melted.
Pour the melted chocolate immediately over the Tim Tam mixture in the cake tray, and smooth into an even layer. Shaking the pan gently may help.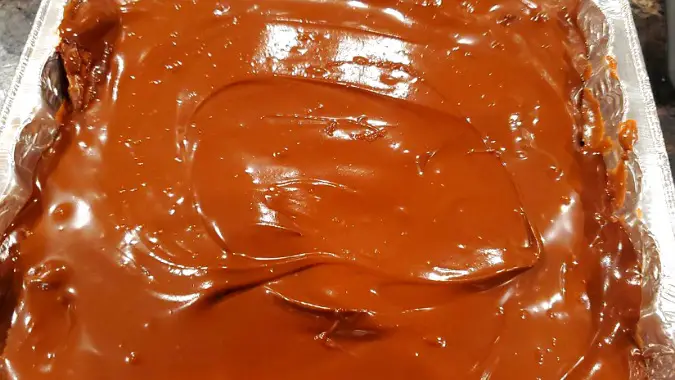 4. Chill in refrigerator for at least 1 hour. Remove from the cake tray and cut into squares. Store in your fridge.

Feast of Gluttonous Hedonism
The three recipes listed here are a great start to stock you up for Shadowlands launch. All three will keep well for several days in the fridge, if you'd like to prep in advance. Along with the chocolate caramel pretzels bars and the Helm of Domination sugar cookies we've posted earlier, you're all set to enter Shadowlands in style — and with a Well Fed food buff.