Diablo
Feb 23, 2021 12:53 pm CT
In Diablo 3 patch 2.7.0, your Followers will get a full set of gear — and you'll get some benefits, too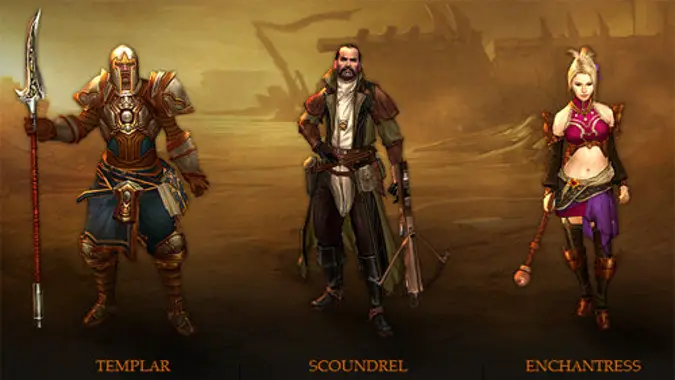 February is drawing to a close, as is another Diablo 3 season. Which means that not only is spring right around the corner, but so is a new Diablo PTR. Today, the official Diablo social channels announced that the patch 2.7.0 PTR will kick off on February 25.
Normally, I'd take this space to squee or raise an eyebrow about the upcoming season theme, but honestly, this PTR update is trialing some broader gameplay that I'm very curious about. The big change is in how followers will work. Instead of the narrow selection of gear and items, Followers will now be able to equip whole 14-slot setups. That means kitting out the Enchantress, the Scoundrel, and the Templar with the works: a Follower Relic Item, Helm, Shoulders, Chest, Gloves, Bracers, Belt, two Rings, Neck, Pants, Boots, and two weapon slots.
Followers are also getting some new skills. The centerpiece is a feature called Emanate, where certain Legendary and Set bonuses equipped on a Follower will get transferred to the player. Here is the list of items that support the Emanate ability:
Broken Crown
Homing Pads
Spaulders of Zakara
Goldskin
Custerian Wristguards
Nemesis Bracers
Gladiator Gauntlets
Gloves of Worship
Dovu Energy Trap
Rakoff's Glass of Life
Avarice Band
Krede's Flame
The Flavor of Time
Sage's Journey (3-piece set bonus)
Cain's Destiny (3-piece set bonus)
All three Followers are seeing new additions and reworks to their lineup of abilities. You can find the full rundown of these ability changes in the patch notes.
Blizzard says these Follower changes will be permanent in both seasonal and non-seasonal play. Remember, things in the PTR won't necessarily arrive in the game, so if you do run into some bumps during testing, those will hopefully get smoothed out. But this is shaping up to be an intriguing development for Diablo's solo players.
If you're hyped about new Follower experience, log in to the PTR and tell Blizzard (and us) what you think of the changes. Expect the PTR to be up for a limited time, and stay tuned for the season 23 start date, likely in a couple of weeks.