The World of Warcraft: New Flavors of Azeroth cookbook takes you to Flavortown and beyond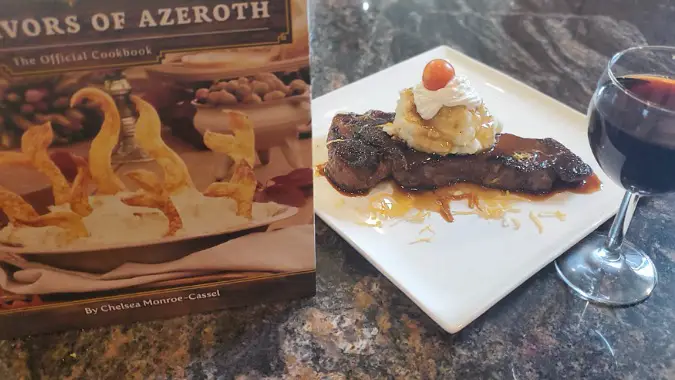 While we've been busy collecting Anima and restoring order to the Shadowlands, famed Pandaren chef Nomi has been on a culinary tour across Azeroth, Draenor, and the Shadowlands. His varied collection of recipes make up the latest Warcraft-themed cookbook by Chealesa Monroe-Cassel: World of Warcraft: New Flavors of Azeroth, coming out on June 1. From cocktails in Tanaris to main courses in Orobos to deserts in Zandalar, the book covers a lot of ground, with recipes for chefs of every skill level (even Nomi).
We got an early look at this book, and so far the results have been tasty. Thematically, the recipes are broken up by the continents they came from, and each has a nice little lore blurb explaining how people of Azeroth enjoy the fine cuisine. And for those with cooking skills akin to Nomi's days of burning everything, recipes all include a skill level from journeyman to artisan to signify the difficulty of each dish. As Nomi himself explains, "Don't be afraid of burning your ingredients — even badly — a few times. That's how you'll improve!" Some dishes, such as the Spiced Onion Cheese, could be made quickly and easily by just about anyone. Others, such as the Sailor's Pie featured on cover, should probably not be attempted unless you're really comfortable in the kitchen.
So let's dig into this new book and get cooking.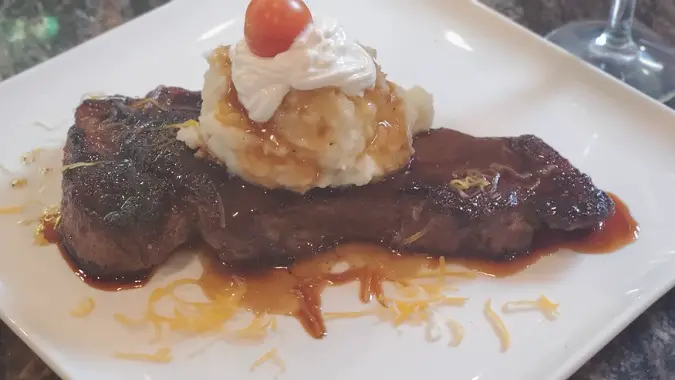 Cooking from New Flavors of Azeroth
There are several recipes from the book that I want to try, such as the Zandalari Trolwhip — a mango-flavored take on the Dole Whip — and the Stormsong Sourdough, which looks perfect for making bread at home. But for my first attempt at cooking from New Flavors of Azeroth, I wanted take a look at some of Warcraft's more infamous foods: namely, the odd combination of recipes the Brokers put together for Shadowlands cooking.
We've already made a home-made a version of the game's Meaty Apple Dumplings, so I decided to try the cookbook's official take on Steak a la Mode. Listed as an artisan level dish, it called for making garlic mashed potatoes, a steak rubbed in an amazing medley of transplanar spices ­— recipe included in the book­— and a dollop of whipped cream piped.
I made two adjustments to the dish for personal taste. It was written for a medium steak, but I prefer mine rare and followed my own method which involves preheating an iron pan to temperatures you would find in the Molten Core and searing the steak. The garlic mashed potatoes only called for one clove of garlic and by nature, I will always double what is written for there is no such thing as too much garlic, but there is such thing as too little.
The verdict was that this steak was really good. As I hinted at, the spices it was rubbed in were both sweet and savory and had the perfect flavor to complement the garlic and gravy. I plan on using the spice mix on a brisket the next time I make one. I may not have received a versatility buff, but I certainly was well fed.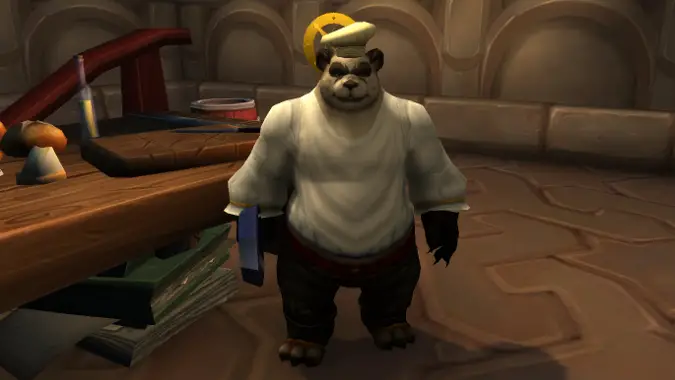 Are you ready to get cooking with Chef Nomi?
This cookbook would be fun for anyone no matter how they are in the kitchen. It offers plenty dishes and drinks across several skill levels. As an added bonus, if you have the first Warcraft cookbook — World of Warcraft: The Official Cookbook­ — it offers pairing options across both for a fuller experience. Think of it as New Game+ in your kitchen.
World of Warcraft: New Flavors of Azeroth is out June 1, but if you can't wait to try out some Azerothian recipes of your own you can try our unofficial attempt at Meaty Apple Dumplings here. I'm going to try a side-by-side comparison between my version and the official version later this summer with friends — and no matter the recipe, I'm pretty sure you can't have too many apple dumplings.