Meaty Apple Dumplings that would make even non-Brokers happy to eat. Yes, seriously.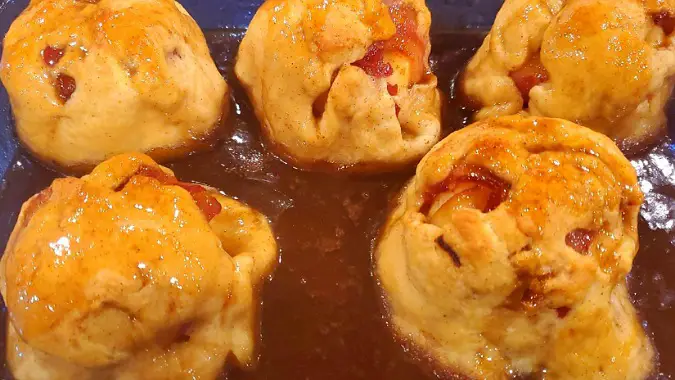 When I first saw Meaty Apple Dumplings amid the chaos of the other food the Brokers offered to teach me how to cook in Shadowlands, I cracked a joke. The infamous banana beef pudding, steak à la mode, pickled meat smoothie — these beings don't know what food is, so of course the food they're teaching me how to make is incredibly cursed.
However, I'm from the Pennsylvania Dutch region and apple dumplings are a thing of pride for us, so meaty apple dumplings caught my imagination immediately. The more I thought about this abomination, the more I thought, "how would you make it work?" And so, perhaps like Frankenstein's monster, I brought them to life.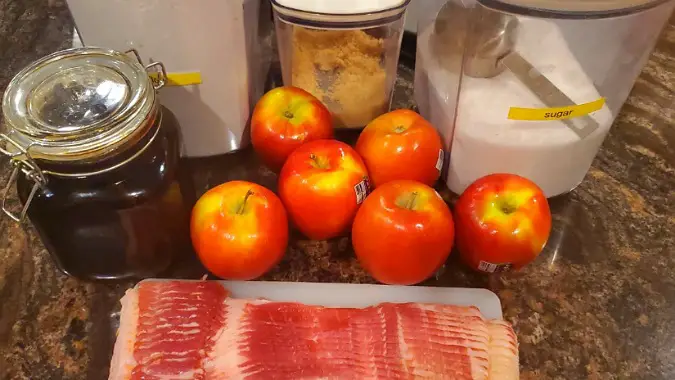 Meaty Apple Dumplings
Ingredients
1 lb of bacon
1/2 c (100 g) brown sugar
2 c (275 g) flour
2 1/2 tsp baking powder
1/2 tsp salt
12 Tbsp (170 g) butter ( soft)
1/2 c ( 118 ml) whole milk
5 apples peeled, cored, and ends cut off
Caramel
2 c (400 g) brown sugar
2 c ( 437 ml) water
1/4 c ( 50 g) butter
1 Tbsp Vanilla extract
1/2 Tbsp ground cinnamon
Equipment
9 x 15 pan
Cookie sheet
Aluminum foil
Mixer
Small pot
Rubber spatula
Optional: turkey baster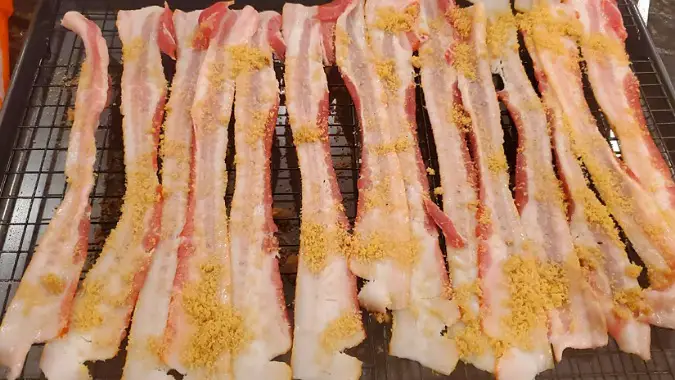 1. Preheat oven to 375 F. Place bacon on a foiled cookie sheet. If you have a cooling rack that fits the pan, that works even better for baking bacon in the oven.
2. Sprinkle the bacon with the brown sugar and bake for 10 minutes. This will candy the bacon as well as precook it to make sure it is baked enough to eat. Set this aside to cool enough to handle in later steps and drop the oven temperature to 350 F.
3. Mix flour, salt, baking powder, butter and milk into the mixer on medium speed until it forms into a dough.
4. Form the dough on a floured surface into a ball and divide into five roughly equal smaller balls.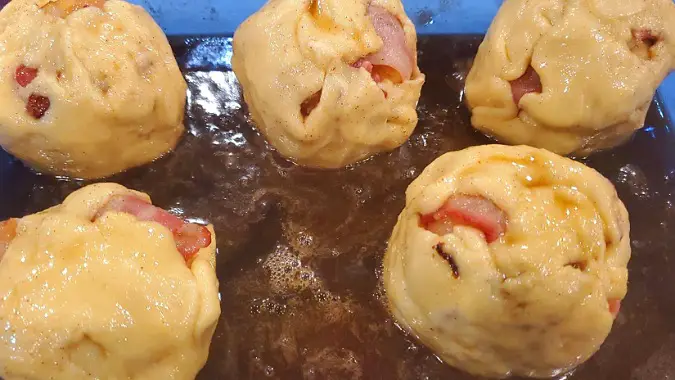 5. Wrap each apple with 2 slices of the pre-cooked bacon, criss-crossing in the bottom and stuffing the excess into the hole from the core at the top. Roll out one of the dough balls into a sheet and wrap around the apple. Place in 9 x 15 pan, then repeat for the rest of the apples.
6. Make the caramel sauce by mixing water, brown sugar, butter, vanilla, and cinnamon together in a medium pot. Cook on medium heat, stir and bring to a simmer.
7. Pour sauce over apple dumplings. Place dumpling pan in the oven for 35-40 minutes until golden brown. If you have a turkey baster, you can pour caramel over the dumplings every 10-15 minutes, but this isn't necessary. Not everyone has a baster, and it's hard to do without one.
Serve warm with vanilla ice cream or just eat on its own.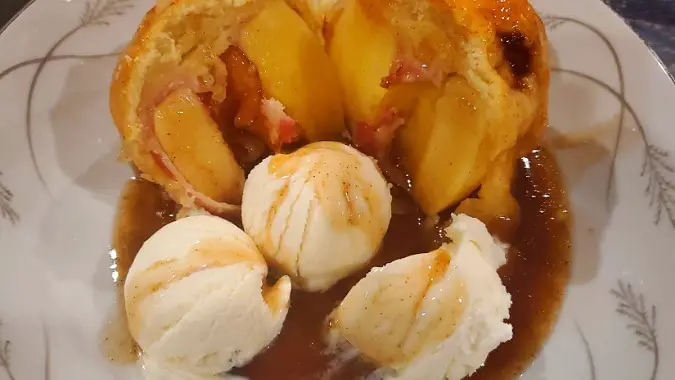 Meaty… Apple? Dumplings???
If this all seems just a little too involved, you can skip a lot of these steps just using frozen pie crust from the store — cut into smaller pieces and wrapped around the apple — instead of making the dough from scratch. I think it's worth it to make the dough yourself, but sometimes you just can't wait for your meaty dumplings.
I can't tell you how long this specific Broker-blessed concoction will keep in the fridge as this was my first time making this, but I assume two days in the refrigerator, like most apple dumplings. Would I make it again? Very much so. Sweet, salty, and savory, this is the perfect dessert to eat after a long night in the Twisting Corridors. I may attempt a vanilla custard sauce to pour over instead of ice cream next time, but that's a recipe for another day.
Maybe the Brokers are on to something — but I'm not trying the pickled meat smoothie.