The Queue: Boxing Day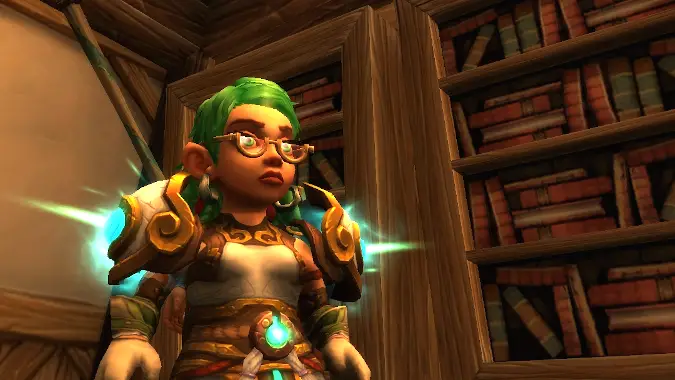 The day after a major patch is usually filled with some hiccups and other fixes to smooth things out, but whether or not this is disruptive can depend largely on your expectations and perspectives.
This is the Queue, where you ask us questions and we supply the answers. Quite.
---
ROXXII
Q4TQ: How is 9.1 treating you?
I got glasses.
I'm honestly so freaking busy and capital-s-Stressed this week, that I just had the time to log in and do that, but it really, truly tickles my fancy. Of course, my Hunter doesn't need something like that — she's a Marksman, so she doesn't really need them, but they're super at home on nearly all my other characters.
Next up, shaded aviators.
---
KRITH
Q4tQ Do the Alliance and Horde glasses proprietors sell the same models?
Yes.
I feel as though I should probably flesh this one out a little more, but let's be real, it would just be a lot of extra words when one will do. The dude who sells them is outside the barber shop in your faction's main city. That helps!
---
KIRITH
My favorite activity during a vacation is to plan my next one. Barring a COVID lockdown, I think I'm going to take a road trip and follow the Lewis & Clark trail from St. Louis to Kansas City to Omaha, then head back home via Iowa. Anyone have any recommendations for those areas?
First, go in October. Agrotourism in that part of the country, to go see the foliage turn, is a really big business, and for good reason.
I'd encourage you to make sure to make a full plan and stake out the little mom and pop farm shops along the route, too. Our favorite places to stop are places like that — the Abbots' stands along I-85 through South Carolina are a must-stop for us every time. They tend to have stuff made with both regional flair like chow chow or muscadine grape juice, but you will never have better tasting ice cream than the stuff an actual dairy farmer makes. Going in the fall means apples, squash, and pumpkins too, and local honey costs a mint, but my god is it delicious.
---
ARTHONOS
Q4tQ: I picked up The Long Dark as part of the Steam summer sale. What am I in for? As a veteran of other open world survival games am I ready to jump in at "Capable Survivor"?
If you've played something like Subnautica or Stranded Deep before, you're pretty much good to go. There's no base building element like those games, but the food and water survival elements are similar, and like those games you don't start off with a map (though you can draw one over time by salvaging charcoal from fires). The one main point you need to remember is that the cold is far more deadly than any other survival element, and will kill you faster than you realize — remember that the day is warmer, so you may want to shelter at night just to avoid freezing to death. You'll want to try the Story mode first, which holds your hand a bit more than Survival. The Nomad and Archivist challenges are a good, low-commitment way to learn how to explore the map and move around the world. I play the Whiteout challenge pretty frequently — the dopamine hit from looting a lot is pretty nice to unwind with.
If you haven't played a survival game before, beginning with Story is pretty crucial. You start off with far fewer crafting options to distract you, and you can respawn after you die so it's a little more forgiving.
---
JAXDADDY
QftQ: What's your favorite curry?
Yellow. I'm basic. Not even sorry.
To be clear, I enjoy the other types too, but if you're asking about favorite, a spicy yellow curry with some coconut milk for balance, with crispy tofu, potatoes, and preferably cashews? That just feels like a hug in your belly. A big, carby hug.
Also, obviously, Tim. Some actors have range, but playing a murderer in a clown suit, a murderer in a butler uniform, and a murderer in drag takes range.