WoW
Aug 23, 2021 4:00 pm CT
Enhanced Conduit slots are now available, making your Conduits more powerful (as long as you have the Renown)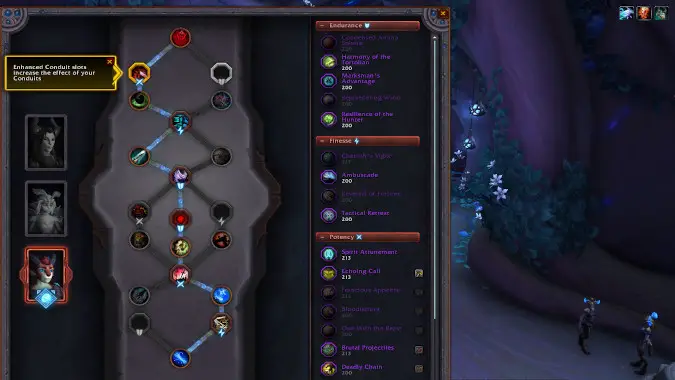 The Chains of Domination story campaign is finished, but that doesn't mean Renown isn't still important. With new levels of Renown, new levels of Enhanced Conduits are unlocked.
What are Enhanced Conduits? Simply put, the Conduits placed in your Soulbinds are better. When a slot is upgraded, a Conduit placed there will increase by 2 Ranks, the equivalent of adding 26 item levels. If the Conduit is ilevel 213 from doing Korthia quests, placing it in the enhanced slot will give it stats as if it were an ilevel 239 Conduit.
Which rows of Conduits increase, and with which Soulbinds, varies by Renown. In the first week of this addition, Kleia, Emeni, Dreamweaver, and Theotar received the row of Enhanced Conduits for Renown 61, and Mikanikos, Bonesmith Heirmir, Koryan, and Draven received theirs at Renown 62.
For players who need the additional power — for raids and Mythic+ — the best strategy is to ensure your most needed Conduits are as high up in the Soulbind tree as possible, as they will become enhanced sooner. This also means it may be strategic to switch Soulbinds to those whose rows become enhanced sooner, if you have particularly powerful Conduits and the increase in ilevel will make a difference.
This change is a "soft nerf" to content, slowly increasing player power through Renown without changing the difficulty of the content itself. It also makes the Conduits more powerful without forcing players recollect the same Conduits again (or hunt for new Conduits). Players can already collect Soultwining Crescent and Death-Bound Shard to increase the ilevel of Conduits, so all in all it's a lot easier to buff up these powers.
Almost every level of Renown will unlock a new row for one of the Soulbinds, but not exactly in a round robin order. By Renown 79, all Conduit slots will be upgraded for all Soulbinds. Keep collecting Anima while thwarting the efforts of the Jailer!