WoW
Aug 31, 2021 2:00 pm CT
You'll be able to send Anima between your characters in patch 9.1.5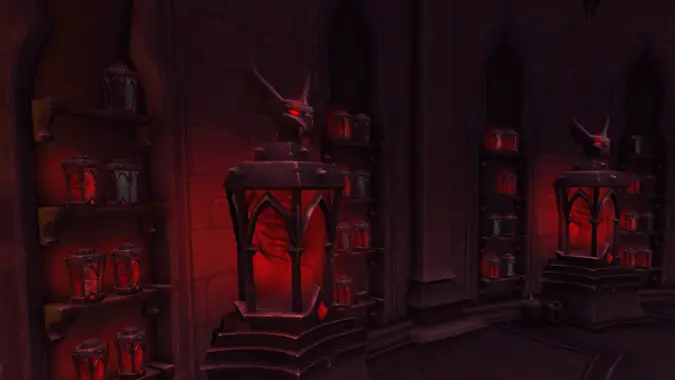 Playing your alts will get a little friendlier with Shadowlands patch 9.1.5. Well, it's getting a lot friendlier actually. Blizzard had already announced that you'd be able to skip the Maw introduction quest and that the Threads of Fate system would be improved so you could level your alts in Torghast. But now Blizzard has also announced that you'll be able to send your Anima between your different characters, too.
Yes. We intend to introduce a way for Anima to be transferred to alts (or to other Covenants on the same character) from characters who have fully upgraded their Covenant Sanctum in patch 9.1.5.
Not only will you be able to send Anima to your alts, but it's looking like you'll be able to move your stockpiled Anima along with your main if you decide to take advantage of the easier Covenant Swapping also coming in patch 9.1.5. If I don't lose my Renown level when I change Covenants, I might actually take a weekend and hop my character around to the different ones to unlock their gear for Transmogs and collect all of those cute pets!
For those worrying about the time it takes to get all of their Redeemed Souls to build the Covenant buildings. Blizzard has also announced that they're working on two changes to the Redeemed Souls quests. Letting you rescue twenty at once no matter what level of Renown you're at, and making the quest repeatable so you can keep going back in and rescuing souls from the Maw. Now the only limiting factor to how quickly you build up your Covenant Sanctum will be how many trips you want to make to the Maw.
Blizzard is also making sure to point out that in order to send your Anima between characters you'll need to have your Covenant Sanctum maxed out. You can't just have an army of alts parked at a World Boss to send the quick 500 Anima to your main character — unless all of your alts also have full Covenant Sanctums, in which case that'd be a great way to quickly earn a lot of Anima to send off to another one of your characters. The good news is that you probably have a few weeks before patch 9.1.5 will be coming out to finish leveling up some of your Covenant buildings.
In advance of this change Blizzard also released a hotfix that increased the cap of Anima you can hold, up from 35,000 to 200,000 — which is great! That's such a huge amount that even if I hadn't bought some Korthite Crystals with my Anima already, I still wouldn't have been anywhere close to half full. When Game Director Ion Hazzikostas first tweeted about the possibility of sending Anima between characters, the first thing I said was "oh, I should just save all of my tokens then" — so it's great to see that they're making that something I won't have to devote a bunch of bank slots towards.
The list of things coming in patch 9.1.5 is getting longer every day. Keep checking back to see the latest information as we have it.