WoW
Aug 30, 2021 2:00 pm CT
Enough about gameplay. Let's talk about transmog in patch 9.1.5.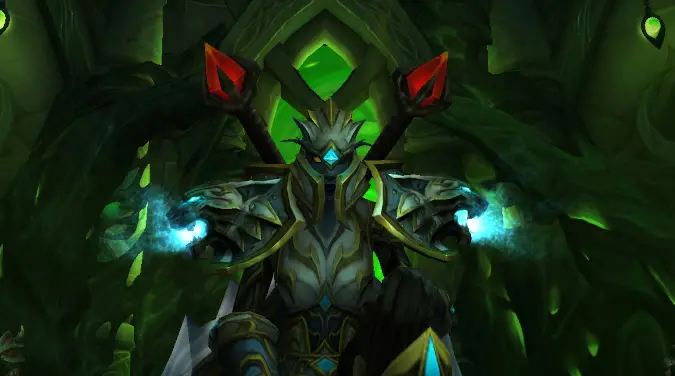 Patch 9.1.5 will bring about a lot of great changes for both transmog enthusiasts and people who enjoy looking their best by transmogging their gear. Look, only certain kinds of content really matter, and it isn't all that fiddly gameplay stuff — it's looking pretty. I hope the changes in patch 9.1.5 is just the start, since this is shaping up to be a big patch for player customization. But what in particular am I talking about?
Well, for starters, you'll now be able to link your entire transmog in one go, with a new Transmog Linking system coming in patch 9.1.5. What's really great about this system is it will allow people to mouse over each individual piece's look, find out if they already have it and if not, where they can go to get it, making it a lot easier to get yourself into hunting for the individual pieces of loot that will let you have the same look. I really enjoy this idea, and I'm definitely looking forward to testing it on the PTR.
Furthermore, when patch 9.1.5 drops, you'll be able to switch between Covenants more easily, and when you do, you won't lose access to cosmetic looks you've unlocked. This means you'll be able to keep wearing your Night Fae armor even when you switch to Revendreth for the parties. I hope this also means that you'll be able to use unique looks that other characters have unlocked since you'll be able to immediately catch up with various Covenants as long as you've finished that Covenant Campaign.
As nice as these changes are, I'm still hoping for more. There's still time for things like the removal of certain restrictions — for example, letting any one hand weapon mog to any other one hand, so that my Warriors can use some of the awesome daggers I've collected over the years. There have been some great strides over the years — letting us have individual shoulder transmogs or turn off every slot save pants, new eyeglasses, letting us solo Island Expeditions making it more useful to transmog farm that expansion's content — but one big change for transmog hunters in patch 9.1.5 is the change to Battle for Azeroth loot rules making all of that content Legacy content for Shadowlands players.
That's right, once you hit level 60, you'll be able to go back to BFA content assured that the amount of loot that drops from each boss will be the same as if you were there in a full group or raid group. No more angrily swearing up and down that Azshara didn't drop anything — maybe it won't be useful to you, but she's guaranteed to drop something now. That's a huge positive change for mog farmers, and one I heartily support.
So yes, patch 9.1.5 is looking good for transmog. Now, let us mog different armor types, so that even if that Mage can't wear plate, they can still look cool.