WoW
Aug 27, 2021 3:49 pm CT
Shadowlands alt leveling will be easier in patch 9.1.5, with a Maw skip and Covenant campaign skip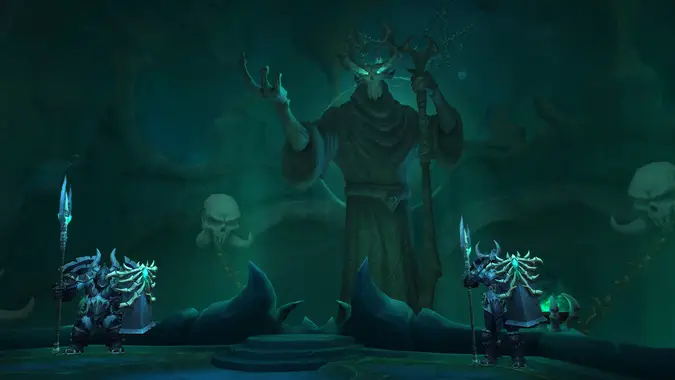 Patch 9.1.5 is bringing some alt-friendly improvements to the Shadowlands, so if you've been thinking of leveling up a new character you may want to hold off until the patch comes out. So far, Shadowlands has been hard on alts, with a lengthy Maw quest chain required to even get to the expansion, and content locked behind lengthy Covenant quest chains and Renown grinds. But the developers say one of the goals in patch 9.1.5 is to "support of a smoother experience leveling alternate characters through Shadowlands," and some of these hurdles are being removed — or at least minimized — to make leveling alts is a lot less hassle.
For starters, you'll be able to skip the Maw intro questline in patch 9.1.5, which was a big player request. This lengthy expansion lead-in was slow and could be quite challenging for under-geared alts, but now your characters can get into the actual story a lot sooner. And assuming your main has unlocked flying, even your under-geared alts will have a much easier time sailing over the Shadowlands they would have traversing the Maw on foot.
Those under-geared alts will also have the option of using a new rank of Heirloom gear as they level, which should make taking your first steps in the afterlife less challenging. (We don't have word of cost yet.) At level 60, you could already send alts BOA tokens from Korthia, but that still left them struggling from 50 to 60 — these new heirlooms will fill in that gear gap for leveling players.
There are also some changes to the Threads of Fate leveling system. In 9.1.5 you'll be able to venture into Torghast as well as the main Shadowlands zones for leveling, which should mix things up a bit. You'll also be able to collect Renown from zone bonus objective, making them feel a little more rewarding. But if your alt has taken up a Covenant that you've played through on another character, you can instantly catch up to the Renown level you would have at the end of the Covenant campaign and unlock all the associated benefits, immediately. With the right Covenant choice, your alt could zoom past a big part of the Renown grind needed to advance.
And if you have a character with max-level Renown, you'll be able to switch between Covenants without restriction on any of your alts. That will make your initial Covenant choice much less of a commitment — at least as long as you've done the Renown grind on one character.
All told, you should be able to skip some of the more tedious parts of Shadowlands leveling to get to late game content more quickly on a new character. It definitely seems like a good series of changes overall for alt leveling in patch 9.1.5, and now we just have to wait for the PTR to test the changes out.