The Queue: Wake me up…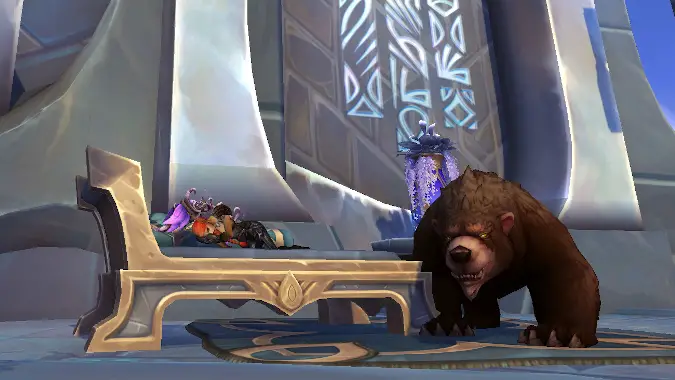 August was a very long, personally pretty fraught month for me, so I'm just gonna hibernate through September and hope everything's back to normal in October.
This is The Queue, where you ask us questions and we answer… when September ends.
---
SIBYLLE
Entirely serious question: Who's got the sexiest voice in WoW?
My current favourites are Lord Herne and Prince Renathal.
Turalyon. There's just something about that silver fox's smooth baritone rumble that makes me weak in the knees. I'm going to be devastated when he's the end raid boss in 14.2.
Vereesa is a sleeper pick for me, but she hasn't really done anything in a while. I don't think we've heard from her since Legion, despite her relationship with Sylvanas being such a big plot point in a lot of tertiary media that people who only play the game have no idea happened.
And speaking of people with sexy voices we haven't seen in a while that just randomly up and disappeared after playing a central role in previous media — Wrathion, where you at, buddy?
---
RED
My WoW sub just expired.
Q4TQ: should I get the new 6-month promo thing?
PROS: I play both WoW and Hearthstone, so it's amazing value for me. I'll be getting a TON of Hearthstone value out of this, for both the current expansion and the next. If money was the only concern, this would be a very easy deal to make.
CONS: I hate being chained to the game for 6-months. Last time I did that, we got the 9.0 content lull and I barely played WoW for 3 straight months, and I could do nothing about my sub. (And it feels extra icky to get a 6-month sub now, with all that's going on with the lawsuit and all that.)
Keeping in mind that my math skills are awful, if you play Hearthstone and planned on buying all the new stuff for the latter, it seems like you'd pretty much be getting the same value if you go with the 6 month sub. Conversely, if you play WoW and planned on getting the 6 month sub, you could jump into Hearthstone and screw around a little with a whole lot of new features designed to give your brain a lot of dopamine essentially for free.
Really, if you play just one of either title, from a financial perspective, it just makes sense to get the 6 month sub token. However, in terms of The Principle Of The Thing, there are definitely reasons for not purchasing. Never will I condemn someone for being petty enough to spite themselves just to make a point. But on paper, eh, might as well.
---
I really don't hate this from Hearthstone.
They've always played with canon, making it unique and totally bonkers in the name of fun. Adding Diablo, especially this close to the D2:R launch, while it isn't necessarily a natural next step per se, doesn't seem out of line or out of character for what they've always done with Hearthstone. And now that the genie is out of the bottle, we may as well think about, for instance, a Zoo Lock that uses an actual Zerg Rush, or a control Freeze mage that has a minion named Snowball.
I don't know that I'd want them to go full-on Heroes of the Hearthstorm like that forever, but considering how relatively quickly — and unfailingly reliably — the Hearthstone meta turns, one Blizzard World expansion would be fun as heck.