2021 is turning into the Year of the Beaver for PC Gaming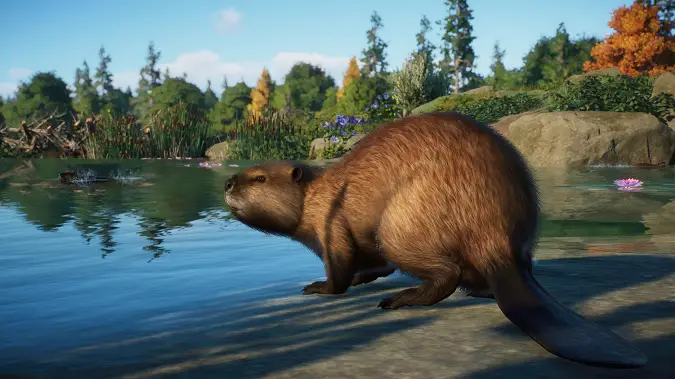 On Thursday Planet Zoo announced that their latest expansion pack featuring North American animals will be arriving on October 4th, and front and center in the announcement was the beaver. This isn't surprising in itself, because the beaver is considered emblematic of both the United States and Canada, but what does make it noteworthy is that it comes amidst a flurry of other games where playing as a beaver is a central component to the experience. Since the most noteworthy feature of the humble beaver is its dam-building, it's not much of a surprise that these are all games with a heavy construction focus.
Here are some of the games we're excited to play which give beavers the spotlight they've long deserved.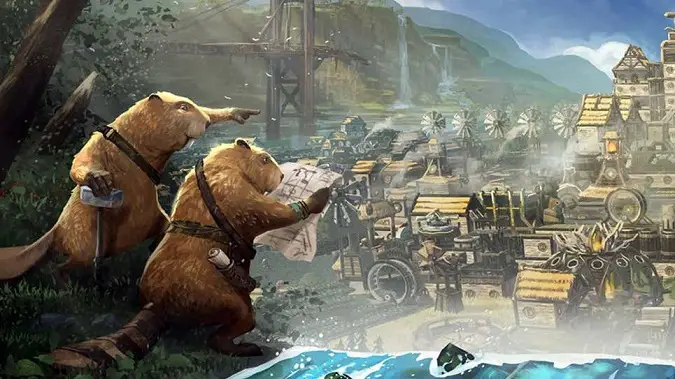 Timberborn
Timberborn is set in a post-human future where beavers are trying to salvage what remains in order to build their own societies. This "lumberpunk" city-builder gives you a choice of two factions, one more nature-oriented and one that is perfectly fine recreating the industrial revolution to survive. Unlike more standard city-builders, Timberborn leans hard into its survival elements; if you're not able to effectively control the water supply while also preparing for droughts, your colony will not survive against the onslaughts of nature or other beaver factions.
The game gives you plenty of opportunities to use beaver ingenuity to survive, not just dam-building — salvage metal from the remains of human civilization to assist in your building efforts, or even use bombs to terraform to your colony's benefit. The game also allows vertical building, which makes perfect sense in a world where sustainability does not mean constant expansion across the landscape.
Timberborn is currently in early access, so many features are not yet implemented — the developer Mechanistry does not expect the full game to be available until late 2022 at the earliest. This has not stopped it from becoming a top seller, so if you want to start building with beavers it is available on both the Steam platform and from the Epic Games Store.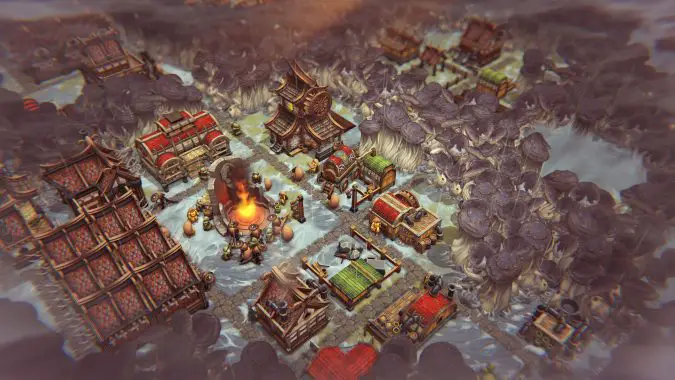 Against the Storm
Against the Storm is also a city-builder, but it goes in an entirely different direction from Timberborn. Set on a fantasy world where it never stops raining, Against the Storm is a city-builder with roguelite elements where each city you build faces different challenges that must be met in order to become self-reliant enough to fulfill the primary objective of the game, rebuilding the Smouldering City. Billing itself as "Banished meets Slay the Spire," Against the Storm requires you to constantly rebuild and expand in order to win as the titular storm reshapes the world.
Beavers figure prominently in Against the Storm, but they are joined by Lizardfolk and Humans to help populate and improve your settlements. Sadly, it does not appear that you can ignore the non-beavers, so you'll need to find some way of tolerating them while the beavers do the important work.
Against the Storm is an Epic Games Store timed exclusive releasing in early access on October 18th; a demo is currently available. It will be available via Steam in 2022.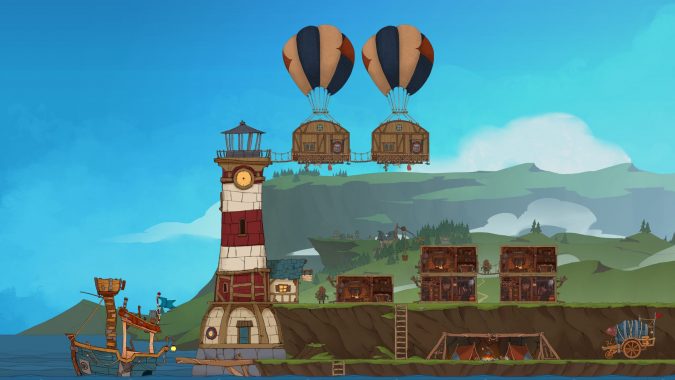 Diluvian Winds
2022 is also shaping up to have some beaver action; besides the above games going into full release next year, Diluvian Winds is expected to arrive as well. In this game you play a lighthouse keeper confronting rising waters by enlisting refugees to assist in providing shelter and necessities for all's survival. Unlike the other games the building mode is in two dimensions, this one mimicks Terraria but with much better graphics, and replete with anthropomorphic animals.
While not as beaver-intense as the other games in this article — the lighthouse keeper is an otter, for one thing — the refugee population contains a fair number of them, and I'm certain they will be instrumental in succeeding against the waves. Diluvian Winds can be added to the Wishlist on Steam, and a Nintendo Switch version is expected as well.