Tavern Watch Plays Rossi's D&D Spectacular, Episode 18: In which the dragon god of destruction makes a friend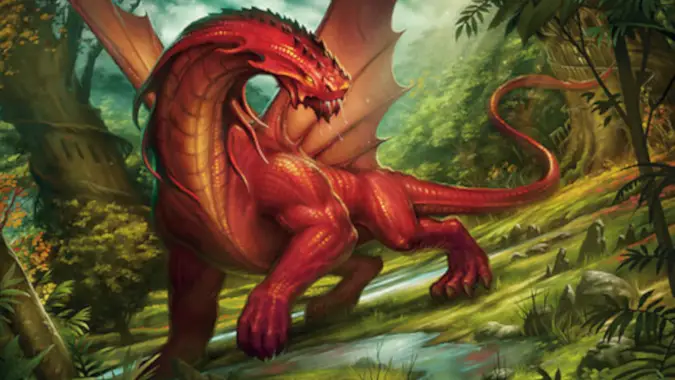 It's true: Matt's D&D spectacular is coming to a close. In the penultimate episode, our adventuring party of Andrew, Anne, Cory, Deb, Joe, Liz, and Mitch continue their chase after a soul-stealing Chain Devil and get some help from an unlikely source — Verth the Destroyer, who seems to have befriended the ever-optimistic Fizzl (Mitch). Plus the crew has stumbled into a box of modern firearms… which I'm sure that will turn out fine and we absolutely will not injure ourselves with these strange new weapons.
So why not join us as we head to the conclusion of this wild story? You can listen to Episode 18: In which the dragon god of destruction makes a friend on Soundcloud or directly from this post. You can also click on download icon along the lower bar of the player below to listen on your own device. Not caught up with the series? You can listen to all 18 episodes on Soundcloud to hear the whole story before it wraps up next month!
You can also subscribe on Spotify, iTunes, or your podcast player of choice to be notified when a new episode is released. You can also catch up on our other podcasts — including our new tabletop gaming Tavern Watch podcast — on our podcast page. And if you subscribe to our Patreon Tier 2 or above you can listen to all of our podcasts early, as well as uncut versions of the Blizzard Watch and Tavern Watch podcasts.
Looking for more TTRPG podcasts? You can tune in on Twitch most Saturday afternoons at 2:30PM Central to listen to our latest show live! Our next Tavern Watch TTRPG talk show is streaming on October 23, we'll be playing our second episode of the Feywild adventure Wild Beyond the Witchlight on November 13, and our final episode of Matt's D&D Spectacular is on November 20. Whether you listen live or catch the podcast later, I hope you'll join us for our upcoming shows!
Thanks for your support and enjoy the show!