Haunted Chocolatier, a new title from Stardew Valley creator Eric Barone, looks positively delicious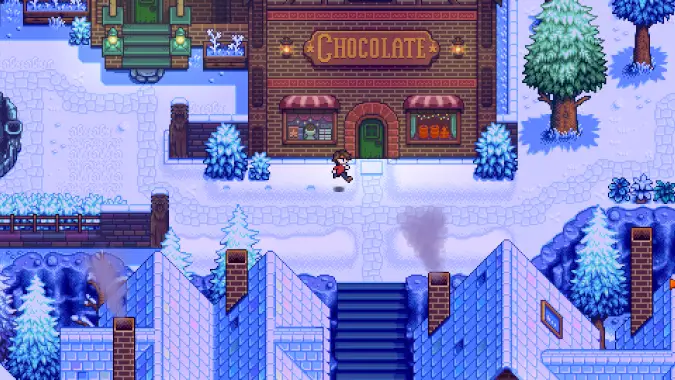 If you don't know who Eric Barone is, then you don't know how impressive his resume is — the person who created the indie darling Stardew Valley, also known as ConcernedApe, he just gave us a first peek at his sophomore effort, Haunted Chocolatier.
To be clear, when I say he created Stardew Valley, it's not like in most cases, when someone at the top is credited for 'creating' something but in reality it was a team effort by a whole host of talented people. No, this time, when I say Eric Barone created Stardew Valley I mean exactly that — from 2012, when he started working on it, until 2016, when he released it, he was the only person working on it. And indeed, every patch and every update and every port of Stardew Valley to a new console or OS up until 2019? That was all Eric Barone.
He did the music. He did all the coding. He wrote all the text. Everything you saw in Stardew Valley until he hired another developer to help him in 2019 — three years after the game's initial release — was entirely done by him, and him alone. Think about how many updates Stardew Valley has seen in that time and you'll start to get the idea.
And now, he's finally ready to reveal the next game he's been working on.
Watching the trailer and looking at the screenshots it's fair to say that ConcernedApe isn't trying to make a wild departure from Stardew Valley with his upcoming Haunted Chocolatier, which I think is both unsurprising and smart. Not only has his plucky little game won hearts and minds over for years based in part on its simple, easy to process design married to a surprisingly deep gameplay loop, but again, this is a developer who works with at best a very small team and most of the time entirely by himself. Trying to create a wild departure from his previous game would both risk alienating the people who liked it, and cause him to have to work harder than he already does. And he already works very hard.
Still, a game where you apparently go out and fight evil birds (those birds are not normal) and living plants to collect ingredients you need to make chocolate — and of course we can't forget all the ghosts wandering around potentially helping you (or maybe just watching you) while you make chocolate — that's a game that has my attention. Add in the action, like how toward the end of the gameplay trailer it looks like the poor Haunted Chocolatier is gonna get a whuppin' as my grandmother never would have said in a million years, and that is a game that even Roald Dahl might be caught off guard by.
The game isn't out and indeed we have no idea when it will be out, but I still think Haunted Chocolatier will be one to watch. Like its predecessor, it looks like a game for people who are looking for something they can play in a relaxed way, while also getting totally obsessive about every aspect of it — from the dating sim elements, to the going out to collect ingredients for chocolate from monster aspects. And it's really amazing to see a video game that is so clearly the product of a singular vision.