Kick off Halloween weekend by letting these cute black cats cross your path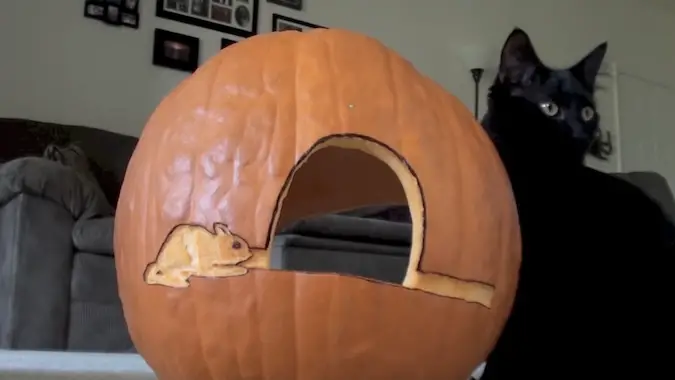 There was no doubt in my mind that Blizzard Watch cuteness roundup would be celebrating Halloween with black cats. In my heart of hearts, I wanted to run a collection of the funniest moments from the best black cat ever to grace a television set: Salem from Sabrina the Teenage Witch. But rather than incur the very scary wrath of copyright infringement, I have opted for sharing some real life felines from around the Internet. All the treats, zero tricks.
Have a happy Halloween, everyone!
Pumpkins are the ultimate cat accessory
Need an orange house? Check. An indestructible chew toy? Check. A hiding place from humans? Check. An endless source of entertainment? You know that's a check.
Agreed, all black cats are goths
If you ever wanted to hear a British guy with a great voice narrating his interactions with random cats around the neighborhood, then you're in luck. It's just as entertaining as it sounds.
The mighty hunter faces off against a most dastardly foe…
…water.
The masseuse will see you now
Any collection of adorable cat behaviors must include a clip of purring and a clip of kneading. Watch this video and kill two birds with one stone (a sentiment cats would really appreciate).
Chatty catty
Mew? Mew? MEW!
Black cat IS so cute
I assume that as soon as the camera shut off, both human and cat went home together and sat by a roaring fire for continued snuggles.