Don't let the clock strike midnight in the Hearthstone Fairytale Tavern Brawl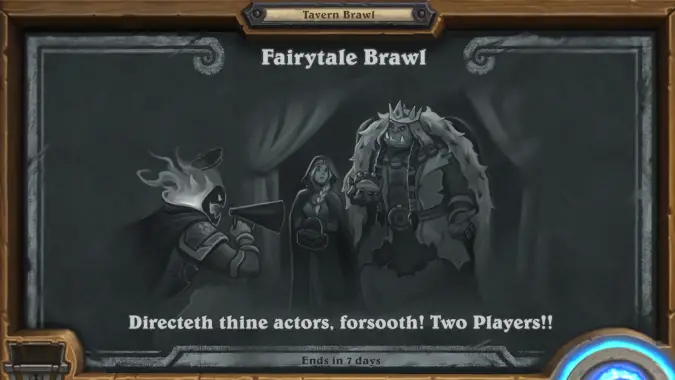 Good evening, distinguished guests, to this evening's presentation. Tonight, we pit two talented directors against one another in Hearthstone's Fairytale Tavern Brawl.
In both World of Warcraft and Hearthstone's One Night in Karazhan, Medivh's tower features the Opera event where players battle through one of three classic plays. This week, Hearthstone players take the director's chair to see who can best lead their actors minions to victory. Do you have what to takes to bring down the house or will you flee off the stage to dodge rotting fruit thrown your way?
 Tavern Brawl 101
Name: Fairytale Brawl
Description: Directeth thine actors, forsooth! Two Players!!
Fun level: 6/10
Difficulty: 5/10
Replayability: 5/10
Format: Wild
Type: PVP
Deck: Provided
Rewards: 1 Year of the Phoenix pack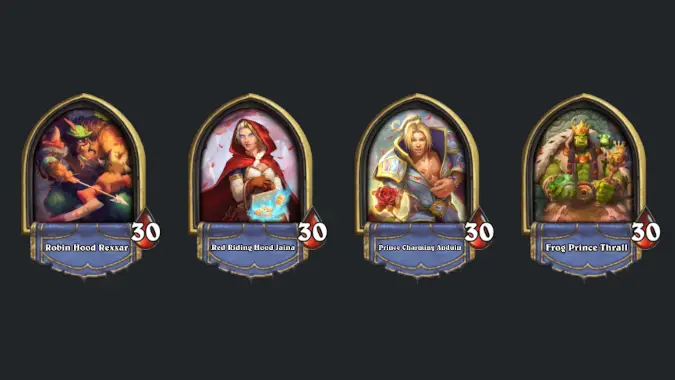 In this Brawl, you'll begin with selecting your class. There are five to choose from: Mage, Warrior, Shaman, Hunter and Priest. Each one has a special costume (skin) for the occasion (Brawl).
The size of your collection won't matter this time as you are provided a deck based upon the class you selected. Each turn, you pick from a Discover interface of three options. It'll be a random assortment of Plot spells and Action spells.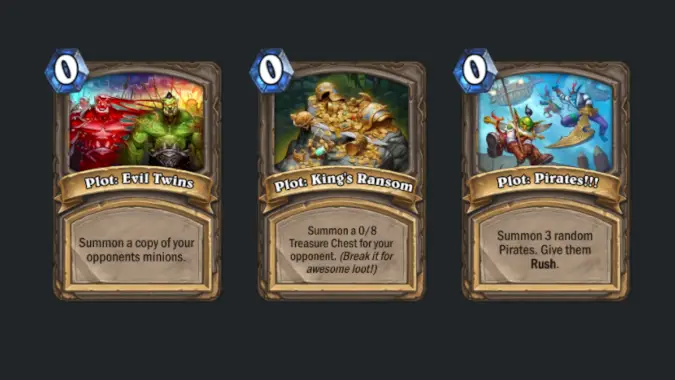 Plot spells
Plot: Evil Twins – summon copies of your opponent's minions
Plot: King's Ransom – summon an 8/8 Treasure Chest for your opponent. (Break it for awesome loot).
Plot: Pirates!!! – summon 3 random Pirates. Give them Rush.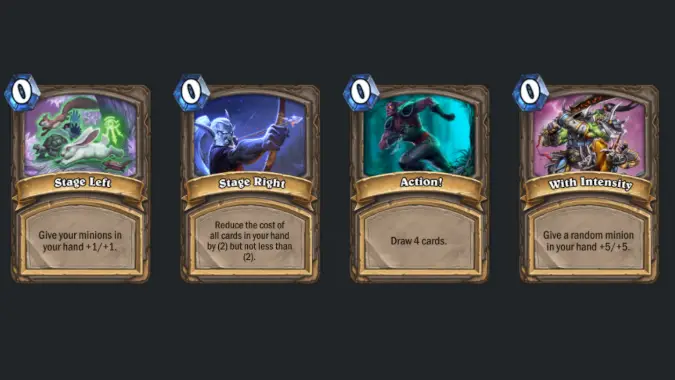 Action spells
Stage Left – Give your minions in your hand +1/+1
Stage Right – Reduce the cost of all cards in your hand by (2) but not less than (2)
Action! – Draw 4 cards.
With Intensity – Give a random minion in your hand +5/+5
Each turn, you'll see three of the possible seven choices. You might get one Plot and two Actions, or two plots and one action, or maybe you get three Actions. It's all random.
Once you make your choice, the spell is cast automatically. This simulates you, the director, giving the stage directions to your actors. Once you give the direction, you're done. Now you have to sit back and see what your actors (the minions) do. Basically, the AI takes over and makes all your moves. The game then plays out like a regular game of Hearthstone. Reduce the opponent's hit points to zero before they can reduce yours to zero.

How to win the Fairytale Tavern Brawl
Mage and Priest are good choices for this Brawl. Shaman and Hunter are a tier below and I didn't have any success with Warrior. The Hunter deck is a Beast synergy deck with Moonfang and Mankrik. The Mage deck is a Quest Mage with the United in Stormwind Sorcerer's Gambit quest. Control Priest makes an appearance while Shamans are all about evolve effects. Warrior is an aggressive Pirate deck with the Raid the Docks questline from United in Stormwind.
When it comes to your active choice, you want to try to react to the board. Plot: Pirates and Plot: King's Ransom are good early on. King's Ransom fills your opponent's board with useless (to them) minions and limits how many minions they can put on the board. If you're getting low on cards, choose Action! If you've got lots of minions in your hand, hit them with Stage Left or Stage Right, but if there's one good minion go for With Intensity.
The AI makes some, shall we say, interesting choices. Many times, it will not make the best moves available. It tends to prioritize clearing the board over going face, and more than once, it didn't seize an opportunity for lethal damage when it was there. It failed to play a quest on turn one, and the Priest hero even might even heal the opposing hero.
Try to make things as easy and obvious for the AI as you can. It's hard because you can only give one direction per turn. It can feel a little like a sportsball game where you're yelling at your players (minions) for the bad plays they are making.
The decks are static. You'll get the same Priest deck or Hunter deck every game. Pick a class and get familiar with its deck and overall strategy. You're still mostly at the mercy of the RNG for your spells and the AI's decision making, but it can help tilt the game in your favor.
Best of luck, fellow directors. Now, go out there and break a leg — preferably your opponent's leg…