WoW
Jan 11, 2022 10:00 am CT
Say goodbye to Shards of Domination in patch 9.2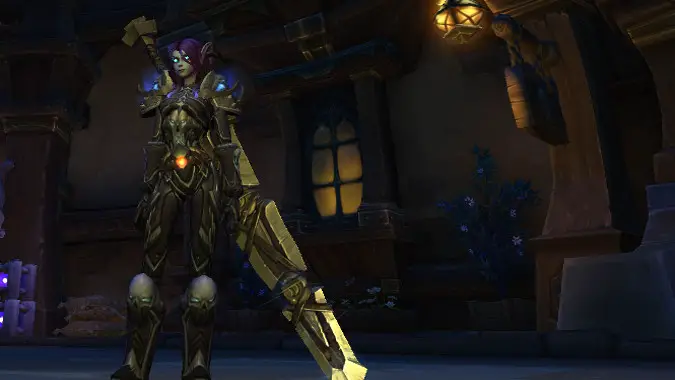 If you've been running content from Shadowlands patch 9.1, specifically the Sanctum of Domination raid, then you're probably familiar with Shards of Domination are, and since it's tied so closely to patch 9.1, it doesn't come as a huge surprise that we bid them adieu in patch 9.2.
Essentially, the Shards are World of Warcraft's answer to Legendary Gems from Diablo 3, although they actually bear a lot of similarity to the system used in Diablo 3's Season 25's Soul Shards. Shards of Domination have a variety of effects — each can be powered up to Rank 5, and each grants unique and increasing powers as you rank them up. One example would be the Blood Shard Bek, which grants you a 1.5% damage increase when your health is 50% above that of your target. Each rank increases that percentage, with Rank 5 giving you 3% damage increase. Each of the Blood, Frost, and Unholy Shards has a unique power of this sort, so if you collect all three of one of the Rune Words from the Shards, you will have three unique Shard powers and can use Stygian Embers to upgrade their rank.
You also collect Shards of Domination to complete the Blood, Frost or Unholy Set Bonus that increases your power overall when all three rune words of that particular type are socketed in your gear. It's a big part of the gearing in Sanctum and the hunt for exactly the right rune word set bonus. And while those rune word set bonuses only work in the Sanctum of Domination raid, the Maw and Torghast, the individual powers of the Shards socketed in your gear currently work anywhere, meaning that having Shards equipped makes you stronger overall.
But in patch 9.2 — probably so raid groups don't feel the need to keep farming for Shards or to keep wearing socketed gear when newer gear is dropping in Zereth Mortis — Shards of Domination are getting a taste of the nerf bat. As CM Kaivax explains, they won't work in Zereth Mortis itself, in the Sepulcher of the First Ones raid, or in any PVP or dungeons. That would mean they won't work in Mythic+ and arenas, rendering them useless for people chasing the top spots.
Our plan, which we're currently working on bringing to the PTR, is to disable Shards of Domination in Zereth Mortis, the Sepulcher of the First Ones raid, and all PvP and dungeons, starting with the Eternity's End content update.
In this scenario, Shards of Domination would still work as before in previous Shadowlands zones, the Maw, the Sanctum of Domination raid, and Torghast.
We'll update our Eternity's End development notes with this, as soon as we get it implemented.
I don't think it's a surprise that the Shards are going to lose their effects — frankly, I'm surprised they're going to keep working in Torghast, because that will mean players will be tempted to build special Torghast sets to keep using the Shards power to farm for materials to make legendaries, but I assume that the nature of Torghast and the powers that one accumulates as they run it makes that minimally rewarding after a while.
Regardless, you'll have no reason not to equip new gear without shards once it drops as you move through Zereth Mortis and the Sepulcher of the First Ones. Kind of a bummer for people who worked to collect the whole set, but not unexpected.