The Overwatch Lunar New Year 2022 event is live with the Year of the Tiger
Click here for more photos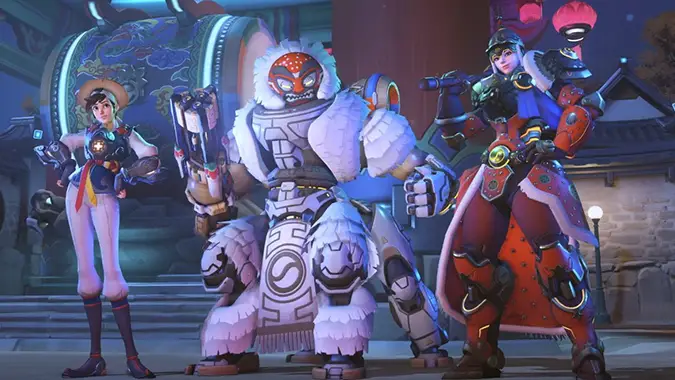 Overwatch keeps the event energy strong as soon as we turn over a fresh calendar page, kicking off with a Lunar New Year celebration. The in-game event kicked off today, January 25, and will last until February 15. So cue up "Eye of the Tiger" and queue up for Year of the Tiger.
The Lunar New Year event has frequently been a standout for new cosmetics, and I was personally hoping to get lots of tiger-striped cuteness this time around. However, the batch of unlocks in uncharacteristically small, with only two new legendary skins and the three epic-tier weekly rewards. Dot Esports received this statement from an unnamed Overwatch rep about the limited scope of this first 2022 event:
"We understand that this year's Lunar New Year event doesn't have the number of Legendary skins as previous events. The Skins team is hard at work—with more Legendary Skins planned in 2022 than any year prior. We'll share more with players on this topic throughout the year."
So all in all, a more subdued start to the Year of the Tiger. I can't say I'm surprised that the game content creation is starting to show the strain of everything that's happened at Blizzard over the past several months. Patience continues to be the name of the game for the Overwatch community.
But a new event is still a new event. And while the 2022 Lunar New Year offerings are few, they are excellent. The Nezha Tracer is one of my favorites for Ms. Oxton, and I don't think there's any such thing as a bad Mercy skin. The limited-time rewards are also pretty sharp, with Ashe looking prosperous in the first week, Wrecking Ball having a smashing look for week two, and Soldier: 76 getting new duds in the third week. There's also the usual spray and player icon themed for each hero to be won each week. And I love when the designers include nods to the character connections, so it makes me very happy that Genji now has a matching sky lantern emote to pair with his brother Hanzo's.
Gong xi fa cai!