Guerilla and LEGO collaborated on a Tallneck for Horizon Forbidden West and we all need this lanky friend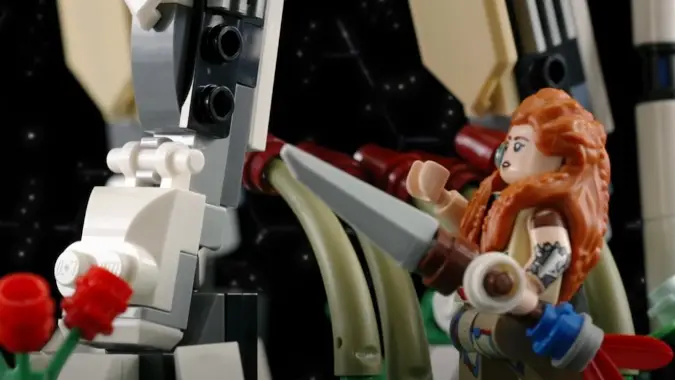 LEGO is using their versatile little blocks to bring Aloy and a few of her iconic robot foes into the real world, with new sets arriving on the scene in celebration of the release of Horizon Forbidden West. Guerrilla — by way of the Playstation blog — announced a "bold new look" for the Tallneck in the form of a LEGO set.
First, let's check out the star of the show — the Tallneck. LEGO's site describes it as "the most iconic Horizon machine in the Forbidden West," and frankly, I agree. Looking at it, I'm not sure I want to know how many pieces are involved (1222, enjoy). It's just so detailed. Its disc-shaped head is instantly recognizable from both artwork and gameplay, where you ascend this charming behemoth to unlock more of the map. The articulated-looking front neckplates with multiple rear antennae and jointed legs look like your foot-high friend will start trucking along the landscape (or your desk).
Accompanying the Tallneck's delightful design are some adorable accouterments to surround our 13.5″ tall mechanical buddy. First, we have an itty bitty Aloy cameo in the form of a LEGO minifigure toting both bow and spear. Next, the model includes the bane of my existence ever-critical Watcher friend, although I don't recommend shooting your LEGO mini in its eye — which can be swapped between blue, yellow, or red, what?! Finally, the Tallneck itself can be set in a portion of the Horizon landscape, complete with a birch tree, archaic rusty traffic light, and tall grass to sneak your mini Aloy past that viciously watchful eye.
I highly recommend watching the announcement video, complete with Aloy voiceover, if only to admire the creativity behind the construction. Not to mention the rendition of Aloy's aforementioned task to override said gentle giant for map discovery purposes.
The LEGO HFW Tallneck comes out May 1, 2022 and retails for $79.99 USD. This release date gives you a whole three months to enjoy the game before diving into building your graceful giant friend — though, if you're impatient, you can always make your own. It's LEGO!