The Queue: Florals, for spring? Groundbreaking.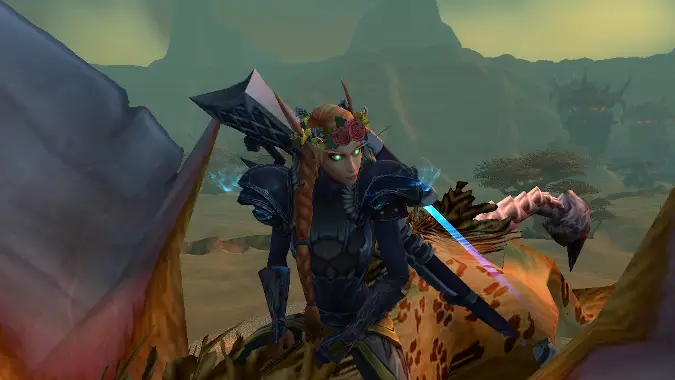 One thing I really like to do with transmog is to pull one accent accessory that doesn't match. It's almost always a flower crown.
This is The Queue, where you ask us questions and we're usually fashionably late with the answers.
---
MUSEDMOOSE
Q4tQ: with the pending release of Diablo Immortal, what are your thoughts on how it'll be received once it's playable? There was little but contempt for it when it was first announced (which I think was grossly unfair), but it's been so long that I rarely see people talking bad about it these days, aside from obvious trolls or meme-ing. I'm hoping the game plays well and surprises people.
So, on the one hand, Diablo Immortal is one of the most fun, well-thought-out, engaging mobile games I've ever played. The systems are incredibly in-depth, there's tons of lore, including a whole bestiary book you unlock over time, and the monetization isn't over the top or gamebreaking. The daily tasks assigned to you are engaging, and while they do serve as a carrot to get you to log in daily, they're mostly things you'd just do as long as you log in to play. The controls are intuitive — a lot of the movement and ability control works very similarly to Riot's Wild Rift if you're curious — and I find that skill shots are even more fun to use than they are with a keyboard and mouse, which is really saying something.
But, reception? That's a whole different beast altogether. Even the continuation of well-trod memes can have a detrimental effect on public perception. In the West in particular there's this idea that mobile games are somehow less than — less fun, less complex, less difficult, just less. No true gamer, etc. While PR spin and positive press can help, you can't shove the soundbite toothpaste back into the tube.
For my part, I've been looking forward to this game since it was announced. I bought a new, cutting edge phone in December of 2018, because I assumed it would hit my hot little hands in the next few months so I wanted to be ready. While I'd love to sit down and play a game at my computer, it's rare that I have time to do so. Gaming is still a central hobby and dopamine hit for me, but more and more frequently that's a game on my phone while my son has soccer practice, or while my daughter works on a project for Girl Scouts. I'll try almost any mobile game once, and my tastes are wildly diverse and don't give a fig for public perception — currently, my most played are probably Random Dice, Influence, and Choices (yes, really, I'm admitting to all of that publicly). Diablo Immortal would absolutely leave all of those in the dust.
Also, Hearthstone is already a mobile game so I don't get what all the heartburn is about.
---
DUTRIMI
How many LFR bosses do you need to down to get a reward from the vault?
You need to kill 2 bosses to get a reward at all, and 5 to be able to choose your reward.
---
KALCHEUS
Q4tQ What game currently scheduled to come out in April are you most looking forward to?
There are a lot of them, though several are still in indie development and are listed somewhat nebulously. For instance, Scene Investigators is still listed for "spring," so I'm assuming it'll be out in April. Ish. Maybe. I'm really excited for that one, and the also nebulous "Q1" Inheritance of Crimson Manor because I feel like the whodunnit mystery genre is really unexplored in gaming. While many games do revolve around a central mystery to be solved — weirdly, Cozy Grove is, in part, about discovering why the ghosts you're helping are there for you to help — it's usually tangential to other gameplay. Sometimes I want to just be Sherlock Holmes without having to also fight my way through zombies or whatever.
I'm also looking forward to two animal-related games: Cat Cafe Manager and House Flipper – Pets DLC. These are both confirmed for April, and both feature cute cats, so there's really no other aspect to the elevator pitch.
Also, Dinosaur Fossil Hunter, where you're a paleontologist digging up fossils, but it looks like you do so completely haphazardly by real world standards, so it should be a blast. I say blast, because I'm assuming dynamite will probably be involved.
---
MYTHRIAK
Q4tQ: Have you played the latest Kirby game?
The most recent console I own is a first-gen Nintendo Wii, so no. I know Mitch is incredibly excited about it though, so you may want to hold your questions about it til Thursday.