Moon Knight 101: An Introduction to TV's latest superhero sensation, now streaming on Disney+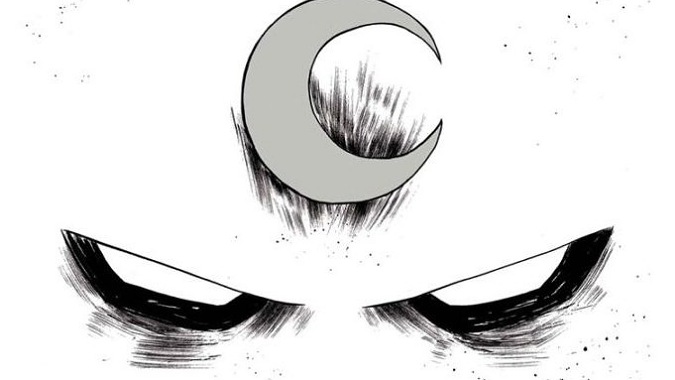 Disney+ just started their latest Marvel-based television series based on the widely popular character, Moon Knight. You… have heard of Moon Knight, right?
Though the character has been around for 45 years — first appearing in 1975's Werewolf by Night #32 — with nine ongoing series to his name, Marc Spector's tales tend to be considered C-list at best, with a niche fanbase. In the last few weeks, I've read 25 years worth of Moon Knight comics and hope to give you an understanding of the character — or rather characters — portrayed by Oscar Isaac in the 6 episode miniseries, releasing Wednesdays on Disney+.
This article contains mild spoilers for Moon Knight episode one.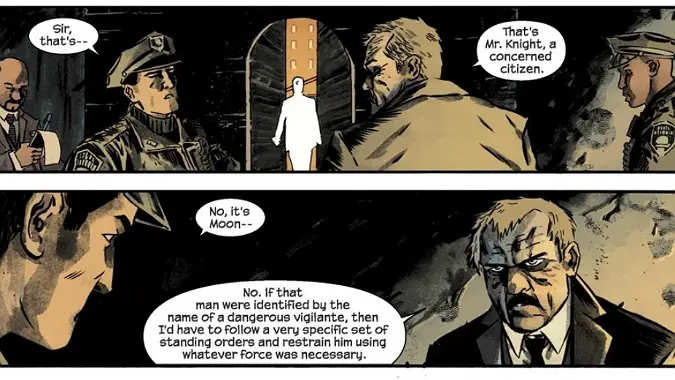 The Many Lives of Marc Spector
Before getting into the character of Moon Knight, first I must address a sensitive topic. Marc Spector has dissociative identity disorder (DID). Through the 45 years of publication, this has been treated respectfully at times, or in some cases as stereotypical of treatment of people with mental illness. Depending on who's writing the character at the time, this aspect of his character can shift wildly — from something he had all along, to a less sensitive reading of DID, like developing it as part of being possessed by an Egyptian god. Sometimes Steven Grant is treated as Marc pretending to be someone else, or sometimes Steven is Marc's childhood imaginary friend made real.
This variance in portrayal can make it difficult to read certain runs of the book. At the time of writing this, we do not know which direction the tv show will go in regarding Marc's mental health. However, this does mean that Moon Knight is called by several different names despite being the same person, making things a little confusing to keep straight.
Marc Spector, Soldier of Fortune
Marc Spector is an ex-marine turned mercenary who was on a raid of a archeological dig. He was shot and left for dead by his colleague, Bushman, in front of the statue of the Egyptian god, Khonshu. In exchange for saving his life, Khonshu made Marc his Avatar — Moon Knight. As the Fist of Khonshu, Moon Knight possess super strength enhanced by the light of the moon, near immortality, and the ability to talk to the dead. Paired with his military training and keen detective skills, Moon Knight is the spirit of vengeance in whatever city he may be.
Steven Grant, Millionaire Playboy
In times of dealing with high society, or when needing to fund his collection of Egyptian artifacts and safe houses, Steven Grant takes over. Steven is great with money and figuring out investments and charming as he is daring. In the show, Steven has been portrayed as rather milquetoast and with no awareness of his double life, or that he is in fact the double in it.
Jake Lockley, Cabbie in the Streets
When Steven stands out too much, and in places even Marc can't go, in steps Jake Lockley. Jake moves freely in the underworld, gathering up information from unsuspecting stoolies who don't realize they ratted out their boss to the vigilante himself.
Khonshu, Shepard of the Lost
Khonshu is not a separate personality but an ancient god of the moon. Khonshu appears before Marc dressed in white, and his head is the skull of a giant bird. He is lord over all the night creatures, and Moon Knight is his high priest.
Mr. Knight, I Presume
Dealing with vigilantes can be a major issue for the police but accepting help from a private citizen is, at times, acceptable. These situations call for tact, the garb of a superhero replaced with a clean three piece suit. It's a disguise that no one buys, but looks great everyone just goes with it. The Mr. Knight persona is also the day-to-day image Marc puts on at the mission for those in need that he runs.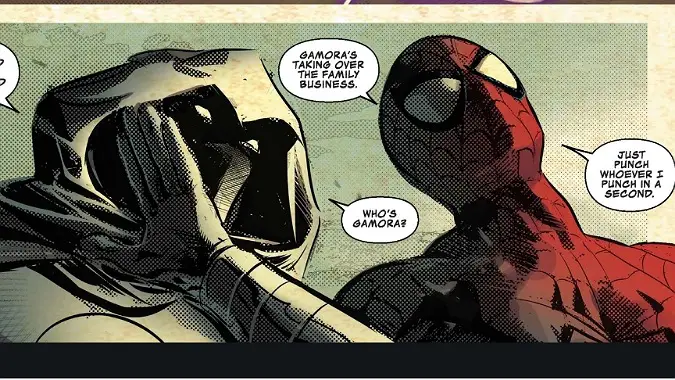 The Man, The Meme, The Legend.
A lot of Moon Knight's more recent popularity has been based on internet memes.  The way these memes have grown stems from both the obscurity and absurdity of the character. While he has never met Dracula in 45 years, it's quite believable that he believes the vampire king owes him money. His rogues gallery shuffles between supernatural forces, anarchists, and himself. He can just as easily defeat all of the Avengers in a full moon as he can be knocked out by a mundane drug dealer. He'll find himself in situations he does not understand — but Spider-Man said hit that guy, so of course he's gonna hit the guy.
The tv series has already begun feeding the meme machine with cupcakes, WHAM, and goldfish. With the showrunner themselves mentioning they would love to add Dracula at some point, the inanity of Moon Knight is sure to continue. And if you find yourself wanting more, you're in luck — Moon Knight Vol. 9 issue 10 by Jed Mackay will be out April 6 at your local comic book store.