Diablo
May 19, 2022 10:00 am CT
Taste the rainbow of pain in Diablo 3 — Wyatt Cheng talks about the creation of Whimsyshire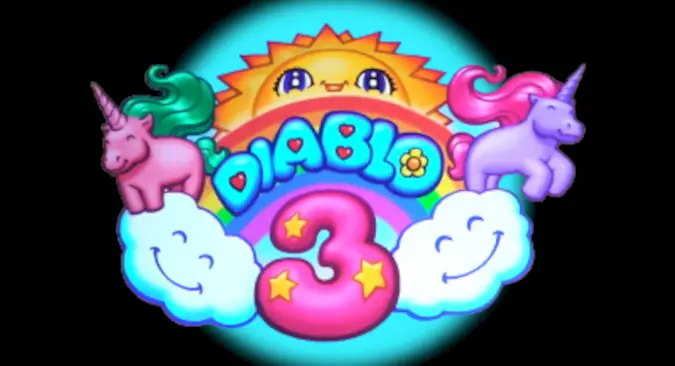 Wyatt Cheng, the Game Director on Diablo Immortal and former patch lead on Diablo 3 who worked on the game at the time of its release, took to Twitter to answer fan questions in an impromptu Q&A to celebrate the game's 10th anniversary, and was asked about why the team on D3 at the time chose to create the best zone in the game, Whimsyshire.
His answer? Well, there were a lot of factors, but one of them was good old fashioned real world physics. There was a zone with mist rising up from a river under the bridge into the Fields of Misery, and well, that kind of mist makes rainbows when light gets scattered through it. And then the player base got upset, because rainbows? In their grim, gory Diablo? Blasphemy! And not the typical kind of blasphemy you'd expect from the Diablo franchise! No word on what they thought happened in Sanctuary if you held a prism up to a light source.
Good morning! Happy Anniversary! Is it true that Whimseydale / Whimseyshire were a direct response from the devs to criticism that the game was too cartoony?? Also, how long did it take to create D3 from the start of putting the team together to launch date?

— 𝑺𝒆𝒂𝒕𝒕𝒍𝒆𝑾𝒊𝒕𝒄𝒉 💙 (@seattlewitch1) May 15, 2022
It's no secret that Diablo 3 was a bit of a polarizing game when it came out in 2012. It was saddled with the unenviable task of being a follow up to Diablo 2, the genre defining ARPG so beloved by its fan base that the game got a remaster 20 years after release that is seeing active development, balance patches, and so on. Games like Torchlight and Path of Exile wouldn't even exist without Diablo 2 and are clearly going for the spiritual successor vibe. So while it's fair to say that Diablo 3 established itself — we're on year 10 of the game, after all — certain aspects of it drew fan ire.
I love the story of the D3 team working on a rainbow because they were just trying to make a realistic scene in the game and then having to debate whether or not there were rainbows in the Diablo setting at all because of how grim and gory the games had been up to that point. And honestly, I understand both points! I remember back in Wrath of the Lich King there was a whole debate on Death Knights, those champions of undeath and masters of suffering, picking up herbalism — literally the flower picking profession — and ruining the whole mood of the thing. So I get the idea that the blood spattered gothic archetype that is Diablo looks a little weird with rainbows, but also, I do think the argument pretty persuasive, that if all hope is lost and there's no moments of beauty then there's no reason for people to even be fighting, since there would be nothing left to fight for.
And wherever you fall on that spectrum — that wasn't intentional — I think we can agree that this image and the fact that it caused the entire D3 team to decide to make Whimsyshire proves that the D3 team had a pretty solid sense of humor, all things being equal. I'm on record as personally loving the place, and I'm super glad it exists, so kudos to the entire original team for making it. And kudos to light for scattering into distinct hues when refracted. Also, kudos to Ursus Sapiens for correctly pointing out that technically they got that rainbow wrong, which I find even more hilarious.