Warcraft 3 Reforged gets a surprise update with patch 1.33, adding Ranked Play and Leaderboards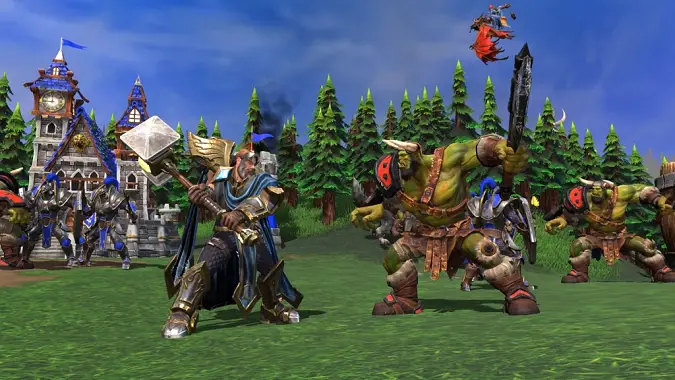 It's not a secret that the launch for Warcraft 3 Reforged didn't go as smoothly as it could have. We haven't heard much about the game since, really — it is of course still out there, but the internet moved on to hate something else in due time. Now it appears that Blizzard didn't forget about the game, because patch 1.33.0 is now being tested on the PTR. It's a surprising move considering Blizzard's recent shift away from RTS games and the departure of many of their RTS-focused employees to join Frost Giant Studios, but now it appears that Warcraft 3 Reforged isn't quite as abandoned as it seemed.
The first of multiple updates coming this year for Warcraft III: Reforged.
 
Patch 1.33.0 will include:
⚔️ Ranked Play
⚙️ Player Profiles
📜 Leaderboards
⬆️ and more

Read more:https://t.co/cuRdhcAiB7 pic.twitter.com/ZWCy2HEMN2

— Warcraft III: Reforged (@Warcraft3) June 14, 2022
Not only is this patch to Warcraft 3 Reforged interesting for even existing, it's also interesting in that it returns several features that were present in the original version of Warcraft 3, including Ranked Play, Leaderboards, and even Player Profiles. These were all removed because Warcraft 3 Reforged was designed to work on modern Battle.net architecture, and I would say players will be excited to see return but honestly I'm not sure that many people are still playing to get excited about it. The launch reaction was so poor that Blizzard wound up offering refunds for the game.
The 1.33.0 patch notes provide some more detail about how this will all work. Ranked Play will involve separate MMR — matchmaking rating, very much not Measles, Mumps and Rubella, that's a vaccine — for each campaign/race, so you could have a better MMR and thus harder matches for your Forsaken than your Humans or Night Elves. There will even be a special MMR for Random, so if you play Random a lot that'll affect your MMR too. There will be eight ranks in total — Unranked, Combatant, Challenger, Rival, Duelist, Elite, Gladiator and Champion — and rankings and the ladder will reset at the end of each season.  You'll need to win five qualifying matches to begin Ranked Play.
There have also been some balance changes to various maps in the Campaign mode, which is even more of a surprise to me than Blizzard making a patch at all. Blizzard also says there will be multiple updates this year, so this won't be the last such patch that Warcraft 3 Reforged gets. This is right up there with "Diablo Immortal gets a PC beta" in terms of moves I didn't expect from Blizzard this year.
Who knows? Maybe Warcraft 3 Reforged is trying its own version of a No Man's Sky reputation repair. Even after the early exodus, maybe it'll even work.