WoW
Jul 5, 2022 2:00 pm CT
Mists of Pandaria Timewalking makes this the perfect week to get Emperor Shaohao reputation
Updated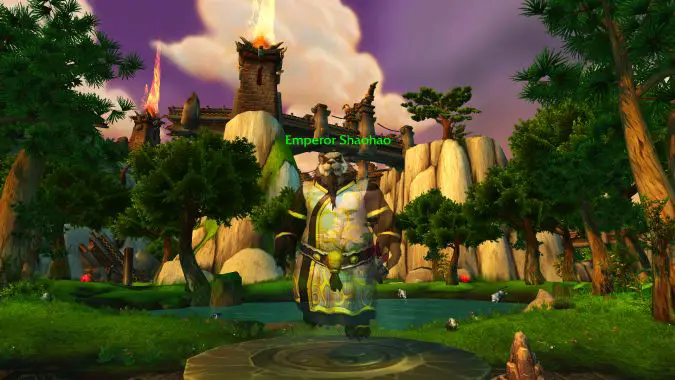 Some reputations require so much grinding that maybe you've kinda put them off until some other time — for me, the Emperor Shaohao reputation grind from Mists of Pandaria is one such reputation. Thankfully, this week's Mists of Pandaria Timewalking event has made the Shaohao grind as easy as it's ever going to get. With the Darkmoon Faire in progress, you can get even more reputation for your Timewalking efforts.
See, thanks to the Commendation of Emperor Shaohao — which is only available from the Timewalking vendor during Mists Timewalking — what would have previously taken you roughly 250+ kills on the Timeless Isle will now only take you as long as a single Timewalking run takes. This is because your first Timewalking dungeon rewards the Shrouded Timewarped Coin, which in turn rewards 500 Timewarped Badges. Seeing as the Commendations only cost 50 Badges and reward 500 reputation, that's 5,000 reputation for your first Timewalking run. The best part? The Commendations are account-bound.

For those about to bust out a calculator, allow me to save you some time. Even assuming you're starting at Neutral reputation and have no Timewarped Badges saved from previous events, you'll only need to accumulate 4,200 Timewarped Badges to hit Exalted. And because Timewalking is, well, Timewalking, that means that anyone with at least 9 characters at the appropriate level can guarantee themselves another Exalted reputation under their belt as long as they run one Timewalking dungeon on each character.
I realize that may sound a bit tedious, but given the alternative, anyone even considering doing the Shaohao reputation grind will want to take advantage of this opportunity. The one caveat to all of this is that the reputation rewards — a toy, a pet, and a mount — can only be bought with Timeless Coins. The first two only require 2,500 and 7,500 Coins, respectively, but the mount costs a whopping 100,000 Coins. Even if you're after all three, however, you'd still likely hit 110,000 Coins well before reaching Exalted the old fashioned way.
If you've been putting off Shaohao reputation, now's the time to show that procrastinating was worth it.
Originally posted May 7, 2020. Updated July 5, 2022.